Baby CPR Classes in NYC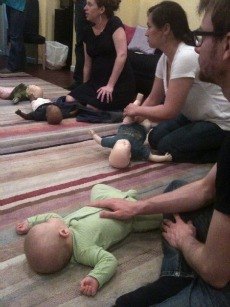 [UPDATED: July 18, 2012]
You don't usually take a class to learn a skill you hope never, ever to use. And when's the last time you heard a teacher cheerily order,
"I want you to hit the baby—hard!" Welcome to infant CPR.
The bright-eyed expectant couples in my class were horrified to discover that I have a two-year-old and an infant—and that this was my first CPR session. I admit, I procrastinated in part out of fear. When I was pregnant with my first child, the thought of a medical emergency was just too scary to even contemplate. Plus, with childbirth classes, breastfeeding classes, working and all of the others things my husband and I were doing to prepare for parenthood, infant CPR seemed like something we could skip on our insanely long to-do list.
But once I had my second child, I started to worry about my lack of knowledge. My daughter's environment was always very controlled. Her poor baby brother, however, was born into a world of toys with tiny pieces, big-kid food and an overzealous older sister. Suddenly I felt a very strong urge to learn CPR, just in case. Here's what I got out of the class, and why I think all new parents should have these skills.
I took Vanessa Anton's Infant CPR Class at Birth Day Presence in Park Slope, and actually found it to be sort of fun. Yes, many scary scenarios were presented, but the information was very helpful, and Vanessa's upbeat, slightly irreverent presentation was quite entertaining, despite the seriousness of the subject matter.
According to Vanessa, the average response time after calling 911 in NYC is 11 minutes. That's a great impetus to learn infant CPR! The two-and-a-half-hour class provides practical advice for parents and caregivers, and after several rounds of chest compressions on a hipster-onesie-clad dummy baby, I started to feel like I was developing the muscle memory needed in an emergency.
Vanessa went through all of the steps of infant CPR, from assessing whether CPR is needed (Has the baby made a sound or cried? Does she respond when you tap her foot? When you lift up her shirt, can you see her breathing?) to initiating CPR. With an infant, this involves tilting the head back to clear the airway, administering 30 compressions at the nipple line with two fingers (not your whole hand, as you would with an adult), and then breathing into the baby's nose and mouth (not just the mouth, like an adult). Vanessa said to to five rounds before calling 911, and then to continue until the professionals arrived. Doing this on my dummy I discovered that this is really hard work!
We also learned what to do if your baby is choking. Babies are much too small for the Heimlich Maneuver. Instead, you hold the baby under one arm with her face toward the floor, then hit her back five times. Then you peek into the baby's mouth to see if you can see the obstruction—don't stick your finger in there unless you're sure you can get the object out!
Vanessa also shared some great advice specific to NYC parents. She highlighted Manhattan hospitals that she thought were the best for post-CPR care: NYU, Weill Cornell, Mount Sinai and New York-Presbyterian. She also suggested contacting your local fire station to see if they have medics who will respond to emergency calls, as they might arrive more quickly than 911.
If you'd like to take Vanessa's class, you can contact her at vanessa@tribecaparenting.com.
Here are other New York City organizations that offer infant CPR classes. You can also ask your pediatrician, hospital or birthing center for recommendations.
Birth Day Presence
182 Eight Avenue between Garfield Place and First Street in Park Slope
580 Broadway suite 304 between Prince and Houston Streets in Soho
917-751-6579
$150 per family (up to 2 people)
Tribeca Parenting
Various locations. See the website for details.
646-863-4500
$85 per person
Little Hearts CPR
421 Seventh Avenue near 33rd Street in Midtown West
300 Cadman Plaza West between Johnson and Tilary Streets in Brooklyn Heights
212-691-5989
$80 per person
Baby Be Safe
Various locations. See the website for details.
1-888-SAFE-557
$70 per person or $300 for private session in your home for up to three people
Click here for more posts about babies, including our picks for great double strollers and what to pack for the hospital when giving birth.