Indoor Play in Queens: 13 Play Spaces and Kiddie Gyms with Open Play Hours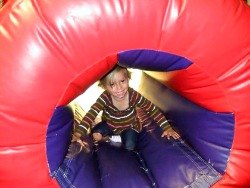 When it's too cold, too rainy or too hot (hard to imagine right now but it happens) to run around outside, it's important to have a list of go-to indoor play spots. I'm not talking about a place where you spend a quiet afternoon doing crafts or listening to stories. I mean real active play spaces where kids can get their sillies out. It's the only way to avoid going stir crazy—especially if you have two children under 5 like I do.
Luckily Queens has plenty of indoor play spaces with open play hours—almost as many as Manhattan in fact! We found 13 indoor romping spots in the borough that offer drop-in sessions open to the public so no need to buy a pricey annual membership. Bonus: All of these spots host birthday parties, too, and most are much more affordable than their Manhattan competitors.
Sign up for our FREE newsletters to get posts like this delivered to your inbox.
Kids Playhouse in Astoria and Jackson Heights
34-17 Steinway Street between 34th and 35th Avenues
93-05 37th Avenue between 93rd and 94th Streets
My kids and I have been to both the Astoria and Jackson Heights locations of this family-owned mini chain and they are awesome. Both feature cool amenities and equipment like multistory mazes and separate carpeted spaces for toddlers. And the price can't be beat: just $7 per child for open play. Drop-ins are welcome on weekdays but weekends are often reserved for parties. So call ahead or check the respective Facebook pages for Astoria and Jackson Heights as the owners are good about posting the schedules. Its the best bargain in the borough, and they do parties.
Kids Fun House – Ridgewood
6273 Fresh Pond Road between 70th and 71st Avenues
A longtime Queens favorite, this spot has attractions for children up to age 12. There's a separate socks-only toddler area for ages 6 months to 4 years with a tree to climb through, a playhouse and a small slide. Older kids can romp in the multilevel maze, swoosh down the triple slide and even play a few arcade games. Adults can grab a seat and a snack at the cafe. Kids Fun House has drop-in hours every day of the week, as well as classes for preschoolers and birthday party packages. As you can imagine, it's quite popular with locals—families even drive here from other parts of Queens. Admission ranges from $7 to $15 per child, depending on the day, and includes five tokens for the video games.
Funtopia USA – Ridgewood
6626 Metropolitan Avenue near Rentar Plaza
Not too far from Kids Fun House you'll find this one-stop fun spot for all ages, but be warned: It's more Chuck E. Cheese's than cute local play space. If you have tweens or young teens, there are a lot of activities here including laser tag, bumper cars and a video game arcade. The younger set gets a three-story indoor playground, plus a separate toddler area. The big catch? Many of the games and attractions cost extra on top of admission fee ($7 on weekdays and $9 on weekends). Another downside: There's no elevator so leave the stroller at home.
Long Island City Kids – Long Island City
5-02 50th Avenue at 5th Street
This 2,500-square-foot enrichment center features a fully equipped gym and classroom area, and offers music, art, dance and sports classes, after-school and camps. The gym is available to the public for open play but the schedule varies. It's best to call ahead to confirm hours: 718-392-KIDS. Highlights include a huge rectangular trampoline, a climbing wall and lots of standard gym equipment. The cost is $12.50 per child but a you can buy a pack of 12 passes for $125.
Sabrina's Play Studio – Sunnyside
52-07 Queens Boulevard at 52nd Street
The sole independent indoor play space in Sunny/Wood, this 1,900-square-foot play space for children ages 0 to 9 was opened by a local mom who ran a neighborhood daycare for 11 years. Attractions include a two-level maze, a small bounce house and a play area with a kitchen, toys and dress-up clothes, plus a gated baby zone for tiny tots. In addition to drop-in play, Sabrina's offers daycare, camp, classes and parties.
Sensory City – Long Island City
1-11 44th Road between 9th and 10th Streets, Suite 402
We raved about this beautiful state-of-the-art sensory gym when we visited in 2013. Highlights include a rock climbing wall with ropes, a ball pit, a two-story castle for imaginative play with an exit slide, swings, a zip line and toys. Open play is available for children of all abilities on Thursdays and Saturdays. Additional times are often available so check the Facebook page or call 718-433-4434 for updates. Since a maximum of 10 kids can play at a time, reservations are required. Cost is $30 per hour session with siblings paying half-price. A 10-pack costs $250.
Artistic Stitch Sports Complex – Glendale
79-08 Cooper Avenue near 79th Place
Great for older kids who have outgrown kiddie gyms, this athletics complex offers a wide variety of sports activities like soccer, kickball, wiffleball, dodgeball, football, rock climbing and even high-tech 3D batting cages. Drop-in rates are available for most sports clinics and private lessons, and you get discounts for buying multiple sessions at once. If you work up an appetite, there's a kid-friendly bistro onsite.
Kids 'N Shape – Howard Beach
162-26 Cross Bay Boulevard between 162nd and 163rd Avenues
Founded in 1989 by a local family, this gym includes a bouncy castle, zip line, obstacle course, basketball/soccer court, ball and foam pits, air hockey and even XBox Kinect. Open play sessions take place on weekdays from 12:30 to 3 pm for $10 per child. Children are admitted on a first-come, first-served basis with a maximum of 50 kids per session. Weekend open play is also available on Saturday mornings. Before heading out, check the website for the full schedule since times are subject to change.
Preschool Place – Corona
New York Hall of Science, 47-01 111th Street near 47th Avenue
There are tons of hands-on attractions at this science museum, but this wonderful multisensory play area is a highlight for young children. It's equipped with a play kitchen, a wide array of toys, and caters to children ages 6 and under. (Older siblings are welcome but should be supervised so they don't run all over the young ones.) Storytime and art projects are offered on weekends and holidays. Preschool Place is open during regular museum hours. Free with admission: $15 for adults, $12 for children ages 2-17.
BounceU – College Point
Whitepoint Center, 132-25 14th Avenue between 132nd Street and 133rd Place
No need to wait for spring to hit a bounce house. Kids (and parents) can enjoy two huge rooms of bouncy and inflatable fun like obstacle courses and massive slides all year long at BounceU. This location regularly hosts open sessions including Family Bounce Nights, open bounce for all ages, open bounce for preschoolers and even an out-of-this-world Cosmic Open Bounce with lasers and black lights. This is the perfect place for everyone in your family to get their sillies out. Prices and schedule varies depending on the session so check the website for details. Socks are required, long sleeves are recommended and prepaid reservations are encouraged to guarantee your spot.
Bounce 'N Play – Astoria
20-21 Steinway Street between 20th Avenue and 20th Road
Opened by a local mom in spring 2014, this play space has bouncy houses and giant inflatable slides in addition to the standard play space attractions—play sets, a jungle gym with tubes, a rock climbing wall, toys and arcade games. That makes it a great choice for children of all ages, in fact the "big playground" caters to kids up to 13. There are regular open play sessions for different age ranges: under 7, all ages and even family nights that come with a buffet. You can find the open play schedule online and call 718-777-7529 to reserve your spot. Each two-hour session costs $12 per child, save for family bounce night, which is $15.99 per child (ages 1-16) and $7.99 per parent.
Raising Astoria – Astoria
26-11 23rd Avenue between 26th and 27th Streets
Formerly part play space, part store, this Queens spot recently reinvented itself, abandoning its retail business to open an additional party-and-play room on-site. Expect to find affordable classes here, but also drop-in playtime and, occasionally, an indoor bouncy house. Hours vary but a frequently updated Facebook page keeps families in the know.
Want more indoor play options? Check out our Inside Activity Guide for other ideas, including bowling alleys and ball pits.
Sign up for our FREE newsletters to get posts like this delivered to your inbox.
A previous version of this post was originally published in November 2010