Mommy Poppins NYC's Holiday Activity Guide and Local Holiday Shopping Guide Have Arrived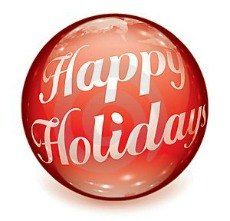 They're here. In honor of the first day of December, we're officially launching our 2011 Holiday Activity Guide. Unlike some other holiday guides out there, we primarily focus on inexpensive but unforgettable seasonal experiences, including family volunteering opportunities, so you can give your kids the best present of all: happy holiday memories.
We also launched our first-ever Holiday Gift Guide, but instead of filling it with toys and games you can buy off amazon, we concentrate on shopping local, and supporting our community stores and artisans.
Read on for a closer look at what you'll find in our Holiday Guides and a peek at cool Christmas and Hanukkah posts yet to come.
We spent much of November updating our popular holiday posts, like our roundup of community Christmas tree lightings, the best places to take pictures with Santa and our holiday windows walk. For the first time, we turned that post into a slide show so you can see multiple shots of these amazing displays. We also shared interesting tips, like which windows are interactive—two have fun hands-on activities for kids.
Giving back is also a big part of our Holiday Activity Guide. In addition to posts about family volunteering and ways to help others without leaving home, we also launched a Mommy Poppins food drive. We aim to feed 10,000 hungry NYC kids this holiday season. We hope that you'll help us meet our goal.
You can find all of those posts and more in our Holiday Activity Guide. Since we still have many weeks of the season to go, we'll be adding new holiday posts on a regular basis, so be sure to check back for things to do on Christmas Day, kid-friendly New Year's Eve celebrations and other cool info.

Our Holiday Gift Guide is also a work in progress. Its focus is on local shopping so right now we have posts about great year-round markets like Dekalb Market, where you can buy unique, often handmade items. We also have roundups of our favorite neighborhood toy stores, green toy stores and more. And we have gift picks of course, although our suggestions tend to be more about giving cool experiences than consumer products. We'll be adding new posts to our Holiday Gift Guide in the coming weeks, so check back for info on awesome pop-up shops, NYC's ,a href="http://mommypoppins.com/newyorkcitykids/holiday-markets-2009">best holiday markets and more.

We hope our Holiday Guides help you plan the best possible season for your family!