Halloween Weekend for NYC Kids: Free & Fun Halloween Festivals, Parades and Celebrations, Day of the Dead October 27-28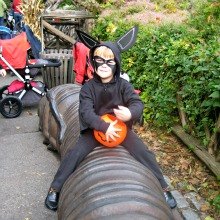 Due to the approaching hurricane, many activities on Sunday may end early or be canceled entirely. Make sure you visit the events' official websites before you head out to make sure they're still on.
It's the final weekend before Halloween and New York City is filled with spooky ways to celebrate. It's your last chance to get your ghoul on at the Bronx Zoo's Boo at the Zoo, Ascarium at the New York Aquarium and the New York Botanical Garden's Haunted Pumpkin Garden. There are also a slew of super-popular annual festivals like Ghouls and Gourds at the Brooklyn Botanic Garden, the Children's Fall Festival (canceled due to the hurricane) at the Queens County Farm Museum and a bunch of FREE kids' costume parades.
If you want to wait until October 31 to get into the holiday spirit, there are actually some non-Halloween events this weekend like the Little Orchestra Society's Happy Family concert, Pickle Day on the Lower East Side (moved to Sunday, November 4 due to the hurricane), a few Day of the Dead celebrations and the opening weekend of Citi Pond at Bryant Park, NYC's only FREE outdoor ice-skating rink.
There's so much going on this Saturday and Sunday, it's easy to feel overwhelmed. (We admit, we had a couple of panic attacks while writing this post!) That's why we've done the work for you by highlighting the very best things to do with kids this jam-packed weekend, Halloween-themed and otherwise. Now all you need to do is go and enjoy!
All Weekend
Halloween Parades – Citywide
On Saturday, costumed kids can march around Brooklyn Heights, Harlem, Coney Island, Greenpoint, Marcus Garvey Park and Soho with Clifford the Big Red Dog. Sunday's processions include one in Tribeca, which ends with a free Princess Katie & Racer Steve concert in Washington Market Park.
Ascarium at the New York Aquarium – Coney Island
It's your last chance to enjoy the Aquarium's pirate-themed Halloween programming include a Haunted Seafari, live magic and music performances, swashbuckling games, creepy crafts and even trick-or-treating. We went last weekend and had a blast. Free with admission: $14.95 for adults, $10.95 for children ages 3-12, free for kids under 3. Dress up the kids: For every full-price general admission adult ticket purchased, one child under 12 in costume gets in free.
Boo at the Zoo – the Bronx, Prospect Park and Queens Zoos
It's also the final weekend for the Halloween festivities at the Wildlife Conservation Society's NYC zoos. While the Bronx Zoo's Boo at the Zoo celebration is the biggest shindig, the Prospect Park and Queens Zoos also host fun animal-themed Halloween activities. All Boo at the Zoo celebrations are free with admission, which varies by zoo.
Spooky Nighttime Adventures at the Haunted Pumpkin Garden – the Bronx
The New York Botanical Garden's Halloween installation is on view through Wednesday, October 31. However, it's the last weekend to explore it after dark. Go trick-or-treating by flashlight through more than 500 jack-o'-lanterns elaborately carved and sculpted into spiders, scarecrows, bats, snakes and other scary sights. Afterward, decorate pumpkins to take home. Advance tickets recommended. $20 per person.
Corn Maze & Pumpkin Patch – Midtown West
Why leave NYC to hit a corn maze? This weekend, there's going to be one right outside the Intrepid Sea, Air & Space Museum on Pier 86 that empties out into a pumpkin patch. FREE
Lolli-Pops: A Happy Family – Upper East Side
The Little Orchestra Society kicks off its new season of interactive classical concerts for kids with music by Tchaikovsky and Debussy. $15-$45
Dead or Alive – Corona
In honor of the season, the New York Hall of Science will literally catapult pumpkins across its grounds. Watch them go splat, and then head inside for more festivities, like live bat encounters, cool art workshops, pumpkin decorating and carving demos, and a costume party. You can also catch the opening weekend of the museum's new ReGeneration exhibit. Most activities free with admission: $11 for adults, $8 for children 2-17, free for kids under 2.
Saturday, October 27
Screamin' Green Halloween – Battery Park City
This eco-friendly fete will be held outdoors this year. Families can make masks and costumes out of recycled household materials, bob for apples, pin the face on the pumpkin, compete in a gourd roll, hear spooky tales, and follow wandering puppets and marching bands. There will also be green art projects, photo ops in front of a ghoulish green screen, organic and fair-trade sweets, and a massive costume swap. At the end, join the Ghosts and Goblins Parade and march around Battery Park City. FREE
Central Park Pumpkin Festival – Upper East Side
Expect crowds at this super-popular annual event. Raven has been many times and says it's really great, even though there are long lines for every single activity. Arrive early to pick from the pumpkin patch, then enjoy a scary haunted house, a marionette show, a slew of live entertainment, arts and crafts, a live Quidditch match and pumpkin decorating. FREE
Haunted High Line Halloween – Chelsea
Enjoy face painting, live '30s-era music, pumpkin decorating, dress-up photos with take-home prints, and a challenging scavenger hunt featuring characters from the elevated park's industrial past. Kids will be able to interact with the meat packers, train engineers and other characters who used to call the area home. Plus there will be a giant ghost freight train made of recycled materials created by puppet master Ralph Lee. FREE
Haunted Halloween Carnival – Park Slope
At Puppetry Arts' annual Halloween fete, families can do arts and crafts, play carnival games, get their faces painted, tour a not-too-scary haunted house and enter the costume contest. There will also be lots of special guests, including players from the Staten Island Yankees and Stars Wars characters. The first 200 costumed kids snag goody bags. Free admission but there are fees for certain activities.
Ghouls and Gourds – Crown Heights
The Brooklyn Botanic Garden's annual Halloween celebration is one of our faves. Watch a flea circus, hit the book barn for readings by notable kid-lit authors, catch live performances by Play Me a Story and the Mettawee River Theatre Company, a concert by the Xylopholks, and join a massive costume parade and drum circle. Free with admission: $15 for adults, free for children under 12.
Prospect Park Haunted Walk & Carnival – Prospect Park
Go on a fun and only slightly scary walk on Lookout Hill. Little kids are welcome but they should be chaperoned by a grown-up or older sibling to ward off zombies, the Headless Horseman, witches and other creepy characters. Afterward, hit the carnival on the Nethermead for games and other seasonal activities. FREE
Wonderween – Midtown East
The Sony Wonder Technology Lab's annual celebration is perfect for the preschool set. Tots can watch Halloween-themed episodes of Dora, Diego, Sesame Street and Yo Gabba Gabba!, and then enjoy arts and crafts, and storytime. Advance reservations required for the screenings. FREE
Dia de los Muertos – Financial District
Families can make traditional Day of the Dead crafts like paper flowers, plaster skulls and skull masks, and enjoy live dance and music performances at the National Museum of the American Indian. FREE
Monster Mash – Crown Heights
The Brooklyn Children's Museum always throws one of the best Halloween bashes in the borough. There are ton of activities including a costume dance party, indoor trick-or-treating and a museum-wide costume parade. The festivities take place on Friday and Saturday nights. $10 on Friday, $12 on Saturday. Buy tickets in advance as these events always sell out!
Halloween in the Galaxseum – Hudson Square
The Children's Museum of the Arts' current exhibit, The RAMMELLZEE Galaxseum, is filled with kooky costumes and crazy characters, which makes it the perfect place to celebrate Halloween. Kids can build paper haunted houses, craft masks and costumes, and create stop-motion shorts, all inspired by the art on display. There will also be a short indoor costume parade around the museum. Free with admission: $11.
Ghoul Pool – the Bronx
Tweens should get a thrill in Van Cortlandt Park's pool house, which is transformed into a haunted house for the holiday. FREE
Family Science: Make Room For Mummies – Midtown West
Find out how mummies were made at the New York Public Library's Children's Center at 42nd Street, and then try your hand at crafting a mummified "Hallowiener." No idea what that is, but it sounds fun. Preregistration required. FREE
Halloween Festival – Fort Greene
Fort Greene Park's popular annual fest features a costume parade, a pumpkin patch, two horse-drawn carriage hayrides, a spooky cemetery, games, face painting, a costume contest for dogs (and their owners) and Habana Outpost's bicycle-powered blender, which whips up pumpkin shakes. FREE
Musical BOO-Fest – Park Slope
Catch this live revue of Halloween tunes at the central branch of the Brooklyn Public Library, performed by costumed musicians playing strange and possibly haunted instruments. After the interactive concert, kids can enjoy face painting and treats. FREE
Circle Line Kids Cruise: Halloween – Midtown West
The tour boat will be full of Halloween-themed fun. Astrograss will be serenading the costumed crowd, and kids can also enjoy storytelling, arts and crafts, jugglers, balloon twisters and face painting. $28 for adults, $20 for children ages 2-12, free for kids under 2.
Oiche Shamhna – Midtown West
Experience a Celtic Halloween at the Irish Arts Center. Kids can carve turnips instead of pumpkins, learn about púcas and fairies, and gobble up ethnic treats. $8 per child, free for adults.
Eid Ul-Adha: Family Day – Upper East Side
Celebrate the Muslim holiday Eid Ul-Adha at Asia Society. Families can try doyra drumming from Tajikistan and Uzbekistan, enjoy storytelling and games with comedian Saad Haroon, learn the Dance of the Thousand Hands, create a Persian mosaic and sample ethnic eats. $12 for adults, $5 for children.
Sunday, October 28
Due to the approaching storm, many activities on Sunday may end early or be canceled entirely. Make sure you visit the events official websites before you head to make sure they're still on.
Kidz Karnival – West Village
Party on Pier 46 with face painting, mask decorating, cotton candy, carnival rides and performances by the Story Pirates. Free admission but there are fees for certain activities.
Little Club Heads Costume Dance Party – Financial District
Come in costume to this all-ages dance party where kids can kick it old school. In addition to the deejay, there will be a photo booth, clowns, balloon twisters, live performances, games and prizes for the best outfits. $15
Halloween-Remixed – Flushing
This event has been rescheduled to Wednesday, October 31 due to the approaching hurricane.
Experience three celebrations for the price of none at this free family festival that marks the Day of the Dead, Halloween and All Saints' Day. Wear your costumes and enjoy spooky songs and dances, and make cool crafts like Mexican sugar skulls, All Saints' Day medallions and masks. FREE
Children's Fall Festival – Douglaston
This event has been canceled due to the approaching hurricane.
Enjoy old-fashioned Halloween fun at the Queens County Farm Museum. Kids can play games, hit the petting zoo, take a pony or hayride, jump around a bouncy house, get lost in the corn maze or get spooked in the haunted house. $5 per person with additional fees for some attractions.
Halloween Parade & Pumpkin Sail – Harlem
This event has been canceled due to the approaching hurricane.
A family favorite that seems to get bigger every year: Bring your jack-o'-lantern to the Dana Discover Center, and then watch it sail away at dusk on the Harlem Meer. Other activities include arts and crafts, spooky stories, live music and a costume parade around the northeastern edge of Central Park. FREE
Pickle Day – Lower East Side
This event has been moved to Sunday, November 4 due to the approaching hurricane. Taste a wide selection of the neighborhood's signature treat from sweet to dill. Other fun for kids includes deejay lessons and spin art, Ping Pong, street hoops, badminton and urban croquet, face painting, balloon animals, and ballroom and belly dancing performances. FREE
Outside NYC
As you can imagine, there are plenty of Halloween happenings in the 'burbs, too. Check out our Halloween Guides for New Jersey, Connecticut and Long Island for info on the best out-of-town festivities for kids.
Don't forget: We have additional activity options in our Event Calendar and our NYC Halloween Guide.
Tags: