Gymnastics Parties for NYC Kids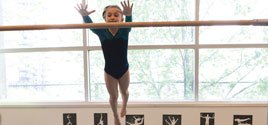 Back when my daughter was in preschool, whenever her birthday rolled around all I had to do was book a play space and we were set. Now that she's in elementary school, I knew a gym party wasn't going to cut it. But I still wanted a celebration where the kids could run around and have fun—without the parents feeling the need to chaperone.
Since gymnastics is my daughter's big thing, it seemed like the perfect solution. Admittedly these parties don't come cheap, but if you've got an aspiring Shawn Johnson, it's worth the investment. These spots have quality (and clean!) equipment and professional instructors who make safety a priority. Best of all, after all that running, jumping, swinging and tumbling, your kid's bound to be ready for a nap. Shades of preschool all over again!
Read on for ten of our favorite gymnastics party places for big kids.
Asphalt Green – Upper East Side
Since this is where my daughter actually studies gymnastics, we held her birthday here. The gymnasium is filled with equipment: uneven parallel bars, balance beams of varying heights, rings, a trampoline and more. The coaches are wonderful and very skilled at keeping the children engaged yet under control. The basic 90-minute package includes an hour of activities, 30 minutes in the party room, balloons, paper goods, and help with setup and cleanup. Pizza, beverages and goody bags can be added for additional fees. Ages 5 and up. Call for pricing.
555 East 90th Street between York and East End Avenues
212-369-8890 ext 2085
Aviator Sports & Events Center – Marine Park
This Brooklyn complex's 15,500-square-foot gym regularly hosts professional gymnastics events so the equipment is quite impressive. There's even spectator seating for the parents. Kids can tumble, twirl and jump on floor mats and a spring floor. Basic packages include invitations, party favors, paper goods, food and beverages, plus set up, decoration and clean up. Call for pricing.
Floyd Bennett Field
3159 Flatbush Ave just south of the Belt Parkway
718-758-7551
Brooklyn Gymnastics Center – Bensonhurst
During the 100-minute parties (an hour of gymnastics and 40 minutes in the party room), kids enjoy time on the balance beam, uneven parallel bars and Air Trak. The teachers are excellent and the price quite reasonable:  Ages 4 and up. Visit the website for additional details or to request a free trial class so you can check the place out.
1635 Bath Avenue between Bay 13th and Bay 14th Streets
718-232-6444
Chelsea Piers – Chelsea
You can book seemingly any type of sports or athletics party at this massive complex by the Hudson River. While there are gymnastics parties for tots, CP offers hardcore bashes for children ages 5 and up. Kids try their hand (or should we say, body?) at all the Olympic events, including tumbling, vaulting and swinging on the rings. The supersize two-hour parties include 75 minutes in the gym and 45 minutes in the party room.  Visit the website for additional info. Be sure to try the handy online party planner, so you can make all the arrangements without even picking up the phone.
Field House
Between Piers 61 and 62
23rd Street and Hudson River Park
212-336-6518
The Gym Park
Behind an unassuming facade in Greenpoint is a super cool gymnastics space for kids of all ages. Parties at this location include an hour of gymnastics and games, 1/2 hour of sit down party time (for food and drinks and cake--not provided), and two instructors that provide supervision and guidance. You'll also get help during the sit down part of the celebration. Read our review of this new spot: The Gym Park: Brooklyn's Giant Indoor Playground.
Otom Gym, 169 Calyer Street near Lorimer Street
Greenpoint, Brooklyn
718-349-6627
NYC Elite
With two Manhattan locations, one in Soho, the other on the Upper East Side, this mini-chain is popular with the younger set. But Elite also caters to five- to nine-year-olds with its gymnastics training and parties. Ages 2 and up. Visit the website for more info.
Soho: 100 Avenue Of the Americas near Watts Street
212-334-3628
Upper East Side: 421 E 91st Street between First and York Avenues
212-289-8737
92 Street Y - Upper East Side
The Gymnastics party package lets the kids feel like pros. During the two-hour party, they swing, vault, tumble and more under the guidance of excellent coaches.  Ages 2-12 years. Visit the website for more info.
395 Lexington Avenue at 92nd Street
212-415-5710
Powerplay - Gowanus
While this Brooklyn play spot can accommodate toddlers and preschoolers, big kids (and even adults!) are welcome to celebrate here, too. The 90-minute parties feature one hour of gymnastics and 30 minutes in the party room.
432 Third Avenue between 7th and 8th Streets
718-369-9880
Uptown Sports Complex – Bronx
It's a shame that this huge Bronx athletics hub doesn't enjoy the same high profile as its Manhattan counterparts, but we're aiming to change that! The 16,000-square-foot facility offers lots of programs for kids, including baseball, soccer, dance and, of course, gymnastics. Visit the website for more info.
170 W 233rd Street near Broadway
718-549-7529
YMCA
Every Y has different offerings, but it's worth contacting your local branch to see if it hosts parties. Equipment and fees vary, but the organization's programs tend to be on the inexpensive side. Find the location nearest you by clicking here.
Find tons of other birthday bash ideas in our Party Guide.