Goal! Youth Soccer Leagues in New York City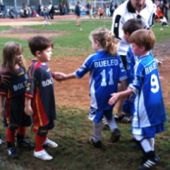 Soccer has become more and more popular with both boys and girls in New York City and luckily there are plenty of leagues for kids to join. If soccer fever is running high in your house, you may want to consider registering your son or daughter for an outdoor youth soccer league this fall. League play will teach your kids the rules and skills needed for the game. Plus children can experience the camaraderie of being part of a team versus "taking a soccer class".  Soccer leagues generally start with kids aged 4. The youngest teams aren't competitive and everyone gets a chance to play.  And youth leagues are easy on the wallet a season runs about $200 and includes a uniform.  No matter where you live in the Big Apple there is a league close by. Check it out.
In our experiences with different youth soccer leagues we have found most of them are pretty similar.  There is always a coach, some leagues hire a professional coach and others use a parent volunteer, either type is trained to teach your kids soccer skills.  There is often one after school practice per week and then a game on weekends.
Kids get a team uniform for games but will need to have their own shin guards and usually a ball to bring to practice.  If you don't want their sneakers getting dirty you may want to get a pair of inexpensive cleats and a pair of sweatpants or thermals could be useful for cooler weather, too.  If you child has only experienced Little League Baseball they may find soccer more enjoyable, it is great exercise and as long as kids can run – they will find it easy to play.  Plus they all get a little trophy at the end of the season, which is kind of fun.
There are over 90 leagues in New York City so unless someone in your neighborhood tells you which team to join, it can be a lot of point and clicking to find out.  The BeFitNYC area of the parks department website has all or most of the soccer leagues in the city listed.  To find yours simply click on "soccer," "child" and enter your zip code.  The outdoor fall season usually starts right after Labor Day and runs through the end of November so if you are interested, now is the time to sign up.

BeFitNYC
 
If you aren't ready for the league commitment just yet Battery Park City offers free drop in soccer skills programs for kids aged 4 through 12 on Tuesday afternoons  through October.