Cheap (and a Few Free) Dance Classes for NYC Kids: Ballet, Flamenco and Other Children's Programs in Manhattan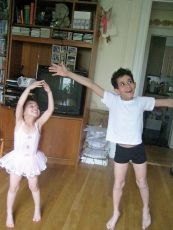 With a son who is totally into ballet, it wasn't long before his little sister wanted lessons, too. While I try to be fair when it comes to extracurricular activities for my kids, enrolling in multiple classes really adds up, especially with dance, which can quickly go from once a week to twice a week to oh my God, we're living in the studio!
As a result, I'm always on the hunt for the most reasonably priced dance classes in New York City. And today, I'm sharing what I've found with all of you.
Ballet Classes for Kids
Riverbank State Park – Harlem
145th Street and the Hudson River
We've long raved about all of the activities and amenities at Riverbank State Park. In addition to swimming, skating and spinning on the carousel, you can take low-cost dance lessons. Ballet classes for children ages 3 and up are just $60 per semester. There's also tap for children ages 7 and up for the same price, and separate programs for teens.
School of American Ballet – Upper West Side
165 West 65th Street between Amsterdam Avenue and Broadway
A rigorous and competitive ballet program, SAB offers world-class, tuition-free training for boys enrolled in levels below Intermediate Men. Admission to the program is by audition only and in the past, roughly a quarter of the boys who tried out were accepted. Girls can audition as well but pay full fees.
Ballet Tech: NYC Public School for the Dance – Gramercy Park
890 Broadway between 19th and 20th Streets
For children ready to commit to eating, breathing and living dance, there's Ballet Tech, a specialized NYC public school for fourth to 12th graders. The school is open to boys and girls in all five boroughs and offers a comprehensive no-cost dance education. Admission is by audition and there is a feeder Beginner Program. Ballet Tech auditions children in hundreds of elementary schools throughout the city, asking them to complete movements such as pliés and relevés, seated forward bends and skipping. Out of approximately 31,000 children evaluated, about 600 were selected to participate in the Beginner Program in 2011. Those who qualify are released from their regularly scheduled academic classes one morning a week for six weeks and bused to Ballet Tech at no cost. All NYC public elementary schools are eligible to participate, just call to set up an audition date.
Other Dance Classes for Kids
Dance Theatre of Harlem – Harlem
Everett Center for the Performing Arts, 466 West 152nd Street between Amsterdam and St. Nicholas Avenues
While DTH's general kids' programs can get a bit pricey, its Open Family Classes are a bargain. In Dance With Me, moms and toddlers can groove and socialize for just $10 per session. And for just $1, families with children ages 6 and up can hit FamilyFit! for a high-energy workout of stretches, cardio and strength-building activities.
LaRocque Bey School of Dance Theatre – Harlem
Joseph P. Kennedy Center, 34 West 134th Street at Lenox Terrace Place
This Harlem institution offers weekly ballet, tap and African dance classes for children ages 4 and up for $55 per month. Adults who want to check out the lessons for themselves can use this coupon for a no-cost trial class.
Royal Scottish Country Dance Society – Midtown West
332 West 43rd Street between Eighth and Ninth Avenues
Fast-moving jigs! Reels! Stately strathspeys (yes, I had to look those up). Children ages 12 to 17 can join NYC's Scottish dancing society for $17.50 a year and take ten weeks of classes for just $64. Kilts optional.
The Library – Citywide
Not quite sure if dance is the right activity for your child? Before committing to a semester-long program, consider trying a one-time workshop. The New York Public Library presents year-round one-off dance classes, from ballroom to salsa to creative movement. Just select the "Music & Dance" filter on the NYPL's classes page. All workshops are free unless otherwise noted. You can also look for dance classes on the Brooklyn Public Library and the Queens Library sites.
One important thing to remember about any class for kids is that many organizations, from community centers to elite dance schools, set aside some money every year for financial aid, especially for promising students and enthusiastic parents who can help serve the organization in other ways (think office work, marketing, fund-raising, etc.). So if there's a program you're interested in, it's worth inquiring about scholarships, sliding-scale tuition and other types of aid. Have your most recent tax return handy as you'll probably need to submit it.

Read about other great kids' programs in our Classes Guide.