Free & Cheap Indoor Movies for NYC Kids this Summer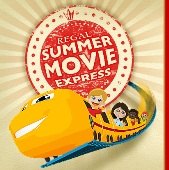 We recently rounded up free outdoor film screenings for New York City families. But with temperatures stuck in the 80s and 90s, there are days when all you want to do is spend a few hours in a nice, dark, air-conditioned movie theater—you just don't want to shell out $30-plus to do it.
Happily you don't have to. Wonderful family flicks are playing at a theater near you, and the tickets are free (or inexpensive). Now all you have to do is dip into your 401K to pay for that popcorn.
Bow-Tie Cinemas Free Kids Summer Film Series
Chelsea Cinemas, 260 West 23rd Street near Eighth Avenue
Visit the website for a complete list of participating tri-state area locations.
June 24-August 20: Tuesdays and Wednesdays at 10am
FREE
Although there is only one NYC location, many Bow-Tie Cinemas theaters are participating in New York State and New Jersey. This year's lineup includes lots of recent family blockbusters. Seating is first-come, first-served, and tickets are given out the morning of each screening.
June 24-25: The Croods
July 1-2: Epic
July 8-9: Walking with Dinosaurs
July 15-16: Ice Age: Dawn of the Dinosaurs
July 22-23: Ice Age 4: Continental Drift
July 29-30: Alvin and the Chipmunks: The Squeakquel
August 5-6: Alvin and the Chipmunks: Chipwrecked
August 12-13: Mr. Peabody & Sherman
August 19-20: Rio 2
Regal Cinemas Summer Movie Express
UA Sheepshead Bay Stadium 14 & IMAX, 3907 Shore Parkway near Knapp Street – Brooklyn
Regal Atlas Park Stadium 8, 80-28 Cooper Avenue near 80th Street – Queens
UA Kaufman Astoria Cinemas 14 & RPX;, 35-30 38th Street between 35th and 36th Avenues – Queens
UA Staten Island Stadium 16 & RPX, 2474 Forest Avenue between Madison Street and Putnam Avenue – Staten Island
Visit the website to search for other participating tri-state area locations by zip code.
July 1-August 27: Tuesdays and Wednesdays at 10am
$1
Like Bow-Tie Cinemas Free Kids Summer Film Series, Regal Cinemas' Summer Movie Express features big family hits from the past few years. Seating is first-come, first-served, and $1 tickets are sold the morning of each screening. A portion of the proceeds benefit the Will Rogers Institute. The lineup varies by theater but includes:
Hotel Transylvania
The Smurfs 2
Cloudy with a Chance of Meatballs 2
The Pirates: Band of Misfits
Arthur Christmas
Despicable Me 2
The Lego Movie
Free Birds
The Adventures of Tintin
Rise of the Guardians
Kung Fu Panda 2
Madagascar 2
The Croods
Epic
Turbo
Walking with Dinosaurs
Mr. Peabody & Sherman
Rio 2
Close Encounters of the Spielberg Kind
Museum of Jewish Heritage, 36 Battery Place at 1st Place
Wednesdays, June 25-August 13 at 6:30pm
Free with suggested donation
The museum celebrates the groundbreaking cinematic work of director Steven Spielberg. While not all of the films are appropriate for young kids (Schindler's List may have won an Oscar but you don't want your preschooler to see it), Raiders of the Lost Ark (June 25), Jurassic Park (July 9), Close Encounters of the Third Kind (July 23) and E.T. the Extra Terrestrial (August 13) are good for tweens and up. Tickets are distributed on a first-come, first-served basis starting at 4pm on the day of each screening.
Sony Wonder Technology Lab
550 Madison Avenue near 56th Street
Schedule varies. Visit the website for the complete schedule
FREE
The Lab is one of our favorite destinations year-round for high-tech interactive fun. The spot also regularly screens episodes of preschool favorites like Sesame Street, Dora, Diego and Yo Gabba Gabba!, as well as full-length features (all Sony, of course) in its high-definition theater. Sometimes there are hands-on workshops in conjunction with the screenings, which usually cost a small fee. Reservations are recommended and can be made the Monday before the showing by calling 212-833-8100 and pressing option 3. The remaining tickets, if any, are given out 30 minutes prior to the screening. Tickets go fast since the theater only has about 70 seats, and all children must be accompanied by an adult.
Did you know that you can catch brand-new films for just $7-$8.50 at all NYC AMC Theatres before noon year-round? Even new releases! 3D and IMAX cost extra but are still discounted. Visit the website to search for tri-state area locations by zip code.
For additional inexpensive movie suggestions, check out our post about free and cheap indoor films.
Check out our Summer Fun Guide for additional seasonal fun.
This post was originally published in June 2010.