Weekly Wrap Up: Family Film Festivals, Cool Kids' Concerts, Yoga for Children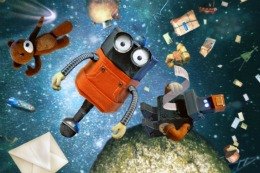 It's hard to believe that last weekend there was enough snow on the ground to go sledding. This week, temperatures were so mild, we actually saw a few shoots popping out of the ground. But don't be fooled: Winter isn't going anywhere. That's why we posted about a lot of fun indoor activities this week, like children's yoga classes, sing-alongs and a bunch of family film festivals. You can find more cool seasonal activities in our Winter Fun Guide
In the interest of brevity, from now on our weekly wrap ups will primarily feature stories from Mommy Poppins NYC, although we'll highlight posts from our sister sites when we think they'll be of interest to our New York City readers, like Connecticut's awesome roundup of family ski resorts or New Jersey's extensive roundup of summer camp open houses. Also of note: Los Angeles' 100 things to do in LA with kids before they grow up, modeled on NYC's popular post. It's gone viral in the city, so if you're planning on visiting, this list is worthy of printing out. If you want to stay on top of everything that's going on in New Jersey, Long Island, Connecticut, Boston or Los Angeles, you can subscribe to our free newsletters.
New York City
The week got off to a groovy start with a post about jazz concerts for kids.
Our musical theme continued with a roundup of 13 cool kids' concerts this winter.
We profiled six family film festivals happening over the next few months. Read the post now: Many screenings at big fests like BAMkids (which is next weekend) and the New York International Children's Film Festival (which begins selling tickets next Wednesday, February 1) tend to fill up fast.
Looking for an indoor physical activity that will help the kids get their sillies out? Try children's yoga classes.
Our focus on Park Slope continued with posts about sing-alongs in the neighborhood and new family craft spot Taro's Origami Studio.
So many news stories intrigued us this week, we did a special edition of our links post with info on massive after-school budget cuts, a possible redefinition of autism and a way for your kids to run off and join the circus (for a day).
We revisited the subject of one of our very first posts with a look at our favorite family meal planning apps and sites.
Best bets for the weekend include lots of Chinese New Year celebrations, concerts by Erin Lee and Hot Peas N' Butter, and Tu B'Shevat (Jewish Arbor Day) festivals.
And even though we published our deals on winter classes post last week, it's worth taking another look. Save up to 50% on classes like chess, music, cooking, swimming, art and more.

Photo: The Cosmic Avenger from BAMkids Film Festival
Tags: