Family-Friendly Restaurants Near Rockefeller Center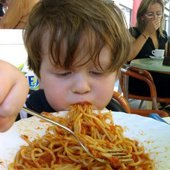 Wanda contacted me via Twitter looking for recommendations of where to eat before going to see the Radio City Music Hall Christmas Spectacular with her family. Since I've been meaning to write about family-friendly restaurants in Midtown for ages, I figured I'd just answer her here.
For over a decade, I worked right across the street from Rockefeller Center, and like anyone who works near there knows, the food choices can be downright depressing. (Oh wait, maybe that was just my job.) But there are some good choices if you know where to look for them, everything ranging from special occasion restaurants to quick and inexpensive eats.
Here are my top picks for kid-friendly places to eat near Rockefeller Center:
Ellen's Stardust Diner
1650 Broadway at 51st Street
Ellen's Stardust might be my top recommendation for its combination of decent food and fun "theme" restaurant atmosphere without a ridiculous price tag. The food is typical diner food and although the prices are about twice what you'll pay at your local diner, the retro diner theme takes Ellen's to the next level. The outside of the diner looks like an old railroad car even though it's built into the side of an office building and the retro diner theme continues inside. Linger for a while and the waiters will break out into song, singing old 50s rock tunes, standing up on empty tables and putting on a fun show, making this midtown spot a memorable stop for families.
Burger Heaven
20 East 49th Street between Madison and Fifth Avenues
For a classic diner experience without the bells and whistles, my midtown pick is Burger Heaven. There's no separate children's menu but they offer plenty of kid-friendly options at reasonable prices. There are multiple locations; you'll find the one closest to Rockefeller Center at 49th St just east of Fifth Avenue.
American Girl Place
609 Fifth Avenue at 49th Street
If you want to go over the top for the girls, take them to the cafe at American Girl Place, which serves brunch, lunch, afternoon tea and dinner with prices ranging from $20-$26 per person. As shticky things go, this one is actually well done. The food is good, service is attentive and the kids love it. Remember to bring along their dolls, who get special seating at your table. As an extra treat, some nice take-home goodies are also included. Meals are offered at specific seating times and reservations are recommended.
Rock Center Cafe
20 West 50th Street between Fifth and Sixth Avenues
If you're looking for something a little bit more "grown-up" but still family-friendly, you could try Rock Center Cafe, a stylish but casual restaurant serving contemporary American cuisine. Their children's menu includes favorites like chicken tenders and macaroni & cheese. The best part of Rock Center Cafe is the view--it overlooks the ice skating rink, which will help keep little folks entertained while you eat.
Rockefeller Center Concourse
30 Rockefeller Plaza between Fifth and Sixth Avenues
For the same view on the cheap, head down to Rockefeller Center's concourse level where you'll find many casual, inexpensive options such as Chipotle and Cosi (or score some baked goods at Magnolia Bakery). Pick up your to-go items and sit at the tables near the glass looking out at the skating rink. Kids get a kick out of seeing the vast underground world of Rockefeller Center too.
Empanada Mama
763 Ninth Avenue between 51st and 52nd Streets
If you're looking for really good food at reasonable prices, I recommend walking over to 9th Avenue where you'll find lots of great ethnic restaurants. Empanada Mama is a perfect choice for a light meal. Kids will love these little pockets filled with almost any filling you can think of and you'll love that they are only between $2 to $3 each (if you're spending the rest of your day in midtown, you'll have plenty of other places to spend your money).
Hanging around Rock Center during the holidays? Find holiday fun in our Mommy Poppins Holiday Guide and find great gift ideas in our NYC Shopping Local Gift Guide.
This post was originally published in November 2009.