Family-Friendly Restaurants Near Lincoln Center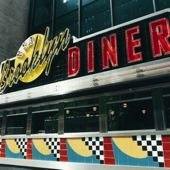 Standing in front of Lincoln Center, one can feel a bit lost. Unlike most of Manhattan, where you can see a variety of restaurants from any spot, the Lincoln Center area hides its bounty. But, rest-assured, there are plenty of fun and kid-friendly eats if you know where to look. Whether you're in the neighborhood for the Big Apple Circus, The Nutcracker or one of the other cultural experiences Lincoln Center offers, here are some of my favorite family-friendly restaurants in the area to get you through the holiday season and beyond.
Shun Lee and Shun Lee Café
43 West 65th Street between Broadway and Central Park West
For some class-act Chinese, this is one of the city's best and you have two choices. You can go fine-dining with well-behaved kids at the main restaurant, or head next door for dim sum all day. Kids love to pick their choice of dumplings from the carts that circle the tables non-stop.
Rosa Mexicano
61 Columbus Avenue at 62nd Street
We're not talking taco stand fare at this Lincoln Center favorite. The cuisine is Mexican upscale, for sure, but there are plenty of yummy choices for all ages. And the restaurant will gladly tone down the spice for more sensitive palates. It's always fun to watch the waiters concoct your guacamole appetizer tableside too.
Ed's Chowder House
Empire Hotel, 44 West 63rd Street between Broadway and Columbus
We're very grateful for Ed's Chowder House. Starting with breakfast at 7am, the restaurant serves great food all day long. If you're hungry between normal meal hours, it's a perfect choice with something for everyone. And, if you don't see what you want (or your kids want), they'll find a way to make it for you too. Some menu favorites include clam chowder, fish & chips and burgers. And desserts are crowd pleasers as well: what kid doesn't love a banana split or root beer float?
P.J. Clarke's
44 West 63rd Street between Broadway and Columbus
This traditional pub, with several locations in the city, is busy and loud, boasting a menu that will please all kids. The mini cheeseburgers are great for smaller appetites. Older kids will love the regular burgers and waffle fries, a staple in Manhattan for generations. There's also a nice selection of sandwiches and salads, all at wallet-friendly prices.
Brooklyn Diner
212 West 57th Street between Broadway and 7th Avenue
It's closer to Carnegie Hall than Lincoln Center, in case you find yourself needing somewhere to stop in that area. This is a fun, pseudo-classic New York City diner, albeit with a Brooklyn sense of humor. The hot dogs are enormous—there's a reason they're called "15-Bite Hot Dogs." Other choices include sandwiches, pasta and buffalo wings—your kids will be happy as "pigs in a blanket."
Café Fiorello
1900 Broadway between 63rd and 64th Streets
Another choice that's open early (10am on weekends, 11:30am weekdays), Café Fiorello has more selections of pasta and pizza than your kids have ever seen. This is also a busy restaurant, so noisy kids are no problem. Because it's right across the street from Lincoln Center, the prices can be a bit steep but half-portions should be fine.
Ollie's Noodle Shop
Unfortunately this restaurant has closed.
They'll teach your kids how to use chopsticks here with kiddie versions clipped together with rubber bands. The menu is enormous and you'll find everything Chinatown here, going well beyond the restaurant's noodle name. Ollie's is far less expensive than Shun Lee and is better for younger kids as well.
Nanoosh Hummus Bar
2012 Broadway between 68th and 69th Streets
If eating organic is your thing, this cute sliver of a restaurant is for you. You'll find an extensive menu of hummus dishes, plus salads, soups and organic beverages. The restaurant is casual and sleek and a perfect choice for a quick bite.
By Meryl D. Pearlstein, author Fodor's Family: New York City with Kids, Travel and Food Notes (contributor)
Find more helpful holiday info in The Mommy Poppins Holiday Guide and find great gift ideas in our NYC Shopping Local Gift Guide.
Originally published on December 16, 2009