Family-Friendly Concert Subscriptions: Sign Up for the Best Music for Kids in New York City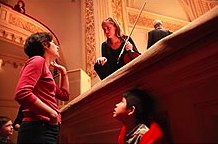 [UPDATED: September 6, 2012]
There's so much great music in this city, from down in the subway to on stage at Carnegie Hall. But when the free outdoor concerts come to an end, your musical interests can start to get a little pricey. That's why it is often worth checking out the subscriptions to various venues. Not only do subscriptions cost less (per concert), they give you access to the best seats in the house and make you eligible for other special offerings and discounts. Many subscriptions start in September, while others don't pick up until November, so be sure to check these out soon, so you aren't late or tickets sold out.
2012-2013 season subscription information for family-friendly and kid-friendly concerts:
New York Philharmonic
The NY Philharmonic has all different types of concerts, and is really for the whole family. The Young People's Concerts are for families with children 6-12 years of age. Each concert in the series focuses on a different masterpiece and explores how music develops and how the orchestra brings it to life. There are four shows in the series. The best seats in the house go for $144, but good seats range from $84-$44. You can also purchase three or more eligible concerts and save up to 22%.
The Very Young People's Concerts are especially designed for 3-6 year-olds, to introduce them to classical musical through imagination, active listening and hands-on music making with members of the NY Philharmonic. There are three shows this season, ensembles of strings, woodwinds and brass. Subscription prices range from $60-$75. Also, teens ages 12-17 pay only $12.50 for select shows, see more info here.
What's so cool?
Ages 3-6, 6-12, 12+
Cost: $44-$144
What you get: Solid intro to classical music and hanging out/creating with members of the famed orchestra
Symphony Space
A subscription at Symphony Space allows you to pick at least four family events, including music, theatre, dance and family films. All events take place on Saturdays with the Just Kidding series. If you subscribe for four shows for two adults and a child, it will cost you about $172 for tickets (non-members).
What's so cool?
Ages: All
Cost: Shows are $10-$20. $125 for membership.
What you get: See some of the coolest and most popular children's performers.
Carnegie Hall
Carnegie Hall does have subscriptions for orchestras, recitals and choruses for adults and kids, and they also have $9 tickets (for everyone!) to their 2012-2013 Family Concerts. Recommended for children ages 5-12, the concerts are a great introduction to music. Educational activities go down one hour before the show, free of cost to all ticket-holders.
Carnegie Kids is the Hall's family subscription option, which has tickets to 45-minute shows for FREE (no matter how old you are). These shows are recommended to kids Pre-K to K. There a whole bunch of shows this season, so be sure to check out their website so you don't miss out.
What's so cool?
Ages: 4-5, 5-12
Cost: Free-$9
What you get: Solid introduction to classical music, out-of-the-box ways to engage kids, cheap.
92nd St Y
At the Y, the Family Music subscription (ages 6+) and the Baby Got Bach subscription (ages 3-6) each have three shows this season. The popular rockin' BYOK (Bring Your Own Kid) series, at 92YTribeca, offers a 12-ticket card you can purchase. 
What's so cool?
Ages: 3-6, 6+
Cost: $42-$150
What you get: Kids get to feel entertained, like grown-ups.
The Little Orchestra Society
For Lolli-Pops (ages 3-5), shows include: The Orchestra: A Happy Family, Things that Go Bang!, Who's Got the Beat, and more. A 3-concert series is $45 or $90 and a 6-concert series is $90 or $150. As a proud grad of Hunter College (where the Kaye Playhouse is, where the Lolli-pop series will take place), I can tell you the rear orchestra isn't a bad deal. Happy Concerts (for ages 6-12) takes place at Avery Fisher Hall at Lincoln Center and costs $36-$120 for a 3-concert subscription: Babes in Toyland, Tubby the Tuba and Disney Fantasia Live in Concert.
What's so cool?
Ages: 3-5, 6-12
Cost: $36-$150
What you get: Stories + music, a fun introduction to classical music, variety in the shows.
Find more tips for NYC art and kid shows in our Culture Guide.