23 Fall Festivals, Fairs, Carnivals and Celebrations for NYC Kids September 2014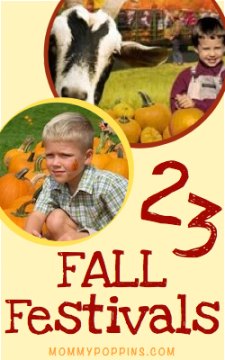 School may be starting but the outdoor fun isn't stopping anytime soon. Some of New York City's best annual alfresco festivals take place in September including FREE family favorites like the West Side County Fair in Riverside Park South, the Medieval Festival in Fort Tryon Park and Brooklyn's biggest street fair Atlantic Antic.
There are also celebrations that aren't specifically aimed at families but have plenty of kid appeal, including Little Italy's Feast of San Gennaro, the multidisciplinary Dumbo Arts Festival and the mind-blowing Maker Faire at the New York Hall of Science, which we rave about every year.
We've got the scoop on all of these plus 17 other shindigs, 23 in total! So get out your calendar: You won't want to miss these fun and mostly FREE festivals and celebrations. Also, be sure to check out our September NYC Go List for the top 18 things to do with kids throughout the month.
Click through to our event listings for exact locations and times.
Mad. Sq. 200: Historic Fair – Flatiron
Saturday, September 6
FREE
Mark Madison Square Park's bicentennial at this alfresco celebration featuring 19th- and 20th-century pastimes and entertainment. Try classic lawn games like badminton, croquet, hopscotch, marbles and jumping rope. Check out retro curios like Victrolas, nickelodeons and animatronic gadgets from Denny Daniel's Museum of Interesting Things, an old double-decker bus from the New York Transit Museum and vintage fashions courtesy of Leading Lady Costumes. Plus, enjoy the amazing antics of the Bindlestiff Family Cirkus, Kid Ace's magic tricks, old-fashioned dances by the Commonwealth Vintage Dancers and classical music.
West Side County Fair – Upper West Side
Sunday, September 7
FREE
Can't make it to a county fair outside of NYC? Then check out this Upper West Side favorite in Riverside Park South. Most of the activities are best for young children including carnival games and rides, sideshow performers, a greenmarket and a reptile show. Warning: When the weather's nice, this fair gets mobbed and the lines for the rides are especially long, so try to arrive on the early side.
Ferragosto – the Bronx
Sunday, September 7
FREE
Head to NYC's other Little Italy in the Belmont section of the Bronx for a taste of old-world culture with commedia dell'arte-style street performers, lots of live music, face painting and the delicious food Arthur Avenue is famous for.
Adoptapalooza – Union Square
Sunday, September 7
FREE
Here's a fest your whole family can enjoy—even the four-legged members. Meet more than 300 cats, dogs and other pets looking for loving homes at this annual animal adoption event in Union Square Park. There will also be training demos, advice about pet health care, training and grooming, and kids' activities like face painting, temp tattoos, balloon sculptures and caricatures.
Feast of San Gennaro – Little Italy
Thursday, September 11-Sunday, September 21
Free admission but some attractions cost extra
This legendary 11-day fest is officially a religious celebration with masses, processions and other liturgical events, but for most visitors the main draws are the food and carnival atmosphere. Thirty-five of Little Italy's restaurants dish out amazing sausage sandwiches, fried Oreos, Italian pastries and more right on the street. Plus there's live music, games and rides, including a Ferris wheel. At night, it becomes quite the party scene, so be sure to go early in the day to try to avoid rowdy crowds.
New York City Honey Fest 2014 – Rockaway
Saturday, September 13
FREE
Head to the Rockaway Beach Boardwalk for a sweet party celebrating bees and honey. Attractions include a marketplace featuring honey-infused eats, themed art projects, a honey-tasting contest, beekeeping demos and a Be-A-Bee Parade.
Brooklyn Kite Festival – Brooklyn Heights
Saturday, September 13
FREE
B.Y.O.K. (bring your own kite) and let it soar in front of the glorious Manhattan skyline in Brooklyn Bridge Park. If you don't have a kite, they will be available for purchase. Afterward, explore everything this gorgous green space has to offer, including a historic carousel and awesome playgrounds.
Greenpoint Y Community Day Block Party – Greenpoint
Saturday, September 13
FREE
Get a taste of everything the Greenpoint Y has to offer families and enjoy typical street fair fun like live music, food, games, a bouncy house, crafts and a kids' dance party. There will also be a marketplace featuring wares by local artisans.
92nd Street Y StreetFest – Upper East Side
Sunday, September 14
FREE
The venerable Upper East Side institution sponsors this 15-block street fair. Check out the Y's fall programming and classes, and enjoy family performances, arts and crafts, sports and games, and lots of vendors. Be sure to hit the American Girl-sponsored 92Y KidCentral Ave on 84th and 85th Streets featuring crafts, a demo by the 92Y Gymstars Gymnastics Team and the Tiny Tumblers Toddler Obstacle Course. FREE
Bounce Back to School Carnival – Prospect Heights
Saturday, September 20
Admission: $5 for adults, $2 for children ages 2-12 but there are additional activity fees
The parents at Brooklyn's PS 9 got their annual fundraiser together early! Enjoy five bouncy houses (including one just for toddlers), face painting, games, raffles and an outdoor dance party, plus lots of yummy things to eat and drink.
Queens County Fair – Floral Park
Saturday, September 20-Sunday, September 21
$9 for adults, $5 for children under 13, additional fees for rides and other attractions
NYC's only historic working farm, the Queens County Farm Museum, hosts this annual fair with blue ribbon competitions in livestock, produce, home crafts, arts and crafts, and more. Other old-fashioned fun includes pie-eating and corn-husking contests, pig races, hayrides, a petting zoo, carnival rides and a midway. For an additional fee, you can also get lost in the Amazing Maize Maze.
Maker Faire New York – Corona
Saturday, September 20-Sunday, September 21
Tickets range from $17.50 to $1,000 but the best deal is the Sunday Family Pass: five tickets for $100, just $20 per person.
As you can probably tell from how often we write about it, Maker Faire is a true Mommy Poppins favorite. The grounds of the New York Hall of Science explode with all kinds of inventions and creations, everything from knitting to robotics, circus to interactive sculptures, computers to crafts. Kids should find the Young Makers area particularly inspiring, with local students showing off their cutting-edge projects. And of course everyone's awed by the life-size working replica of the Mouse Trap board game. Check out our highlight reel from the inaugural fest in 2010, and then be sure to buy tickets for this year's edition.
New York On Location – Astoria
Sunday, September 21
FREE
For one day only, families can go behind the scenes at Queens' Kaufman Astoria Studios to explore more than 20 trailers and trucks, all straight from productions currently shooting in NYC. Check out star dressing rooms; tech, prop, hair and makeup, wardrobe and special effects trucks; and other cool locales. Plus, stunt experts will demo high falls, street fighting and stunt driving. Once you tire of the spotlight, head to the adjacent Museum of the Moving Image, which is offering complimentary admission so you can check out its exhibits, including Behind the Screen and What's Up, Doc? The Animation Art of Chuck Jones. FREE
Brooklyn Book Festival – Brooklyn Heights
Sunday, September 21
FREE
Attention bookworms of all ages: Meet more than 200 local authors at this annual lit fest. While much of the event is aimed at grown-ups, there's plenty of fun for kids, too. In the BKBF Children's Area in Columbus Park, enjoy award-winning author readings and signings including Brian Floca (Locomotive) and Sophie Blackall (The Baby Tree), plus fun illustrator draw-offs and appearances by costumed characters like Waldo. Meanwhile, the nearby Youth Stage aimed at tweens and teens, features star-studded author panels (Newbery winner Rebecca Stead, the hilarious Jon Scieszka, the legendary R.L. Stine), and compelling topics like gender identity and first love. Plus there will be vendors selling discounted books. FREE
Autumn Moon Chinese-Am Cultural Week Festival & Lantern Parade – Sunset Park
Sunday, September 21
FREE
There are a number of Chinese Mid-Autumn Moon fests throughout the city this month, but the Better Chinatown Society's shindig in Brooklyn's Leif Erickson Park is the big one. Families can enjoy cultural performances, arts and crafts, sports activities, food vendors and a traditional children's lantern parade at 2pm, which marches down Eighth Avenue from 68th to 55th Streets.
Flatbush Frolic – Flatbush
Sunday, September 21
FREE
This community celebration features the usual street fest fun including delicious treats, live music, a craft fair, and a dedicated kids' area with games and bouncy houses.
Lantern Floating for Peace – Upper West Side
Sunday, September 21
FREE
All are welcome at this celebration hosted by Shinnyo-en, an international Buddhist organization. Head to Lincoln Center's Paul Milstein Reflecting Pool to decorate a lantern with your hopes and dreams for world peace and set it afloat. At sunset, the head priestess of Shinnyo-en will say a special prayer as LED-candlelit lanterns glide by.
Dumbo Arts Festival – Dumbo
Friday, September 26-Sunday, September 28
FREE
This massive, multiday festival takes over the namesake neighborhood with visual arts, live performances and interactive activities for all ages. If you sort the schedule by family, you only get a handful of results, but don't let that deter you,  almost everything is appropriate for all ages (and anything not for children's eyes will be hidden in a gallery with a warning at the door). If you want to plan your visit in advance, you can find the complete list of projects on the website as well as a map. But it's also fun to go with no info whatsoever and just wander the streets of Dumbo to see what kinds of offbeat art you stumble upon. Once you've had your fill, nearby Brooklyn Bridge Park offers many other amusements. FREE
Breukelen Country Fair – Canarsie
Saturday, September 27
FREE
Try all kinds of old-fashioned fun at the Wyckoff Farmhouse Museum, an historic institution dedicated to early life in NYC. Enjoy Colonial carnival games, a children's improv comedy class, yoga, storytelling, cider pressing, composting, vegan cooking demos, an embroidery circle, face painting, a photo booth, a performance by women's drum and dance collective Sistah's Laying Down Hands, and classic treats like hot dogs, popcorn and cotton candy.
Chile Pepper Festival – Crown Heights
Saturday, September 27
$20 for adults, $15 for students, free for children under age 12
The Brooklyn Botanic Garden's festival features plenty of fiery fun for families. Hit the pop-up gardening station to pot chile plants to take home, sample a wide variety of spicy sauces and chocolates, and enjoy live music and performances in the BBG's Cherry Esplanade throughout the day.
Festa D'Italia & Motori D'Italia – Staten Island
Saturday, September 27-Sunday, September 28
$10 for adults, free for children under age 12
Celebrate Italian culture at Staten Island's Casa Belvedere. Enjoy live entertainment, homemade Italian treats, games, rides, crafts, and a display of exotic cars and motorcycles. Love Italian food? Make sure you enter the all-you-can-eat food contests!
Medieval Festival – Washington Heights
Sunday, September 28
FREE
If you can't make it to the Renaissance Faire in upstate New York, don't fret: You'll find many of the same vendors and performers at this no-cost, one-day fest in NYC's Fort Tryon Park. Put on your best retro garb (velvet dresses, corsets and armor are favorites) and party like it's 1399 along the Hudson River. Watch knights joust and other pageantry of the era, catch live strolling musicians, dramatic minstrels and juggling jesters, browse the old-school wares, and feast on turkey legs and fried dough.
Atlantic Antic – Brooklyn
Sunday, September 28
FREE
Hit Atlantic Avenue for the biggest street fair in Brooklyn featuring several stages of live music and a slew of vendors. There's a whole block dedicated to kids' activities like pony rides, inflatables, face painting and balloon sculptures. Grown-ups will appreciate the eclectic selection of international eats, like grilled sardines, pulled pork, baklava and carnival favorites. Plus the nearby New York Transit Museum is holding its annual Bus Festival in conjunction with the fest, where you can check out all kinds of retro rides.
You can find even more festivals and other great family happenings in our Event Calendar.