Best NYC Fall Festivals for Kids in September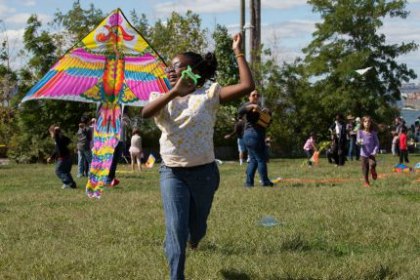 Kick off autumn at one of these fun-filled (and mostly FREE) fall festivals in NYC. Annual family favorites abound this month, including top September picks like Maker Faire, the Richmond County Fair and the Little Red Lighthouse Festival. But there are also lots of cool under-the-radar events you may not have heard of like a kite festival in Brooklyn Bridge Park, a sweet honey celebration in Rockaway Beach, and Italian fairs in the Bronx and on Staten Island, both a lot less crowded than San Gennaro. So banish the back-to-school blues by hitting one (or more!) of these kid-friendly fetes this September.
Click through to our listings for all the details, including time, location and price.
Mid-Autumn Moon Festival – Chinatown
Saturday, September 5
Celebrate the Chinese harvest season at this second annual fest featuring holiday crafts, live performances and pan-Asian eats from area restaurants like Sam's Fried Ice Cream, Osaka Grub and Seoul Pancake. FREE

Give one-wheeling a try at Governors Island's annual Unicycle Festival.
NYC Unicycle Festival – Governors Island
Saturday, September 5-Sunday, September 6
Unicyclists of all ages and skill levels hit Governors Island for races and kooky competitions. Don't know how to ride? Give one-wheeling a go with help from pros—there's even a stationary unicycle to try. FREE
Richmond County Fair – Staten Island
Saturday, September 5-Sunday, September 7
Head to Historic Richmond Town for old-fashioned fun like amusement park rides, country crafts, sideshow acts, four stages of live music, pony rides and a petting zoo.
West Side County Fair – Upper West Side
Sunday, September 6
Best for the preschool set, this Riverside Park South staple features mild carnival rides and games, sideshow performers, a greenmarket and a reptile show. Note that for the first time, a wristband is needed to access rides and games, so arrive early to snag one. FREE
Feast of San Gennaro – Little Italy
Thursday, September 10-Sunday, September 20
Though this fest is officially a religious celebration, families come for the food and carnival atmosphere. Top Little Italy restaurants dish out amazing sausage sandwiches, fried Oreos, Italian pastries and more right on the street. Plus there's live music, games and rides, including a Ferris wheel. At night, it becomes quite the party scene, so be sure to go early in the day to try to avoid rowdy crowds. Free admission but there are fees for activities.
NYC Honey Fest – Rockaway
Saturday, September 12
Celebrate bees and honey at Rockaway Beach. Enjoy a marketplace featuring honey-infused eats, themed art projects, beekeeping demos and, of course, lots of honey tastings. FREE
Ferragosto – the Bronx
Sunday, September 13
Head to NYC's other Little Italy in the Belmont section of the Bronx for a taste of old-world culture with Commedia dell'arte-style street performers, live music, face painting and the delicious eats Arthur Avenue is famous for. FREE
Brooklyn Book Festival Children's Day – Brooklyn Heights
Saturday, September 19
In honor of its 10th anniversary, the Brooklyn Book Festival is hosting its first dedicated Children's Day the Saturday before Sunday's main event. Head to MetroTech commons for readings by kid-lit luminaries like Drew Daywalt (The Day the Crayons Quit) and Stuart Gibbs (the Spy School series), plus illustrator draw-offs, booksellers and costumed characters. FREE
Brooklyn Kite Festival – Brooklyn Heights
Saturday, September 19
Bring your kite and let it soar in Brooklyn Bridge Park. If you don't have one, flyers will be available for purchase. Afterward, explore everything this gorgous green space has to offer, including a historic carousel, awesome playgrounds and interactive art. FREE
RELATED: Top Family Events for September
Queens County Fair – Glen Oaks
Saturday, September 19-Sunday, September 20
Enjoy a full-fledged county fair right here in NYC at the Queens County Farm Museum with pie-eating and corn-husking contests; pig races; hayrides; a petting zoo; livestock, produce and craft competitions; and lots of traditional carnival rides. You can also get lost in the Amazing Maize Maze, which opens for the season this weekend.
Play:Ground Adventure – Governors Island
Saturday, September 19-Sunday, September 20
Cosponsored by the awesome arts collective Figment, this two-day fest invites kids to collaborate on building a whole city out of cardboard boxes, fabric, markers, string, tape and other easy-to-use materials. While there will be educators on hand to help if necessary, children are encouraged to make their own creative choices without adult intervention. FREE
Adoptapalooza – Union Square
Sunday, September 20
Meet more than 300 cats, dogs and other animals looking for forever homes at this annual pet adoption event in Union Square Park. Training demos, pet care advice, training and grooming, and kids' activities like face painting and temporary tattoos are also on tap. FREE
92Y Street Festival – Upper East Side
Sunday, September 20
The venerable Upper East Side institution sponsors this multi-block street fair. Check out the Y's fall programming and classes, and hit KidCentral Avenue for family performances, arts and crafts, sports and games, and activities sponsored by American Girl Doll. FREE
Flatbush Frolic – Flatbush
Sunday, September 20
This community celebration features the usual street fest fun including delicious treats, live music, a craft fair and a dedicated kids' area with games and bouncy houses. FREE
Lantern Floating for Peace – Upper West Side
Sunday, September 20
Head to Lincoln Center's Paul Milstein Reflecting Pool to decorate a lantern with your hopes and dreams for world peace at this Shinnyo-en-sponsored celebration. At sunset, the head Buddhist priestess will say a special prayer as LED-lit lanterns are set afloat. FREE

Heat up your kid's taste buds at the BBG's annual Chile Pepper Festival. Photo by Julie Markes, courtesy of the Brooklyn Botanic Garden.
Chile Pepper Festival – Crown Heights
Saturday, September 26
The Brooklyn Botanic Garden's annual festival features plenty of fiery fun for families. Sample a wide variety of spicy sauces and chocolates, and enjoy live music and performances in the BBG's Cherry Esplanade throughout the day.
Autumn Moon Cultural Festival – Brooklyn Heights
Saturday, September 26
Better Chinatown Society's annual Chinese harvest celebration moves to Brooklyn Bridge Park's Pier 1 this year. Enjoy cultural performances, arts and crafts, sports activities and food vendors. The traditional lantern parade will take place at a second fest in Sunset Park on Saturday, October 18. FREE
Breukelen Country Fair – Canarsie
Saturday, September 26
Hit the historic Wyckoff Farmhouse Museum for PuppetMobile's presentation of The Tales of Brier Rabbit, pony rides, games, face painting, arts and crafts, a pop-up farmer's market, cider pressing and farm fresh foods. Note: Some activities require no-cost tickets so RSVP. FREE
RELATED: Apple & Pumpkin Picking Near NYC
Greenpoint Y Community Day Block Party – Greenpoint
Saturday, September 26
Get a taste of everything the Greenpoint Y has to offer and enjoy typical street fair fun like live music, food, games, a bouncy house, crafts and a kids' dance party. There will also be a marketplace featuring wares by local artisans. FREE
Bounce Back to School Carnival – Prospect Heights
Saturday, September 26
Support the hardworking families at Brooklyn's PS 9 at the school's annual fall fundraiser. Enjoy five bouncy houses (including one just for toddlers), face painting, games, raffles and an outdoor dance party, plus lots of yummy things to eat and drink.

See the landmark up close at the annual Little Red Lighthouse Festival.
Little Red Lighthouse Festival – Washington Heights
Saturday, September 26
Celebrate Manhattan's only remaining lighthouse by taking tours with the Urban Park Rangers. Tickets for the FREE tours are given out beginning at noon but even if you don't score one of the limited spots, stick around for readings of Hildegarde H. Swift's 1942 children's book The Little Red Lighthouse and the Great Gray Bridge, fishing clinics and live performances. FREE
Festa D'Italia & Motori D'Italia – Staten Island
Saturday, September 26-Sunday, September 27
Celebrate Italian culture at Staten Island's Casa Belvedere with live entertainment, homemade Italian treats, games, rides, crafts and a display of exotic cars and motorcycles. Can't get enough Italian food? Be sure to enter the all-you-can-eat contests!

Kids can tinker, create and invent at the New York Hall of Science's annual Maker Faire.
Maker Faire New York – Corona
Saturday, September 26-Sunday, September 27
The grounds of the New York Hall of Science explode with all kinds of inventions and creations, everything from knitting to robotics, circus to interactive sculptures, computers to crafts. Kids should find the Young Makers area particularly inspiring, with students showing off their cutting-edge projects. And of course everyone's awed by the life-size working replica of the Mouse Trap board game. Our highlight reel from the inaugural fest in 2010 gives you a glimpse at how awesome it is.
Atlantic Antic – Boerum Hill
Sunday, September 27
Hit Atlantic Avenue for the biggest street fair in Brooklyn featuring 16 stages of live music and a slew of vendors. There's a whole block dedicated to kids' activities like pony rides, inflatables, face painting and balloon sculptures. Plus the nearby New York Transit Museum holds its annual Bus Festival, where you can check out all kinds of retro rides. Free admission but there are fees for activities.
(Top photo of the Brooklyn Kite Festival by Alexa Hoyer.)
This post, originally published in September 2010, is updated annually.