Family-Friendly Restaurants Near the Metropolitan Museum of Art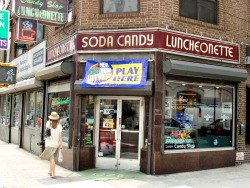 Whether you live in NYC or are just visiting, the Metropolitan Museum of Art is probably on your list of places to explore with kids. In addition to its engaging exhibits, the Met is well known for its top-notch family programs, like Start With Art gallery tours for young children, Art Trek hunts for school-age kids and drop-in art making opportunities for all ages.
Of course all that walking and looking and sketching makes you tired and hungry, but while the Met is located on the super-kid-friendly Upper East Side, many of the nearby restaurants are better suited to date night than a casual family meal. That's why we've rounded up eight spots within walking distance of the Metropolitan Museum of Art that welcome families.
TASTE Restaurant and Wine Bar
1413 Third Avenue between 80th and 81st Streets
Opened by a member of the famous Zabar family, this low-key eatery offers self-service sandwiches, soups, salads and pastries on weekday afternoons, table service with wine in the evenings, and a classic New York brunch on weekends. The brunch menu includes hearty dishes with a Jewish flavor like scrambled lox, eggs and onions, matzoh ball soup, and cheese blintzes with applesauce and sour cream, but there are pancakes and granola for the less adventurous. Grown-ups should be happy too: All of the breads and pastries are made onsite at the artisanal bakery, the coffee is perfectly roasted at the Vinegar Factory, and the fresh lettuce and heirloom tomatoes are actually grown in the restaurant's rooftop greenhouse.
Caffe Grazie
26 East 84th Street between Fifth and Madison Avenues
Located just a block from the museum, this casual spot serves a variety of salads, paninis, pastas and pizzas, but its best known for its Italian version of a Japanese Bento Box. For $16, you get a soup or salad, a sandwich and a dessert. Great to share with kids. Mini paninis are also available a la carte, and the signature sweet is Italian s'mores made with Nutella.
Luke's Lobster
242 East 81st Street between Second and Third Avenues
Promising lobster straight from the waterways of Maine, the Upper East Side outpost of this small East Coast chain exclusively serves seafood like crab and shrimp rolls, kettle chips, clam chowder and, of course, lobster. Dishes are fresh and chilled atop a lightly buttered roll. If the kids turn up their noses, bribe them with a whoopie pie for dessert.
Papaya King
179 East 86th Street at Third Avenue
The most informal restaurant in our roundup (there aren't even tables and chairs, just a counter), this iconic spot has been serving up hot dogs and papaya juice since 1932. The classic combos come with sauerkraut, onions, chili and more. There are also smoothies, tropical drinks and breakfasts like scrambled eggs on a sausage, along with quintessential New York staples such as curly fries and knishes. It won't be the healthiest meal your kids ever eat but you probably won't have to yell at them to clean their plates.
Le Pain Quotidien
1131 Madison Avenue between 84th and 85th Streets
There's always a mom with a stroller relaxing on the bench outside the Upper East Side location of this international chain. With communal tables, ample stroller parking, freshly baked goods and large plates perfect for sharing, Le Pain Quotidien is a great choice for large parties. The menu is full of traditional but down-to-earth European fare: tartines (open-face sandwiches), pastries like pain au chocolat and brioche, salads, soups and a tasty cheese plate. Skip dessert and indulge in the super-rich Belgian hot chocolate instead.
Lexington Candy Shop
1226 Lexington Avenue at 83rd Street
We've raved about this old-fashioned soda fountain luncheonette many times in the past. The decent diner food isn't special, but that's not why you come here. The main attractions are the old-school vibe and decor, the jaw-dropping window display of vintage Coca-Cola bottles and memorabilia, and authentic egg creams, malteds, milk shakes and ice cream sodas. There's no public restroom so make sure you go at the museum!
Big Daddy's
1596 Second Avenue at 82nd Street
With kitschy pop-culture decor ('70s and '80s-era lunch boxes and posters), televisions perpetually tuned to Nick Jr. and a balloon for every young visitor, this local chain is a always a hit. Nothing on the menu is healthy—even the salads have heaping portions of bacon and cheese, but Big Daddy's serves the best tater tots you'll ever eat, and sandwiches, burgers and shakes so big, sharing is almost necessary. It's also usually a lot less crowded than that other big UES burger and shake spot, Shake Shack on East 86th Street. Sign up for the restaurant's Insider's Club and you'll get emails with weekly specials, a free birthday entree and 15% off your next meal.
Cascabel Taqueria East
1538 Second Avenue at 80th Street
You'll find traditional Mexican fare at this funky and colorful eatery. During the day, the spot's quite family-friendly and even has high chairs. Corn tacos is the main dish here, great for little hands. Get your shells stuffed with fish, shrimp, chicken, beef, chorizo and more.
And if you don't want to leave for lunch, the Metropolitan Museum houses multiple dining options, ranging from the casual cafeteria to various cafes and bars spread throughout the assorted wings, a Patrons Lounge and a Members Dining Room.
Still hungry? Read about places to eat with kids near the American Natural History Museum or see all of our NYC dining posts.