Easy Homemade Halloween Costumes, Ideas for Slacker Moms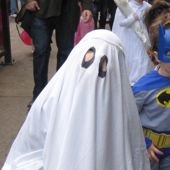 I am not usually a slacker mom, but last Halloween it happened:  two days before my son's annual school Halloween parade he had no costume to wear!  I had known what he wanted to be since August but just couldn't find it.  As Halloween drew closer I enlisted the help of my friends, their spouses and even some of their parents, but no one could find a whale costume any where in the city or even online.  And, making a whale, well, it was beyond my limited crafting capabilities.  I took him to the Halloween stores to pick something else out but it for him it was whale or bust.  The night before the parade in a moment of exhaustion and desperation, I suggested the ultimate slacker mom Halloween costume, "how about dressing as a ghost?"  
Halloween is just a few days away.  Do you have your costume ready?  Read on for fun and spooky last minute DIY costumes, including the infamous ghost costume (it isn't as easy as you would think.)
The ghost is a great last minute costume, but, it isn't as easy as we were all led to believe in those Charlie Brown cartoons.  The sheet needs to be secured on top of your child's head or the whole thing will move causing lots of tripping and falling when they can't see out of the eyeholes.  If you want to try out a ghost anyway, sew or glue the sheet into a top hat or baseball cap.  My son wanted none of that so I used a white cord and kind of tied it around his forehead, hippy style, to keep the sheet in place, which didn't work very well.  Needless to say he only wore the ghost costume for about ten minutes.
Other last minute DIY costumes:
Wrap your kid in lots of gauze from the medicine cabinet to make a mummy. Secure gauze with white tape, glue or safety pins.  Crafty moms may want to sew gauze directly to a white outfit.  
If you have a uniform from school, baseball, ballet, soccer or even a scouting, dress the kids in it, get a pair of plastic fangs and white face paint from the store and voila – vampire soccer player, baseball player, etc.  (If they want to be a vampire that's a little more modern, be a Cullen, just put a little bit of glitter on their face and hands and let them walk around brooding.)  The uniform concept can work with a werewolf mask or any scary ghoulish mask that you can find.
Make a quick Harry Potter costume with some old graduation or choir robes you may have, get a plastic wand, draw a little lightning bolt on their forehead and throw on a pair of glasses.  Ditch the glasses and the lightning bolt for Hermione or one of the Weasley brothers.
A black sweat suit can be transformed into static cling by gluing, sewing or stapling socks, underwear and a couple of dryer sheets to their pants and shirt.  Have some glow in the dark puffy paint pens?  Draw an easy skeleton directly on the clothes for a spooky skeleton.
Fresh Direct boxes can be turned into a bunch of stuff for a little kid.  
A talking head on an old fashioned TV can be created by cutting a whole in the front panel for the screen then paint it or cover it with contact paper or something else. Draw on some knobs and put it over their head.  Or, cut the small panels off the top and bottom and armholes in the side, tape up the back, paint it a primary color and draw circles on one side for little kid turned into a  Lego brick.
Do you have girls with extra tights and leotards from dance class?  These can easily be transformed into cats or mice by adding a whiskers, tail and ears.  You can buy ears and tail sets most places, but if they are sold out, ears can be made out of craft foam and glued onto a headband and a tail can be an old pair of tights stuffed with something and pinned to her bum.  Use eyeliner to draw on some whiskers.  Red leotards can be made into a devil using the same techniques.  If you can find a tutu, dust it with some glitter, pair it with the leotard and tights for instant fairy.
When I was a kid, the slacker moms would dress the boys as hoboes and the girls as gypsies. Not sure how PC that is anymore, but they sure are easy costumes. Boys would wear an old flannel shirt, 2 different shoes and ratty jeans.  Rub some dark eye shadow on their cheeks to make them look a little dirty and black out a tooth or two.  Crafty moms of the day would make a little pouch out of a bandana and put it on a stick for the kids to carry around with them.   Gypsy girls would wear a prairie style or flowy skirt, sandals and tons of their mother's jewelry, scarves and make up.
Take a solid colored tablecloth and tie or pin around your child's neck for an old school superhero.  Team it with those super hero pjs to complete the look.
If your daughter has a black dress you take a broom from the closet for a quick witch.  You can even jazz it up a bit with some face paint and a pointy black hat from the drugstore if they still have them.
Check out the Mommy Poppins Halloween Guide for the best Halloween fun this year. And see Homemade Childrens Halloween Costume Ideas from the past for more great ideas.