Dialog in the Dark: See NYC in a Whole New Way at This Interactive Installation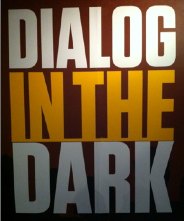 Have you ever wondered how the blind are able to make their way around this crazy city we live in? Some days, navigating NYC with perfect vision is tough! Dialog in the Dark, a new exhibit at the South Street Seaport, invites visitors to experience New York City from the point of view (so to speak) of the blind and visually impaired.
When you enter the interactive installation Dialog in the Dark, you're given a white cane to help you find your way and then the lights are turned out—from this point on you're in complete darkness as you're led through several replicas of NYC environments. Each area has its own smells, sounds and things to feel. Part of the fun is figuring out where you are, so I won't give too much away, but I will give you a sense of what it's like.
A blind or visually impaired person acts as your literal guide. You have to get over your jitters as you first grope your way into the exhibit, but learning to use your other senses to get your bearings is kind of the point.
Young children may find it creepy to be in the dark, and even I had moments of disorientation that were unsettling. But I was also surprised by how quickly I started to make my way around and feel comfortable. You learn to picture things with your mind's eye, and the scariness of not being able to see dissipates as your other senses and your brain fill in the gaps.
Dialog in the Dark gives you a peek into a world that many of us may be curious about but have never experienced. It's a rare and interesting opportunity to explore different environments as a blind person, use all of your senses and challenge yourself to move through the world of darkness.
Dialog in the Dark is best for children ages 11 and up. I went with two 8-year-olds and an 11-year-old, and while I think the younger kids enjoyed parts of it, by the end they were both freaked out. In addition to being a cool experience, Dialog is a great lesson for kids—but it's also a little intense.
Dialog in the Dark is on view at the South Street Seaport (it's in the same building as Bodies...The Exhibition) through 2012. Tickets are timed and advance reservations are recommended. It's $29-$38 per person, which is a bit pricey, but perhaps necessary due to the personal guide for each group.
Dialog in the Dark
South Street Seaport
11 Fulton Street
888-926-3437
Read about other current kid-friendly exhibits in our Museum Guide.