Dan Zanes Interview: The Children's Music Star Chats with One of His First Fans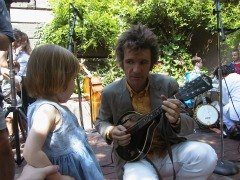 Exactly a decade ago this month, a friend told my family about a new band for kids that was playing at Chelsea restaurant The Park on Sundays. We went the following weekend with our then two-year-old Emma, and instantly became fans of Dan Zanes & Friends, which soon became a children's music juggernaut.
The Grammy winning group plays many different genres of music (rock, folk, world, blues, even show tunes) and the songs espouse positive values like having fun, making music and caring about others. The fact that Zanes—who played in the adult rock outfit The Del Fuegos in the '80s—and his collaborators are as popular as ever after releasing 10 albums over the past 10 years speaks (sings?) volumes about their talent, tenacity and creativity.
Emma was too young to remember those early concerts (that's a photo of her at age two with Zanes!), but she grew up listening to all of the band's CDs. So she was thrilled to get the opportunity to chat with him about his career, his favorite things to do in NYC with kids and how he plans to get ready for his big free Celebrate Brooklyn concert this Saturday, July 16 in Prospect Park, where he'll play tunes from his upcoming album Little Nut Tree.
What does a 12-year-old want to know from her first musical favorite? Read on to find out.—Sara, mom to Emma the interviewer.
How did you become interested in music?
I don't even know! I don't why some people get interested in music while others want to draw or play sports. But I know that I always liked music, and then I heard some Lead Belly records, and that's what really got me excited.
Did you play an instrument at school?
I tried violin but didn't have too much success with that. And then my mother gave me a guitar and I just fell in love. But I didn't really play at school.
Do you have other hobbies besides music?
Sports. I liked sports when I was younger, like basketball, baseball and soccer.
What are your favorite kids' bands, other than your own?
I like Elizabeth Mitchell a lot. I think her records, like You are My Sunshine, are great. It's a mix of old and new songs, and it sounds like it was recorded in a house and that everyone was having fun doing it. My favorite old-school music is Lead Belly. He performed a lot for kids in New York.
How do you get ready for a concert?
Usually I eat snacks, that's mainly what I do. We also always have a really long sound check before our shows. It's like three or four hours, making sure all of the instruments and microphones are working. It's a long process but that usually warms us up.
Do you ever get nervous?
Oh yeah, I always get nervous! The bigger the audience, the less nervous I get though. When it's a small audience, I get very nervous.
What's the most exotic place you've ever performed?
The Kingdom of Bahrain in the Middle East probably. We played there two years ago and we were supposed to go back this year after our trip to London. But there were a lot of protests happening in Bahrain, and it got worse and worse, and finally the people who invited us said that we would have to wait. We were very disappointed because I love the Middle East. I think it's great to go and visit there. It helps me understand more about Arabic culture.
So is that your favorite place to perform?
I think so, but I also really like London and Brooklyn.
What's the craziest thing a fan has ever done at one of your concerts?
Somebody once changed their baby's diaper almost right at my feet. That was pretty crazy.
I know one of your heroes is Pete Seeger. Who are your other influences?
I think I got more ideas from Seeger than anybody else but Lead Belly is the person whose music I end up listening to the most. For how I think about music and people and participation, Seeger has something incredible to offer, but I also really like Chuck Berry, Buddy Holly, Sam & Dave, and Aretha Franklin. There's just so much out there. Every time I put on something that's really good I think it's the best thing I've ever heard, and then the next day something else will be the best.
Do you speak Spanish?
I speak a little bit and I live in a Spanish-speaking neighborhood, Washington Heights. It's about 90% Dominican. So Spanish is spoken everywhere. I need to get mine up and running.
What do you think is the most fun thing to do in NYC with little kids?
Besides a Dan Zanes' concert? Hmm, that's a great question. It's a long list! Let's see...going to the Natural History Museum, of course. Going to Chinatown to eat. Walking around Jackson Heights is really great. Eating is part of all of these outings, of course. Whenever I think of doing things with kids, I think of eating. I used to love going down to the South Street Seaport to hear the New York Packet. They sang sea chanteys [and maritime folk music. Since the South Street Seaport Museum is currently closed due to financial woes, the group is no longer performing there]. I used to do that a lot with my daughter, that was really fun. What else, wow, there are so many things. I like all the music in the parks, and I like things that don't cost a lot of money.
Do you ever stop and listen to subway musicians?
Oh yeah, of course. There are some great musicians playing underground. It's pretty exciting. I did that for a little while when I first came to NYC.
I read on Wikipedia that you support Heifer International, which works with communities to end hunger and poverty, and care for the earth. I really like that organization. Are you still involved?
Yeah, I love Heifer. We give them a portion of the proceeds from many of our records, and I play at some of their events. We even made a video for them. I feel like I never do enough, but I love what they do, it's such a great organization. It's easy to explain their work to young people. No matter how old or young you are, there's a way that you can participate and help out. That's something that I really appreciate about them.

Dan Zanes & Friends headline Celebrate Brooklyn's Ezra Jack Keats Family Concert this Saturday, July 16 in Prospect Park. The Brooklyn Youth Orchestra summer camp, the Bed Stuy Veterans dancers and storyteller Angeli Rasbury are also on the bill. Gates open at 3pm and the show begins at 4pm. FREE (although a $3 donation is suggested).