News: Cooper-Hewitt's New Design Center, Cool New Kids' Cruises, Fort Tryon Park Makeover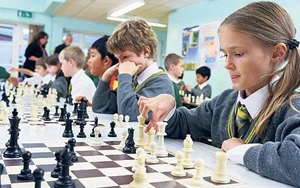 In addition to our usual selection of school scoop—some encouraging, some not—we've rounded up links about a bunch of cool new New York City places and programs. We've got details on Cooper-Hewitt's new Harlem Design Center, the star-studded launch of a new kids' cruise, geeky fun at a new comic book shop in Midtown, a new healthy restaurant at Chelsea Piers and newly minted chess champs at a Brooklyn middle school.
There's a new charter school brouhaha surrounding the always controversial Success Charter Network and of course it involves money. Apparently the schools are set to get a 50% increase in per-pupil management fees from the state and public school parents and advocates are none too happy.
Talk about chess for success: One Brooklyn middle school has emerged as the king of kiddie chess by winning the United States Chess Federation's national high school championship. Yup, you read that right, the junior high kids kicked the high schoolers' pawns.
Although Cooper-Hewitt's Fifth Avenue home is currently closed for renovations, the National Design Museum is hosting cool kids' art workshops in its soon-to-open Design Center at 111 Central Park North. The 1,500-square-foot space opens on Saturday, May 12 with a day of make your own Sesame Street Muppet workshops. Sessions begin every hour on the hour from 11am-3pm and pre-registration is a must.
Chelsea Piers may be a fitness paradise but its food options were oddly of the Homer Simpson variety... until now. Casual organic cafe Chelsea's Table just opened and offers healthy pastas, salads and sandwiches, and a kids' menu with items topping out at just $6 each.
Queens' geek mainstay, Montasy Comics, is opening a midtown Manhattan location in May. In addition to Spidey and Superman comics, the shop has a large space for Magic: The Gathering, Yu-Gi-Oh!, D&D and other tournaments. And you thought your adorkable kid was excited about Free Comic Book Day.
A new twist on an old tourist favorite: Circle Line Cruises will be hosting monthly kids' cruises throughout the spring and summer. The first one sets sail on Saturday, May 19 and, in addition to gorgeous views of the Statue of Liberty and New York Harbor, families can enjoy performances by Grammy winner Dan Zanes and singer/songwriter Elizabeth Mitchell, a juggler, a magician, a balloon artist and more activities back on land. Buy your tickets now; we're sure this will sell out.
Attention upper Manhattan: Your 80-year wait is nearly over as the long neglected southeast section of Fort Tryon Park is finally getting its extreme $1.6 million makeover.
Few can argue convincingly for standardized tests but it may just take some nonsensical pineapple sleeves (are there any other kind?) to finally raise the public outrage needed to enact some real change in the way aptitude is measured.
The opposite of the Slow Food movement may be taking place in our children's schools. Eleven minutes for lunch!? That's barely enough time to peel the wrapper off those sodium-laced Lunchables! It's happening in Minneapolis and may be here too. Do you know how long your kid gets for lunch?
And finally, the art of conversation is officially dead. RIP.
Tags: