City Island: The Perfect Day Trip for a Fall Weekend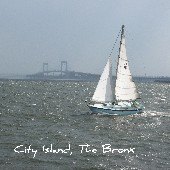 Many New Yorkers associate City Island with summertime (that is, if they even know about it).  Afterall, the main cuisine offered is seafood, there are panoramic water views, and sailboats galore.  However, we find the best time to visit City Island is a) anytime but a Friday or Saturday night (lunchtime is fine) and b) off-season!  Therefore we're recommending it as a perfect Columbus Day weekend daytrip. 
With just one single-lane bridge on and off the island, it can be a bit nightmarish if you get stuck in peak dinnertime traffic.  The cars back up all the way to Pelham Parkway, and even once you get on the island you really don't get to experience the charm it offers while angry drivers are blasting their horns.  Then there are the wait-times at all the restaurants to contend with.  Our one complaint about City Island is that the service at the restaurants always seems a bit spotty, so that's one more reason it's great to go when it's not too crowded.  We find lunches to be the best bet on the island, and if you're looking to get dinner you'll be fine if you go on a weeknight during the off-season. 

So now that you know when to visit City Island, below are a few other tips for you to consider (including kid-friendly restaurant choices) about your day-trip:

1) Leave time to wander and remember your camera.  Don't go crazy trying to find a parking spot right near your destination on the island.  Half the fun of City Island is its supreme walkability.  There's virtually no way to get lost.  There's one main drag (City Island Avenue) with all the restaurants, bars, and shops, and the bridge that gets you on the island shoots you directly onto this street.  Flanking either side of City Island Avenue are quiet side streets with quaint homes and the end of each street offers gorgeous water views.  You can effortlessly capture beautiful images perfect for framing. 

2) Visit the playground.  We all get sick of seeing the same old people and sights each time we take our kids to the local playground.  The City Island playground (Ambrosini Field, City Island Avenue at Centre Street) is newly renovated and offers you views of the water as you push your kids on the swings.  Plus, it's always best to tire the little gremlins out a bit if you want to actually enjoy your meal.

3) Pick your restaurant wisely.  There are tons of eating options on City Island ranging from casual to fancy schmanzy.  You live in NYC, so you can eat fancy schmanzy food anytime you want.  We recommend keeping it casual while dining on City Island.  Your most casual options would be all the way down at the end of the island by the piers.  You'll have your choice between two cafeteria-style restaurants, Johnny's Reef and Tony's Pier.  We recommend Johnny's Reef (2 City Island Avenue, 718-885-2086) due to the unobstructed water views from both the indoor and outdoor seating.  No matter which spot you choose, don't expect a gourmet meal.  We're talking fish and chips, fried shrimp, and well, actually...fried anything! 
If you're looking to enjoy a seafood meal with table service and a wider menu selection, we recommend either Sammy's Shrimp Box (64 City Island Avenue, 718-885-3200) or Sammy's Fish Box (41 City Island Avenue, 718-885-0920). Owned by the same guy (presumably his name is Sammy?), these restaurants are very similar.  Both have great food, huge portions, and speedy service.  Our one gripe is that the prices are a bit steep, especially considering you're dining under neon lighting.  There's an underlying bustling noise in these popular joints, so it's very kid-friendly in our opinion. 
If you're out with you're significant other on a much-needed date, we recommend Artie's (394 City Island Avenue, 718-885-9885).  The atmosphere is a bit more upscale, but prices are actually comparable to Sammy's.  The food is out of this world, but the service was a bit sluggish when we visited (hence the date night recommendation... our toddler had ants in her pants by the time we were done eating here). 

4) Leave room for ice cream!  Skip ordering dessert at whatever restaurant you choose and hit Lickety Split (295 City Island Avenue, 718-885-9195) on your way off the island.  It's a super cute ice cream shop with nice outdoor seating.  The ice cream is your standard Breyer's variety, but the small-town, old fashioned atmosphere is quite unique. 
Click here if you'd like to see some additional photos of City Island.
Getting there by car (recommended): Take the RFK/Triborough Bridge to I-287 E, and then take the exit toward Bruckner Expy E/I-278 E.  Keep left at the fork and follow signs for Bruckner Expy/New Haven/I-278 and merge onto Bruckner Expy/I-278 E.  Merge onto I-95 N and take exit 8B for Pelham Parkway.  Stay straight onto Shore Road and turn right at City Island Road.  At traffic circle, take 2nd exit and stay on City Island Road.
Getting there by mass transit: Take the 6 train to the end of the line (Pelham Bay Park).  Then take the Bx29 to City Island Avenue and Fordham Street (which is a nice central location on the island).