Spring Break Camps for New York City Kids: Cool Programs for Easter and Passover Break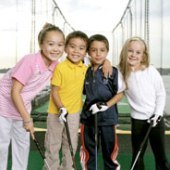 How can it be spring break already? It feels like midwinter break just ended! New York City public schools are closed from Monday, March 25 through Tuesday, April 2, and while there are plenty of cool things to do on the weekends, like Easter egg hunts and fun family day trips, you still have seven weekdays to fill.
If this vacation seemed to sneak up on you (like it did on me), don't worry: We've got the lowdown on the best spring break camps in town—and yes, they still have space available. These programs run the gamut from science to sports to the arts, so there's something to please every child. Plus many of these camps are offered the week of March 18 to 22 to accommodate private school recess. Be sure to click through to the camps' official sites for all the details, including hours and pricing.
Sports Camps
Aviator Sports & Events Center Holiday Break Camps – Marine Park
Floyd Bennett Field, 3159 Flatbush Avenue
Ages 3-15
Kids can have all kinds of athletic fun at this giant Brooklyn facility. Ice-skating, rock climbing, soccer, basketball and gymnastics are just some of what's on tap. Busing is also offered.
Chelsea Piers Holiday Sports Camps – Chelsea
23rd Street and the Hudson River
The massive athletics complex offers five different programs during Spring break.
Junior Golf Camp
Ages 6-16
Participants enjoy individualized golf instruction in a group environment, and get to hit the driving range and the simulators.
Multi-Sport Camp and Gymnastics Camp
Ages 5-12
In the Multi-Sport Camp, kids play soccer, baseball, handball and basketball. In the Gymnastics Camp, children hone their skills on the facility's state-of-the-art equipment.
Little Athletes
Ages 3-5
Toilet-trained preschoolers can opt for this half-day program, where they get to try a variety of activities including rock climbing, art, soccer and dance.
Urban Adventure Camp
Ages 12-16
Teens can do team-building exercises designed to develop self-confidence, collaboration and communication skills. Other activities include rock climbing, basketball, soccer, volleyball, ice-skating, yoga, dance and indoor cycling.
Super Soccer Stars – Manhattan and Brooklyn
Whether your young Pele is just starting out or wants to bend it like Beckham, soccer camp is a great way to keep the kids entertained while burning off all their energy. This popular program offers a number of different options at various locations, including the Upper East and West Sides, Brooklyn and Tribeca.
Mini Camp
Ages 2 1/2-5
Young athletes learn basic soccer techniques and also enjoy arts and crafts, and free play.
Kick It Clinics
Ages 6-12
Older kids can develop their soccer skills and play friendly games.
Asphalt Green – Upper East Side
555 East 90th Street between York and East End Avenues
Ages 4-12
The uptown athletic center groups kids by age (4-5, 6-7 and 8-12) and lets them play all kinds of sports, including soccer, baseball, basketball, gymnastics. Campers will also swim in the awesome Olympic-size pool.
Kids of Summer Sports – Upper West Side
Riverside Park, Fields at West 107th Street
Ages 6-13
In the morning, campers hone their baseball skills while afternoons bring dodgeball, soccer and basketball drills. In the event of bad weather, the camp moves to nearby PS 145's spacious gym.
Simply Sports – Upper East Side
The Wagner School, 220 East 76th Street between Second and Third Avenues
Ages 5-12
Kids can run themselves ragged playing a variety of team sports including basketball, soccer, flag football, hockey, dodgeball and capture the flag.
Arts Camps
Spring Art Colony – Hudson Square
Children's Museum of the Arts, 103 Charlton Street between Hudson and Washington Streets
Ages 6-12
The museum offers four spring break programs at its state-of-the-art space Two run March 18-22, the others run March 25-29.
In Claymation, kids create stop-motion shorts starring characters they create out of wire, paper, fabric and clay.
Bookmaking gives campers a chance to craft their own tomes including writing, illustrating and binding, plus adding cool pop-up features.
In Animated Shorts, campers learn the art of stop-motion animation using claymation, pixilation and paper cutouts.
Printmaking offers students a chance to develop design and production skills as they silk screen cards, T-shirts and other projects.
Guggenheim Spring Break Camp – Upper East Side
Solomon R. Guggenheim Museum, 1071 Fifth Avenue at 89th Street
Ages 8-11
Kids will explore the museum's exhibits and then create their own sculptures, paintings, collages and digital media pieces.
Crazy Mazie Holiday Art Camps – Chelsea
HiArt!, 227 West 29th Street between Seventh and Eighth Avenues
Ages 5-14
Creative kids can enjoy all kinds of art experiences, including drawing manga and anime, painting, mixed media, sculpturing and visiting local galleries. Preschoolers can also attend for half days, but a caregiver must be present.
New Vic Circus Kids Week – Midtown West
229 West 42nd Street between Seventh and Eighth Avenues
Ages 7-10
Juggling, clowning and theater games are just some of the fun on tap at NYC's famed family theater. Campers also get to attend a performance of the New Vic's clown show Bello Mania.
Pilobolus for Kids – Fort Greene
BAM Peter Jay Sharp Building, 30 Lafayette Avenue between Ashland Place and St. Felix Street
Ages 8-11
Young movers and shakers can work with the world-famous Pilobolus dance company exploring movement and shadow play, and finally putting on a show for family and friends.
TADA! Musical Theater Camps – Chelsea
15 West 28th Street between Fifth Avenue and Broadway
Ages 6-13
Aspiring Broadway hoofers work with theater pros to create a mini-musical, which is performed on the final day.
Take Two Film Academy – Upper West Side
795 Columbus Avenue between 97th and 98th Streets
Ages 8-16
Tweens and teens can try their hand at filmmaking and acting. Campers will team up to create their own shorts from start to finish, including writing, shooting and acting. At the end of the week, their flicks will be submitted to the New York International Children's Film Festival.
Academic Camps
American Museum of Natural History – Upper West Side
Central Park West at 79th Street
Ages 7-11
The museum offers three Adventures in Science Camps that feature hands-on investigation and interactive tours.
In Astro Adventures: Exploring Space, second and third graders can study outer space in the Hayden Planetarium.
In Paleo Adventures: Exploring Dinosaurs, fourth and fifth graders can learn about dinos.
Finally, Me and My Earth: Conservation Science in Action invites sixth to eighth graders to learn about natural resources and how to protect them.
NYChess Kids Camp – Murray Hill
PS 116, 210 East 33rd Street between Second and Third Avenues
Ages 4 and up
Chess players of all levels, even beginners, are welcome at this camp. Kids will hone their skills, attend lectures and, of course, play lots of games. There will also be breaks for sports and snacks.
NYChess Kids Exclusive Workshop – Chelsea
NYChess Kids Learning Center, 191 Seventh Avenue between 21st and 22nd Streets
Ages 4 and up
For more advanced players, NYChess Kids hosts half-day intensives at its learning center. During the sessions, participants will play two supervised games of chess in small groups organized by age and ability, and also attend two lectures.
New York Chess & Games – Prospect Heights
192 Flatbush Avenue at Dean Street
Ages 3-12
This Brooklyn chess shop hosts a camp for kids of all skill levels. Participants will also enjoy sports, games, outside time, movie breaks, arts and crafts, and other fun activities.
Spring Mini Camp at the Queens Zoo – Corona
53-51 111th Street at 53rd Avenue
Ages 5-9
Young animal lovers can spend two days behind the scenes at the zoo as the residents get ready for spring. Campers will enjoy face time with the animals, make crafts and explore the natural world.
Around the World Camp – Chelsea
Taste Buds, 109 West 27th Street between Sixth and Seventh Avenues
Ages 4-10
In this tasty half-day camp, chefs-in-training learn how to make dishes from around the world while getting a handle on kitchen basics.
Schools Out Ships In Camp at the Intrepid – Midtown West
Pier 86, Twelfth Avenue at 46th Street
Ages 5-13
Kids can explore the museum, play games and eat in the mess hall. This camp is offered for two weeks with the themes outer space and flying.
RoboFun – Upper West Side
2672 Broadway near 102nd Street
Ages 5-11
RoboFun is a favorite of Mommy Poppins founder Anna's son. Students in first through sixth grades build working LEGO robots in the morning and work on video game design in the afternoon. Kindergartners can take half-day sessions of pre-robotics, too.
Backpacks + Binoculars – Downtown Brooklyn
NY City Explorers, 110 Schermerhorn Street at Boerum Place
Ages 5-10
The brainchild of NY City Explorers, this program brings kids to one iconic NYC institution each day. During spring break, campers will travel to Staten Island's Greenbelt, the Rubin Museum, 6 Pointz, Hamilton Grange and other awesome spots. Bonus: Although camp officially ends at 4pm, kids can stay and romp in the play space until 6pm for no additional fee.
NYC is my Backyard – Upper West Side
American Museum of Natural History, West 81st Street and Central Park West
Ages 5-11
Founded by two New York City public school teachers, this program helps kids improve their writing skills by experiencing the wonders of NYC. During spring break, campers will explore a different area of the Natural History Museum every day, and record their experiences in a guidebook.
General Interest Camps
Manhattan Youth: School Holiday Camp – Tribeca
201 Warren Street near Front Street
Ages 5-11
Housed in PS 89 but open to all kids, this camp offers sports, crafts, theater, swimming and other fun. Tuition includes breakfast, lunch and a snack.
Parks Department Learn to Swim Camps – the Bronx, Brooklyn and Queens
Ages 6-17
The New York City Department of Parks & Recreation runs Learn to Swim Camps at rec centers with indoor pools. The program runs two hours each day. There is a list of locations on the website and you must call the center you're interested in to find out how to enroll. Unfortunately it looks like the Parks Department has nixed its usual full-day spring break camp this year.
ACT Holiday Camp – Morningside Heights
Cathedral Church of St. John the Divine, 1047 Amsterdam Avenue at 112th Street
Ages 5-12
This program is a great deal (and it's actually where one of our staffers, Raven, usually sends her daughter). Kids enjoy arts and crafts, cooking, reading and playing under the iconic Cathedral (or on the grounds, weather permitting). Fun on tap includes field trips to the Transit Museum, a hike, crafts and sports.
Mini Camp – Windsor Terrace
Kings Bay Y at Windsor Terrace,  1224 Prospect Avenue at Vanderbilt Street
Ages 3 to 13
Kids can make art, work on greening projects, create films, play music and sports, cook, swim and go on local field trips.
 
There's a lot more fun to be had in New York City over spring break. Check out our Event Calendar for additional ideas.