Spring Break Camps for NYC Kids: Cool Programs for Public School Spring Recess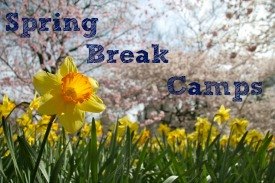 Though it feels like midwinter break is barely in the rearview mirror, we're already prepping for another school break. New York City public schools students are off from Friday, April 3 through Sunday, April 12. If you're able to take the days off and spend quality time with the children enjoying spring, Easter egg hunts and fun family day trips, that's great. But for many working parents, spring break means finding an enriching camp to keep the kids occupied during business hours.
If this vacation seemed to sneak up on you (like it did on me), don't worry, we've got the lowdown on the best spring break camps in town—and yes, there's still space available. These programs run the gamut from science to sports to the arts, so there's something to please every child. Be sure to click through to the camps' official sites for all the details, including hours and pricing.
Sports Camps
Aviator Sports & Events Center Holiday Break Camps – Marine Park
Floyd Bennett Field, 3159 Flatbush Avenue
Ages 5-13
Kids can have all kinds of athletic fun at this massive Brooklyn facility. Ice-skating, rock climbing, soccer, basketball, gymnastics, arts and crafts, and film screenings are just some of what's on tap. Lunch and a light snack are provided.
Chelsea Piers Holiday Sports Camps – Chelsea
23rd Street and Hudson River Park
The massive athletic complex offers three different spring break camps.
Gymnastics Camp
Ages 5-12
Children hone their skills on the facility's state-of-the-art gymnastics equipment.
Little Athletes
Ages 3-5
Toilet-trained preschoolers can opt for this half-day program, where they get to try a variety of activities including gymnastics, rock climbing, art, soccer and dance.
Junior Golf Camp
Ages 6-16
Participants enjoy individualized golf instruction in a group environment, and get to hit the driving range and the simulators.
Super Soccer Stars – Manhattan & Brooklyn
Whether your young Pelé is just starting out or wants to bend it like Beckham, soccer camp is a great way to keep the kids entertained while burning off all that excess energy. This popular program offers a number of different options at various locations, including the Upper East and West Sides, Brooklyn and Tribeca.
Mini Camp
Ages 2½-5
Young athletes learn basic soccer techniques and also enjoy arts and crafts and free play.
Kick It Clinics
Ages 6-12
Older kids can develop their soccer skills and play friendly games.
Fun in the Sun Camp
Ages 3-5
If your little one has cabin fever, enroll them in this outdoor soccer camp to spend two hours honing their soccer skills.
Asphalt Green – Upper East Side
555 East 90th Street between York and East End Avenues
Ages 4-12
The uptown athletic center groups kids by age (4-5, 6-7 and 8-12) and lets them play all kinds of sports, including soccer, baseball, basketball, gymnastics. Campers will also swim in the awesome Olympic-size pool.
Asphalt Green – Battery Park City
212 North End Avenue between Murray and Warren Streets
Ages 4-12
The downtown branch offers a similar program to its Upper East Side counterpart, grouping kids by age and letting them play all kinds of sports and swim.
Kids of Summer Sports – Upper West Side
Riverside Park, Fields at West 103rd Street; indoor location at the Bloomingdale School, 150 West 105th Street between Amsterdam and Columbus
Ages 6-13
In the morning campers hone their baseball skills, while afternoons bring dodgeball, soccer and basketball drills. In the event of bad weather, the camp moves to the nearby Bloomingdale School's spacious gym.
Parks Department Learn to Swim Camps – the Bronx, Brooklyn, Queens and Manhattan
Ages 6-17
The New York City Department of Parks & Recreation runs Learn to Swim Camps at rec centers with indoor pools. The program runs two hours each day. There is a list of locations on the website and call the center you're interested in to enroll.
Arts Camps
Spring Art Colony – Hudson Square
Children's Museum of the Arts, 103 Charlton Street between Hudson and Washington Streets
Ages 6-12
The museum offers two spring break programs at its state-of-the-art space. The first focuses on all things ceramics. The second celebrates illustrators as young bookworms bring their favorite stories to life through art.
Guggenheim Spring Break Camp – Upper East Side
Solomon R. Guggenheim Museum, 1071 Fifth Avenue at 89th Street
Ages 8-11
Kids explore the museum's exhibits and then create their own sculptures, paintings, collages and digital media pieces.
TADA! Musical Theater Camps – Chelsea
15 West 28th Street between Fifth Avenue and Broadway
Ages 6-14
Aspiring Broadway hoofers work with theater pros to create a mini-musical, which is performed on the final day.
Take Two Film Academy – Upper West Side
Leman Prep School, 1 Morris Street between Greenwich Street and Broadway
Ages 8-16
Tweens and teens can try their hand at filmmaking. Campers will team up to create their own shorts from start to finish, including writing, shooting and acting. At the end of the week, their flicks will be submitted to the New York International Children's Film Festival.
Academic Camps
American Museum of Natural History – Upper West Side
Central Park West at 79th Street
Ages 7-13
The museum offers three Adventures in Science Camps that feature hands-on investigation and interactive tours.
In Relentless Earth: Forces of the Natural World, second through fifth graders get up close with the current Nature's Fury exhibit and explore how people deal with natural disasters.
In Astro Adventures: A Trip to Space, fourth and fifth graders learn all about space exploration.
Finally, Archeology: Digging in the Digital Age invites sixth through eighth graders to learn about all the tools archeologists use in our technologically rich time period.
NYChess Kids Camp – Murray Hill
NYChess Learning Center, 191 Seventh Avenue between 21st and 22nd Streets
PS 116, 210 East 33rd Street between Second and Third Avenues
The Anderson School, 100 W 77th Street between Amsterdam and Columbus Avenues
Ages 4 and up
Chess players of all levels, even beginners, are welcome at this camp, held at three different Manhattan locations. Kids will hone their skills, attend lectures and, of course, play lots of games. There will also be breaks for sports and snacks.
Spring Mini Camp at the Queens Zoo – Corona
53-51 111th Street at 53rd Avenue
Ages 5-9
Young animal lovers can spend two days behind the scenes at the zoo as the residents get ready for spring. Campers will enjoy face time with the animals, make crafts and explore the natural world.
SuperFoodie Camp – Chelsea
Taste Buds, 109 West 27th Street between Sixth and Seventh Avenues
Ages 4-8
In this tasty half-day camp, chefs-in-training learn how to make dishes from around the world while getting a handle on kitchen basics.
Hubble: A Blast from the Past! – Midtown West
The Intrepid Sea, Air and Space Museum, Twelfth Avenue at 46th Street
Ages 5-13
In honor of the museum's HUBBLE@25 exhibition, kids explore the telescope's photographs and learn about space and astronomy. Space is limited and registration closes Friday, March 27.
RoboFun – Upper West Side
2672 Broadway near 102nd Street
Ages 5-11
RoboFun is a favorite of Mommy Poppins founder Anna's son. Students in first through sixth grades build working LEGO robots in the morning and work on video game design in the afternoon.
Backpacks + Binoculars – Downtown Brooklyn
NY City Explorers, 110 Schermerhorn Street at Boerum Place
Ages 4-10
The brainchild of NY City Explorers, this program brings kids to one iconic NYC institution each day. The spring break camp's theme is wildlife and field trips to the Staten Island Zoo, the New York Aquarium and Central Park are planned. Bonus: Although camp officially ends at 4pm, kids can stay and romp in the play space until 6pm for no additional fee.
General Interest Camps
Manhattan Youth: School Holiday Camp – Tribeca
PS 89, 201 Warren Street and 120 Warren Street between North End Avenue and Greenwich Street
Ages 5-11
Open to all kids not just PS 89 students, this camp offers sports, crafts, theater, swimming and other fun. Tuition includes breakfast and lunch, but children can bring food from home.
ACT Holiday Camp – Morningside Heights
Cathedral Church of St. John the Divine, 1047 Amsterdam Avenue at 112th Street
Ages 5-11
Kids enjoy arts and crafts, cooking, reading and playing under the iconic Cathedral (or on the grounds, weather permitting). Field trips to the Central Park or Bronx Zoo, a hike, crafts and sports are all on tap.
Mini Camp – Windsor Terrace
Kings Bay Y at Windsor Terrace,  1224 Prospect Avenue at Vanderbilt Street
Ages 3-13
Kids can make art, work on greening projects, create films, play music and sports, cook, swim and go on local field trips. Sign up soon, because seats are limited.
Check out our Spring Fun Guide and Event Calendar for lots of other spring break ideas.