Brooklyn Play Spaces: 17 Drop-in Indoor Playgrounds & Kiddie Gyms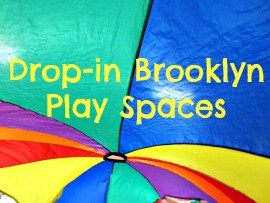 When it comes to indoor play spaces, Brooklyn can't be beat. While both Manhattan and Queens have about a dozen drop-in indoor playgrounds apiece, Brooklyn currently boasts a whopping 17 places where kids can run amok. These aren't mellow tot spots with crafts or storytelling. We're talking about real active play spaces where children can conquer multi-level mazes, swoosh down slides, climb up rock walls or, you know, turn around in circles until they fall down exhausted and ready for a nap.
To help you figure out which play space is best for your child's age and stage, we've organized our roundup into drop-in indoor playgrounds for toddlers and preschoolers, and activity centers that also have attractions for elementary-schoolers and tweens, like video game arcades, rock climbing walls and go-karts. Here are 17 drop-in indoor play spots for kids in Brooklyn.
Sign up for our FREE newsletters to get posts like this delivered to your inbox.
Important note: Be sure to call ahead to confirm hours and prices, as both change frequently. Also, many of the smaller spaces reach capacity quickly on bad weather days, so go early!
Drop-in Play Spaces for Toddlers & Preschoolers
Recess d.u.m.b.o. – Dumbo
81 Washington Street between Front and York Streets
Open play: Monday-Thursday 9am-6pm, Friday 9am–5pm, and Saturday-Sunday 9am–11:30am
Ages 6 months-6 years
$30 for first child, $20 for siblings, memberships also available
Opened by a pair of neighborhood moms in June 2015, this play space features gorgeous, custom-made equipment like a wooden climbing wall, hidden ladders and tunnels made from rope netting. Drop-in play is offered seven days a week. Read our full review for more info and pics.
The Gym Park – Greenpoint
Otom Gym, 169 Calyer Street near Lorimer Street
Open play: Tuesday-Thursday 10:30am-12:30pm; Saturdays 11:30am-1:30pm
Ages 6 months-6 years
$20, discounts available for multi-session packs
In addition to a jam-packed schedule of athletic classes, this kids' gym offers open playtime four mornings a week. Explore the equipment in the 1,500-square-foot space, including trampolines, bars and hula hoops. Read our full review of Gym Park's original location for more info.
PLAY – Greenpoint
33 Nassau Avenue between Guernsey and Dobbin Streets
Open play: Monday-Friday 10am-6pm, Saturday 10am-5pm, Sunday 10am-4pm
Ages 0-5
$20 for first child, $10 for siblings, memberships and discounts available for multi-session packs
This play space has undergone a lot of changes (including two sets of new owners) since we first reviewed it in 2010, which is why we went back in 2014. it's still standing and offering open play sessions. Preschoolers can hit the play sets, activity stations like a food market and laundry set, and romp around the tumbling gym. There's also a separate baby area where infants can crawl and explore safely.
ArtsCetera – Cobble Hill
Aikido of South Brooklyn, 205 Columbia Street
Open play: Monday 10am-noon
$10 per family with up to two children, discounts available for multi-session packs
Ages 0-4
In addition to a full slate of arts classes for preschoolers, this program offers open play sessions when tots can play with toys, blocks, trains, board books and enjoy a short sing-along.
Play Days & Parties – Bay Ridge
6632 Third Avenue between 67th Street and Wakeman Place
Open play: Monday, Tuesday, Thursday and Friday 11am-4pm
$10 per two-hour session, $6 on Thursdays
Ages 0-5
The only traditional play space in Bay Ridge, this family-run spot resembles a cozy rec room chock-full of toddler and baby toys, from soft blocks to shape sorters, plus plastic play equipment like a slide, seesaw and rock climbing wall. In addition to open play, classes, playgroups and party packages are also offered. For more info, check out our full review.
Twinkle Playspace – Williamsburg
144 Frost Street between Graham and Manhattan Avenues
Open play: Monday-Friday 10am-6pm, Saturday 8-11:45am and Sunday 9-11:45am
$25 for first-time visit, $135 for six-session pass; memberships are also available
Ages 0-6
We raved about this drop-in play space when it opened in 2013. Owned and operated by a longtime local Brooklyn family, this one-of-a-kind, 4,500-square-foot tot spot features creative custom-designed hands-on activity stations, including a water table, a firehouse, a salon, a general store and a barnyard. It's a great option for preschoolers who love to pretend. Party packages are also offered.
Brooklyn Arts Exchange – Park Slope
421 Fifth Avenue between 7th and 8th Streets
Mondays and Fridays 9:30-11:30am
$10 per family, discounts available for multi-session packs
Ages 1-4
Known as the BAX Playspace, this under-the-radar gem is a favorite of local families. Toddlers and preschoolers can navigate hoops and tunnels, color, play with balls and read books.
Juguemos a Cantar Drop-In Play Space – Park Slope
438 Sixth Avenue at 9th Street
47 Sterling Place at Sixth Avenue
Open play schedule varies depending on location and season. Visit the website for more info
$10 for first child, $2 for siblings, memberships are also available
Ages 0-4
With two Park Slope locations on opposite ends of the neighborhood, this Spanish immersion program opens up its play spaces to the public at designated hours on weekdays. Preschoolers can play with instruments, trains, blocks, doll houses, a pretend kitchen, puppets, soft toys, a ball pit and more.
Drop-In Center at Congregation Beth Elohim – Park Slope
274 Garfield Place near Eighth Avenue
Open play: Tuesday-Friday 9:15am-noon from October through April
$10, discounts available for siblings and multi-session packs
Ages 0-2
This is another popular Park Slope tot spot where little ones can tumble and play with educational toys.
Totally Tots at the Brooklyn Children's Museum – Crown Heights
145 Brooklyn Avenue between St. Marks Avenue and Prospect Place
Open play: Tuesday-Sunday 10am-4:45pm
Free with admission: $9 for ages 1 and up
Ages 0-5
The U.S.'s oldest and greenest children's museum underwent an awesome overhaul in 2008 and is filled with hands-on fun for kids of all ages. But if you've got a preschooler who needs to get the sillies out, Totally Tots is the exhibit for you. The Baby Hub features colorful padded structures where infants can crawl, cruise, stand or just sit. Children ages 18 months through 5 years can romp in a wide variety of stations, including a water-play area, a multi-level climbing structure with instruments to pound and play, a building zone and a theater.
The Ability Center NYC – Marine Park
3514 Avenue S at 35th Street
Visit website for current open play hours.
$10 per child (includes one adult; $4 for additional adults)
Crawlers and older
The Ability Center has been around for years as a physical therapy spot, but its indoor "practice and play" gym is a new addition to the business model. Expect to find a clean, well-maintained play area, where kids will safely be able to challenge their growing bodies in an age-appropriate way. Birthday parties are also offered, as well as an area for school-groups to play.
And if you're wondering about NY City Explorers' two play spaces, its Learning Garden in Prospect Heights has closed, and its Brooklyn Explorers Academy no longer offers open play.
Drop-in Play Spaces with Attractions for School-age Kids & Tweens
Kids 'N Action – Borough Park
1149 McDonald Avenue near Avenue I
Drop-in play during all open hours
Prices vary
Ages 0-12
An indoor amusement center à la Chuck E Cheese's, this all-ages activity zone has attractions for all ages, from soft play tunnels, mazes and a ball pit for preschoolers to a roller coaster, train ride, go-karts and video games for older children. The upside: If you have kids of varying ages you can satisfy them all here. The downside? The more activities you want to try, the more you pay. Party packages are also offered.
Klub4Kidz – Williamsburg
159 North 4th Street between Bedford and Driggs Avenues
Drop-in hours vary
Drop-in prices vary and memberships are also available
Ages 0-12
We've been raving about this play space ever since it opened back in 2010. Unlike most kiddie gyms, this one is fun for toddlers through tweens. Attractions include a four-story indoor playground featuring a zip line, crawl tubes, mazes and slides, an 18-foot rock climbing wall and a separate padded toddler room for the under 3 set. While prices vary depending on which attractions you choose, there are some great ongoing specials like $10 Tuesdays and if you've got a toddler and a tween, you pay just $5 more for the younger kid.
BounceU – Dyker Heights
6722 Fort Hamilton Parkway at 68th Street
Hours and prices vary
Ages 3-adult
Let your kids bounce off the walls, literally, at this inflatable fun spot. There are lots of open bounce hours when kids of all ages can jump around. There are also family nights and preschool sessions for the under 8 set in case you're worried about your little ones getting trampled. Advance reservations required.
Indoor Play Area at Powerplay – Gowanus
432 Third Avenue between 7th and 8th Streets
Open play: Monday-Friday 9am-5:30pm, Saturday 9am-4pm and Sunday 10am-4pm
$10 per two-hour session
Ages 0-10
Although the website is woefully out of date, we confirmed that this play space is still offering open play. The brightly colored indoor playground includes slides, a sandbox, a tree house, a playhouse with ladders and slides and self-propelled plastic cars. There's also a rock climbing wall that's good for tweens.
Superstar Family Fun Center – Sunset Park
Friday 3pm-7pm; Saturday and Sunday noon-6pm
$8
Ages 2-12
Bounce the day away at this indoor play space featuring inflatable slides, bouncy houses, a large maze and other equipment. Drop-in open play is offered on weekends and some school holidays, but it's important to call ahead in case the place closes for a private party. No shoes or bare feet are allowed so don't forget socks.
Party Gym – Sheepshead Bay
1130 Avenue Z at East 12th Street
Open play: Monday and Thursday 10am-2pm, Tuesday 4-7pm
$8 per child
Ages 0-8
Founded in 1993, this party place has open play hours on weekdays. The multi-level maze complete with twisty tunnels and slides is good for young elementary-schoolers, plus there's a ball pit. Party packages are also available.
Check out our Indoor Activity Guide for other great places to play inside.
Sign up for our FREE newsletters to get posts like this delivered to your inbox.
A previous version of this post was published in January 2010.