Boating in New York City: Free Kayaking, Canoeing and Rowing for Families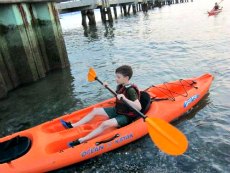 New York City has a lot of islands—Manhattan, Staten, even Brooklyn and Queens lead into Long Island. With all this waterfront, it's no wonder there are so many sightseeing cruises and fun ferries.
But sometimes you want to be your own captain. No need to hijack a boat; there are many opportunities for families to get out on the water by themselves, kayaking, rowing and canoeing. We've rounded up great New York City organizations that offer boating sessions on our wonderful waterways—and they're all FREE. Ahoy!
Kayaking
Downtown Boathouse – Manhattan
Various piers on the Hudson River. Visit the website for details.
Mid-May through mid-October
FREE
On weekends, holidays and select weekday evenings, the Downtown Boathouse offers free kayaking on the Hudson River at Pier 26 near North Moore Street (this replaces the old Pier 40 location), Pier 96 at 57th Street and at 72nd Street. (The volunteers are also on Governors Island on Saturdays.) Expect to get a little wet when you kayak. The Boathouse suggests wearing a bathing suit, but we didn't and found that on a hot summer day, we dried off quickly. Children under 16 need to be accompanied by an adult and only one kid is permitted per boat. If you'd like more supervision, the volunteer organization also runs kayaking classes every Wednesday evening.
Brooklyn Bridge Park Boathouse – Dumbo
Pier 1 in Brooklyn Bridge Park
Saturdays 10:30am-4:30pm and select Thursdays 5:30-7:30pm
FREE
Another popular place for free kayaking is the Brooklyn Bridge Park Boathouse. The lines can get pretty long so be prepared to wait. Check the calendar for a complete list of dates and times. Afterward, check out all of the things to do in this awesome park including a carousel, a pop-up pool and an incredible water playground.
Kayak Staten Island – Staten Island
South Beach at the end of the boardwalk in parking lot No. 1
FREE
This all-volunteer organization provides kayaks, paddles and life jackets as well as basic launch, land and paddling tips. Experienced kayakers are on the water to observe and assist. No registration is required and rowing times vary so check their calendar for a complete schedule.
Red Hook Boaters – Red Hook
Louis Valentino, Jr. Park and Pier, Coffey and Ferris Streets
Mid-May through mid-October: Sundays 1-5pm, select Thursdays 6-8pm
FREE
Another all-volunteer group that offers public kayaking in an effort to promote awareness of the Brooklyn waterfront. The members hold beach cleanups during every paddling session, so in addition to boating it's a great way to chip in and help keep the shore clean. Check the calendar for full details.

Read our post for important tips about kayaking with kids in NYC.
Row Boating
Village Community Boathouse – West Village
Pier 40 at Houston Street and the Hudson River
April-November: Sundays starting at noon; Tuesdays and Thursdays at 4:30pm
FREE
In addition to rowing sessions in the New York Harbor in a Whitehall gig, this organization hosts lots of outdoor events like races, camping expeditions and more. In the winter months, Village Community Boathouse offers free boat building sessions to the public. Check the calendar for a full list of events.
Floating the Apple
Pier 84 at 44th Street and the Hudson River – Midtown West
July-August: Wednesday-Sunday 2-7pm
FREE
In addition to summer rowing, Floating the Apple offers sessions in the spring and fall, weather permitting. The organization's website seems to be more or less abandoned, however you can find out about current events by calling the info line: 212-564-5412. Pier 84 is also home to one of our favorite water play areas.
Rocking the Boat – the Bronx
Hunts Point Riverside Park, Lafayette Avenue between Edgewater Road and the Bronx River
May-September: Saturdays noon-5pm
FREE
Explore the Bronx River in wooden rowboats crafted by local teens as part of Rocking the Boat's youth development program. The weekly community rowing sessions let participants boat independently or you can explore the water on guided tours. No registration required. Children must be accompanied by an adult. The nonprofit also runs a catch-and-release fishing program.
East River C.R.E.W. – Upper East Side
FDR Service Road between 95th and 96th Streets
May 8-September 18: Tuesdays; September 22-October 27: Saturdays
FREE
Subtitle Community Recreation and Education on the Water, this nonprofit shines a light on the East River through a host of educational programs, from boat building to harbor literacy and awareness. There are also weekly rowing sessions throughout the summer and early fall so you can learn rowing basics. Children ages 5-10 can also participate in the org's catch-and-release fishing program. Check the website for a complete list of events and programs.
Canoeing
Urban Park Rangers – Citywide
FREE
Urban Park Rangers offer free canoeing programs for children ages 8 and up. Advance registration is required and participants are selected through a lottery system.
If you happen to have your own canoe or kayak and prefer to go it alone, there are several public launch sites throughout the city. Info about launch applications, permit requirements, a map of public launch sites and additional rules, regulations and guidelines are all available on the NYC Parks Department website. If you're going to do it yourself, you'll also want to read the NYC Boating "Rules of the Road" and Clean Boating Guidelines.
For more seasonal fun on the water and off, check out our Summer Fun Guide.
Photo courtesy of Red Hook Boaters