Readers' Choice: Top 42 Summer Outings for NYC Kids and Families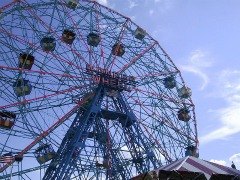 When you're looking for something cool to do with the kids in NYC, who do you ask? Other local parents of course!
That's why we asked our readers to tell us about their favorite summer day trips in and around New York City. The answers ran the gamut from famous favorites (Coney, Coney, Coney!) to lesser-known destinations (Bannerman Castle on Pollepel Island) to creative city itineraries (a DIY walking tour based on Food Network shows. Yum!).
So in addition to all of our other roundups of summer fun, including 100 free things to do this summer and 40 staycation destinations, we're happy to share the 42 top summer outings for NYC families as chosen by our fellow moms and dads.
For additional seasonal activities, check out our Summer Fun Guide.
This post was originally published in July 2011.