Bike Riding with NYC Kids: Best Places for Family Cycling in All Five Boroughs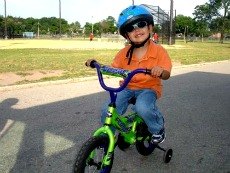 It's not news that New York City is a very bike-friendly town. But you may not have heard about NYC's newest cycling spot, Pier 54, which is specifically aimed at people who want to practice riding a bike. Located at 13th Street in Hudson River Park, this learn-to-bike zone is great for families with kids who aren't yet completely comfortable on two (or three or four) wheels. Plus this June, Bike New York will be offerings free bike lessons at Pier 54 for children and adults.
Once your kid's mastered biking, NYC has many wonderful, safe, car-free routes for families to bike together. Last year we shared our favorite places to bike in Manhattan. Today we're sharing our top cycling spots for families in the five boroughs and beyond.
Manhattan
Pier 54
13th Street and the Hudson River
If you're worried about your little ones keeping up with more experienced NYC riders, Pier 54 is the perfect place to get started. This summer, Bike New York will be offering no-cost lessons at the pier (and other NYC locations) including learn to ride classes for kids and adults. Even though the classes are free, advance registration is required. Or skip the lesson and let your kids work on their cycling skills by themselves: Pier 54 is reserved for beginning bicyclists.
Randall's Island
The isle offers four-and-a-half miles of car-free, paved pathways for cyclists to enjoy. Wind your way through curving paths, over the boardwalk or under Hell's Gate Bridge and enjoy beautiful views of upper Manhattan and the East River. And now that the 103rd Street Footbridge has reopened, cyclists can access Randall's Island from East Harlem without encountering traffic.
Central Park
A major NYC cycling spot, CP has a six-mile loop that spans the park plus car-free hours and bike rentals.
Read our post about the best places for families to bike ride in Manhattan for additional suggestions, including Governors Island.

Brooklyn
Prospect Park
The three-mile loop around the park is car-free most of the time (excluding weekday rush hour), making it a great place to enjoy a ride with your kids.
Shore Park and Parkway
With stunning views of the waterfront and the Verrazano-Narrows Bridge, Shore Park offers plenty of wide, paved paths to give little ones room to ride confidently.

Bronx
Pelham Bay Park
Although this massive Bronx park boasts five miles of smooth, wide, paved pathways for cycling, my son actually learned to ride on Pelham Bay's running track when he was four. It's a great spot for beginners to test their skills, provided there aren't too many runners on the track when you go.
Soundview Park Greenway
Another great cycling spot, the car-free greenway offers lovely views of the East River.

Queens
Joe Michaels Mile in Cocheron Park
This shoreline bicycle path in Little Bay Park is wonderful for cycling, with gorgeous views along a stretch that takes you to Alley Pond Park.
 
Staten Island
Silver Lake Park
The park features picturesque pathways lined with benches, perfect for riding and then resting. Enjoy a day of cycling complete with water views, nature trails and playgrounds.
The Greenbelt
The green space features a Multipurpose Trail, which is the only route where cycling is permitted in the entire Greenbelt. The mostly flat two-and-a-half-mile circuit has six-foot wide walkways and a surface of crushed gravel.

Westchester County
Bicycle Sundays on the Bronx River Parkway
Sundays from 10am-2pm
From the beginning of May through the end of September, a stretch of the Bronx River Parkway is closed to vehicular traffic on Sundays, allowing cyclists (along with joggers, pedestrians, etc.) to enjoy the scenic winding roads from Scarsdale Road in Yonkers all the way up to Westchester County Center in White Plains. My family looks forward to doing this every year. It's like Summer Streets but in Westchester.

Additional Tips for Family Bike Riding in NYC
You can download a bike map of NYC. There's also Ride the City, a cool website that lets you type in your destination so you can find the most direct or safest cycling route.
We should all rock helmets while cycling but children under 14 are required by law to wear them.
If you plan on bringing your bike on mass transit, check out these guidelines before you do so.
Bike New York offers all kinds of biking classes throughout the city. The organization also hosts Bike Bonanzas throughout the five boroughs where you can trade in or tune up your bikes, pick up free helmets and more.
If you don't have a bike, there are plenty of places to rent them. Bike New York has a comprehensive list on its website.