Baby Sign Language Workshop
When:
Saturday, June 2, 2012 at

Various times

Where:
445 Bergen Street, Brooklyn NY
Cost:
$40 individual + baby. $5
Contact:
Melissa@signingup.net or call 347-778-1775.
Website:
http://www.signingup.net
Ages:
Birth to 18 months
Add to cal:
Google Yahoo iCal/Outlook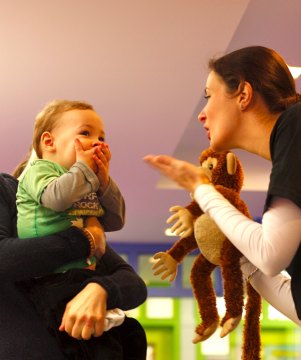 Children can likely give high-fives, wave goodbye, or blow kisses long before they are able to say the words 'high five' or 'goodbye'. Babies (ages 6 - 18 months) understand far more words than they are able to say. This is simply because they haven't developed enough control yet over their vocal chords and mouth for speech. By using Baby Sign Language (basic vocabulary from American Sign Language) children are given the tools to communicate before they acquires speech. Children can learn  to sign ''more'', ''all done'', ''change my diaper'', ''sleepy'', 'food'' and lots more. Think of how much easier life could be when you can understand what children want or need. Using sign lessens frustration and increases bonding, and it is easy to learn! 
 Learn how to get started, what to do, and the signs most relevant to babies in this Baby Sign Language workshop. Please bring your babies (ages birth - 18 months).
Two Sessions Available:
11 am and 1 pm.
Filed under: