Notable News: NYC Teacher Ratings, Why Boys Should Play with Dolls, School Supply Drive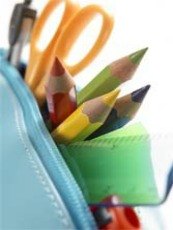 So... have you looked up your kid's teacher's rating yet? It feels like that's all public school parents and teachers and principals and newspapers are talking about these days. (All kids are talking about is having to go back to school after break. Perspective is everything.)
In addition to lots of links with different takes on the release of the teacher rankings, we've got info on a new elementary school in Williamsburg, a downtown school supply drive, a fresh debate over teacher evaluations (different than ratings, stick with me here) and a handy solution for the city's out-of-date school zoning maps.
Last week's release of NYC public school teacher ratings has been met with very heated reactions. The teachers' union (vehemently against this from the start) is using it to push for change; principals and teachers are understandably angry; some parents are happy and lots of news outlets have created online tools where you can look up teachers' ratings. And we haven't even touched on the controversial new teacher evaluations that will soon go into effect. These evaluations are mostly tied, for better or worse, to the rise or fall of student test scores. (We feel like we'll need to go back to school ourselves to wrap our brains around all of this.) What do you think? Do you think families have a right to know how their teachers are doing from the Department of Education's perspective? Or will you skip checking your teachers' numbers and judge them solely by how your kids are doing?
In less contentious news, a new public elementary school will grow in Brooklyn this fall when Brooklyn Arbor opens in Williamsburg's District 14. A Child Grows in Brooklyn has the full scoop on how to enroll and what programs will be on offer.
It's the middle of the school year, which means teachers are running low on critical supplies like pencils, paper and glue sticks. Trinity Wall Street is collecting those basics and more to give to downtown public schools. The deadline for donations is Friday, March 16.
We were very proud to see that The New York Times' SchoolBook site linked to our post about how to find accurate school zone maps (because apparently it's too much to ask that the Department of Education keep its site up-to-date). Even though we spent many hours wading through all kinds of info, the folks at NYC School Maps pointed out that we missed a few rezoned Brooklyn schools. Of course to look at their maps, you'll need to pay 8 bucks. (Ah, capitalism at work.)
Here's a Times article that really caught our attention: While wealthy American families often opt for private education in NYC, affluent foreign-born parents are choosing public schools for their kids. Of course, they're usually living in the best school zones... assuming they moved there based on accurate maps.
A few weeks ago, we read that the French are better parents than we are. Now we hear that Finland has better schools. Are we raising kids on the wrong continent? 
A new high-end, mom-run children's boutique, Stork, flies into Prospect Heights this weekend. The Franklin Avenue store will host a grand opening party on Saturday with prizes, music and free cupcakes.
And finally, if we want the current crop of boys to grow into a generation of loving men and fathers, we should slip baby dolls into our sons' hands, stat. The Good Men Project makes a strong case for why all boys should play with dolls.
Tags: