Indoor Swimming Pools in New York City for Families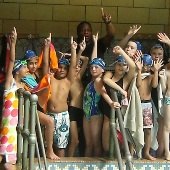 [UPDATED: JANUARY 21, 2013]
The first time my three-year-old son saw a backyard swimming pool, he was completely befuddled. He thought pools belonged indoors or on glass-enclosed rooftops, not out in the elements in a backyard. Thanks to city living, he had already discovered the pleasures of swimming year round in an indoor pool. New Yorkers are lucky to have many family-friendly pools available with affordable open swim options. Read on for our list of the best public and private indoor pools in New York City. No need to pack up your bathing suit until next summer!
Riverbank State Park – Harlem
679 Riverside Drive at West 145th Street
This upper Manhattan secret has a lot to offer including an indoor Olympic-sized pool that is a total bargain. Pool fees are just $2 for adults and $1 for kids 5-15 years old. Children 4 years and under are free. Affordable monthly passes are also available. Click here to learn more.
Asphalt Green – Upper East Side
555 East 90th Street between York and East End Avenues
NYC's favorite gym offers fantastic views and swimming lessons for kids of all ages. Non-members can drop in for family swim time on the weekends. Click here for the schedule. Day pass is $35 for adults and $10 for kids. Lots of membership options are available, too.
Asphalt Green Battery Park City – Battery Park City
212 North End Avenue near Warren Street
212-298-2900
After a multiyear delay, the downtown outpost of AG is finally opened its doors summer 2013. Like the original uptown location, this 52,000-square-foot complex features a lovely indoor pool. Day passes are $35 for adults and $10 for children.
Gravity Fitness Center at Le Parker Meridien – Midtown West
119 West 56th Street between Sixth and Seventh Avenues
All-day access to this swank, luxury club located in a posh hotel will cost you. But you'll get what you pay for–a sunny pool area, fluffy towels, access to the fitness center and incredible views of Central Park. The pool opens at 6am during the week for early risers and 8am on the weekends. A guest pass costs $100 per day. Memberships are also available.
Manhattan Plaza Health Club – Midtown West
482 West 43rd Street between Ninth and Tenth Avenues
This West Side uber-gym boasts a gorgeous 75-foot rooftop pool and deck. Families can drop in for open swim time on the weekends. They also host swim classes and programs for little ones. Click here for schedule and information. A day pass costs $35.12 for adults and $10.45 for children ages 6-17.
Spa Castle – College Point
131-10 Eleventh Avenue near 131st Street
We've raved about this Queens oasis in the past. In addition to a variety of spa facilities and services, Spa Castle features a huge Jacuzzi that's not too hot, heated outdoor swimming pools and a separate toddler pool. Unfortunately, it recently did away with children's prices so admission is $40 on weekdays and $50 on weekends for everyone over age 2.
Wall Street Bath and Spa – Financial District
88 Fulton Street between William and Gold Streets
This Russian spa has a huge pool that's rarely crowded on weekdays, plus a hot tub, steam rooms and saunas. There's also an onsite Russian restaurant and various spa services available. Although the spa's clientele is mostly adults, it's still family-friendly. Day passes are $25 for adults and $20 for children ages 5-12.
Community Center at Stuyvesant High School – Battery Park City
345 Chambers Street at North End Avenue
This recently renovated indoor pool is open when school isn't—evenings and weekends with dedicated family swim time on Thursday and Friday nights and weekend afternoons. Day passes cost $15 for adults and $10 for children under 18, and include all the facilities (but not classes). Memberships are also available
Astoria Sports Complex – Astoria
34-38 38th Street between 34th and 35th Avenues
At the popular Queens athletics center, nonmembers can swim in the 82-degree Olympic-style pool for up to one hour a day for $15. Bathing cap required and the four swimming lanes are organized into warm up, sprint, pace and circle swimming, so this isn't a place for little kids to splash around.
New York City Recreation Centers also offer indoor pools in all boroughs, including the fantastic Flushing Meadows Corona Park Pool. Recreation Center membership is required to use the pools—a great deal at only $150 per year for adults and free for children under age 18. Hours vary and rules are enforced so please call ahead to check before heading out. Also, be sure to bring along a lock as few items are allowed poolside.
For more indoor sports and activities, check out our Indoor Activity Guide.