50 Things to Do with Kids in New York City This Summer (mostly free)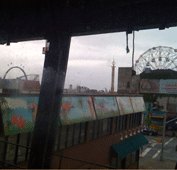 I don't know about you, but this summer we've pared back on camps and vacations in an effort not to spend money we don't have. But our loss is your gain because, instead, what we're going to be doing this summer is exploring New York City and all the fun stuff we don't always have time to do during the school year.
To get organized for a full summer of fun NYC style (and 62 scarily empty days), I planned out an activity for just about every single day in July and August, 'cause, as my son would say, "that's what me do."
The following list is not comprehensive. These are the things I'm looking forward to doing this summer. These are the coolest family events coming up this summer, plus some great places I've just been meaning to get to. And most of them are free.
The Hamptons isn't all that, hang with me right here in New York. It's gonna be a blast (and don't forget to check out our Summer Activity Guide for even more great things to do with kids in NYC this summer).  I hope to see you there.
50 Things to Do This Summer With Kids in New York City:
Check out what's still open/new at Coney Island
Fun Family Workshop and performance with Shakespeare on the Run (July 2 or 7)
Play for Free at the Children's Museum of Manhattan (July 3)
Picnic on Hudson River Park and stay for Fireworks (July 4)
Enjoy the private JCC rooftop playground open to all, Sundays in July
Explore African Culture at the International African Arts Festival (July 3-6)
City Parks Arts Events All 4 Boroughs throughout the summer
STREB with Invisible Forces acrobatics performance (July 9)
Go camping in NYC with the Urban Park Rangers. (July 10 and other dates)
Celebrate Brooklyn! They Might Be Giants Family Concert (July 11)
High Line Street Festival (july 12)
Tour de Queens (July 12)
Listen to the NY Philharmonic in the park (July 14th and other dates)
Macy's Fishing Contest (July 15-19)
Play Vintage Video Games at the Museum of the Moving Image
Ride the tram to Roosevelt Island for music or a movie
The Big Draw (July 18)
Ft Totten Family Day (July 19)
Movies on the Elevated Mile (55 Water St) West Side Story -July 20 & Muppet Movie- August 17
Jabali African Acrobats in Forest Park (July 21)
See Click Clack Moo come to life (July 22 and other dates)
Bindlestiff Family Cirkus (July 23)
Bash the Trash Workshop and Parade at the High Line (July 25)
Get sandy at the Sandcastle Contest Rockaway Beach (July 26)
VIsit the Snow Leopards at the Central Park Zoo
Listen to the Trees at the Tree Museum
Play at the new NYPL Children's Center
Explore Astoria by day and night
Stay out late with the kids in tow
Dirty Sock Funtime Band Plays Madison Square Park (July 28, others on other dates)
Hear Lady Smith Black Mambazo outdoors at MetroTech (July 30)
Arlo Guthrie at Castle Clinton (July 30)
Watch Star Wars the Clone Wars under the stars (July 31)
Target First Saturday at the Brooklyn Museum or New Museum (Aug 1)
Family Dance Workshop and Performance with Merce Cunningham Dance Company (Aug 1 & 2)
Take ferry to Sandy Hook Beach
Puppet Bubble Show in Union Square (August 6 and other dates)
Canoe the Gowanus (August 8 and other dates)
Robbi K plays Madison Square Park (August 13, others other dates)
Lincoln Center Out of Doors Family Day (August 15)
Summer on Hudson Lawn Party (July 19& Aug 16)
Free Fishing on Pier 84 or 46 (Any weekend)
Go Star Gazing in Inwood (any Saturday)
Mini golf at NY Hall of Science
US Open Arthur Ashe Family Day (August 23)
Stroll the High Line
Play in the newly renovated Washington Square Park
Picnic on the new grassy Pier 64 in Chelsea
See Roxy Paine's installation on the roof of the Met.
See Claes Oldenberg's giant soft sculptures at the Whitney
Multicultural Family performances at a Clearing in the Forest (August 30 & other dates)
Need more ideas? Check out our list of 100 Things to Do with Kids in NYC Before They Grow Up.