Labor Day Weekend for NYC Kids: Richmond County Fair, Unicycle Festival, Tug Boats, September 5-7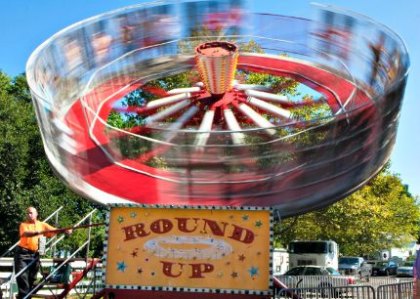 The Labor Day holiday is always bittersweet—it's the last weekend before the kids head back to school, so we want to make sure we pack in lots of super summery fun to make the most of these last warm, carefree days. Perhaps one last trip to NYC's great beaches and outdoor pools is in order before they all officially close for the season on Monday. But there are too many cool things to do to sit around moping about the end of summer.
Looking for a great day or weekend trip? We've got lots of destination inspiration in our NYC Family Getaways Guide, including last-minute Labor Day weekend getaways. Plus we've got roundups of nearby water and amusement parks, and upstate county fairs.
But you don't need to leave NYC to feel like you're getting away. Labor Day weekend brings many of our top family event picks for the month, including Staten Island's annual Richmond County Fair, the NYC Unicycle Festival on Governors Island, the Great North River Tugboat Race and Competition and the West Indian American Day Carnival and Children's Parade.
All of our best bets for Labor Day weekend are below. You can find additional suggestions in our Event Calendar and Summer Fun Guide. Wishing you a fabulous end of school break!
All Weekend
Richmond County Fair – Staten Island
An September GoList pick: A real old-fashioned county fair takes over the 25-acre Historic Richmond Town, featuring multiple performance stages with live rock, country and acoustic music, and carnival-style fun such as pig races, pie- and hot-dog eating contests, classic car displays, arts and crafts, and a midway with rides. The best part is that all the fun is free with admission.
NYC Unicycle Festival – Governors Island
Another September GoList pick: Head to Governors Island to give one-wheeling a try, or stay on two feet and watch unicycle basketball and hockey games, and pros in some grueling competitions. Afterward, check out all of the other cool attractions on the isle. Saturday and Sunday only. FREE
The Pop Ups in Concert – the Bronx
Hit the Bronx Zoo for an alfresco performance by this Grammy-nominated duo, whose concerts are more like full-fledged kids' shows with a plot, songs, costumes and whimsical handcrafted puppets. Bonus: the group's tunes run the gamut from synth-pop to reggae to soul. Saturday and Sunday only. Free with zoo admission
The Butterfly Conservatory – Upper West Side
They're back! More than 500 gorgeous winged insects will once again be flying in the American Museum of Natural History for this super-popular seasonal exhibit. Wear colorful clothing and a butterfly may mistake you for a flower and land on you! Free with Museum Admission Plus One  
Saturday, September 5
West Indian American Day Carnival and Children's Parade – Crown Heights
And another September GoList pick: The five-day West Indian American Day Carnival culminates in one of NYC's largest parades on Labor Day, and while it's a colorful affair, it's also crowded and noisy. The Children's Parade on Saturday is a better bet for families. Kids of Caribbean descent don elaborate garb as they travel through Crown Heights and onto the grounds of the Brooklyn Museum for a costume contest and carnival. FREE for the parade, $2 to enter the museum grounds
Mid-Autumn Moon Festival – Chinatown
Celebrate the Chinese harvest season at this second annual fest featuring holiday crafts, live performances and pan-Asian eats from area restaurants like Sam's Fried Ice Cream, Osaka Grub and Seoul Pancake. FREE
First Saturdays for Families: Leonor Antunes: I Stand Like A Mirror Before You – Lower East Side
Hit the New Museum for a no-cost tour of Portuguese artist Leonor Antunes' current exhibit of site-specific works, followed by a collaborative sculpture-making session inspired by the neighborhood's architecture. FREE
Sunday, September 6
West Side County Fair – Upper West Side
Perfect for preschoolers, this annual favorite features small carnival rides and games, live music, sideshow performers, a reptile show and a smattering of country vendors. It gets crowded fast, so arrive early to try to avoid lines. Afterward, grab a bite at the Pier I Cafe or head a few blocks north to romp in Elephant Playground. FREE
Great North River Tugboat Race & Competition – Midtown West
Our final September GoList pick for the weekend: Watch a dozen or so tug boats race from Pier I in Riverside Park South down to Pier 84, where there will be knot-tying and spinach-eating contests, live music and other family fun. The races and competitions take place in the Hudson River and can be viewed for free, but for the best vantage point, splurge on tickets for the Circle Line spectator boat that follows the tugs. FREE from the shore
Film Forum Jr.: On the Town – West Village
Film Forum kicks off its new season of Sunday matinees for families with this classic movie musical about a trio of WWII sailors enjoying an eventful 24-hour leave in NYC.
Brazilian Day – Midtown East
Celebrate the culture of Brazil with food stands, live performances and crafts in New York's own Little Brazil. FREE
Central Park Family Performance Festival: Park Discovery! – Upper West Side
Head to Peter J. Sharp Children's Glade for the last installment of Central Park's series for hands-on nature activities led by Conservancy environmental educators. Afterward, head east to Central Park's Dana Discovery Center for the last concert in the Harlem Meer Performance Festival series: The Dee Dee Michels Gospel Ensemble Gospel. FREE
The Goonies – Fort Greene
Introduce the tweens to this PG-rated '80s staple at eco-eatery Habana Outpost, which screens flicks in its colorful front yard. FREE but families are encouraged to purchase dinner.
Monday, September 7
Habana Outpost Back to School Bash – Fort Greene
Get ready to go back to school at the eco-eatery's annual celebration featuring games, live music, face painting, crafts and complimentary school supplies. FREE
Race Around the Farmyard – Prospect Park
Bring your competitive spirit to Lefferts Historic House for friendly potato sack and spoon races, stilt-walking and other old-fashioned fun. $3 suggested admission
Don't forget: There's more fun to be found in our Event Calendar.
Tags: