Things to Do Labor Day Weekend 2014 with NYC Kids: Richmond County Fair, Unicycle Festival, Tug Boats and Carnival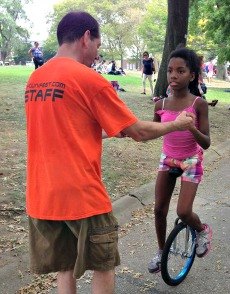 The Labor Day holiday is always bittersweet—it's the last weekend before the kids head back to school, so we want to make sure we pack in lots of super summery fun to make the most of these last warm, carefree days. Perhaps one last trip to NYC's great beaches and outdoor pools is in order before they all officially close for the season on Monday. But there are too many cool things to do to sit around moping about the end of summer.
Looking for a great day or weekend trip? We've got lots of destination inspiration in our NYC Family Getaways Guide, including Labor Day weekend excursions organized by theme, region and even car-free trips. Plus we've got roundups of nearby water and amusement parks, and upstate county fairs.
But you don't need to leave NYC to feel like you're getting away. Labor Day weekend brings many of our top family event picks for the month, including Staten Island's annual Richmond County Fair, the NYC Unicycle Festival on Governors Island, the Great North River Tugboat Race and Competition and the West Indian American Day Carnival and Children's Parade.
All of our best bets for Labor Day weekend are below. You can find additional suggestions in our Event Calendar and Summer Fun Guide. Wishing you a fabulous end of school break!
All Weekend
Richmond County Fair – Staten Island
An August Go List pick: A real old-fashioned county fair takes over the 25-acre Historic Richmond Town, featuring multiple performance stages with live rock, country and acoustic music, and carnival-style fun such as pig races, pie- and hot-dog eating contests, classic car displays, arts and crafts, and a midway with rides. The best part is that all the fun is free with admission. In advance: $12; at the door: $16; free for children 30 inches and under
NYC Unicycle Festival – Governors Island
Another August Go List pick: Head to Governors Island to give one-wheeling a try, or stay on two feet and watch unicycle basketball and hockey games, and pros in some grueling competitions. Afterward, check out all of the other cool attractions on the isle. Saturday and Sunday only. FREE
 
Saturday, August 30
West Indian American Day Carnival and Children's Parade – Crown Heights
And another August Go List pick: The four-day West Indian American Day Carnival culminates in one of NYC's largest parades on Labor Day, and while it's a colorful affair, it's also crowded and noisy. The Children's Parade on Saturday is a better bet for families. Kids of Caribbean descent don elaborate garb as they travel through Crown Heights and onto the grounds of the Brooklyn Museum for a costume contest and carnival. FREE for the parade, $2 to enter the museum grounds
"Oye Corona" – Corona
Hit Corona Plaza for this monthly multicultural fiesta sponsored by the Queens Museum. Enjoy an all-ages exercise class choreographed to Latin music, live entertainment by the Bangladeshi International Performing Arts Institute and BombaYo, and silkscreen printmaking activities. FREE
Sweet Spot Festival – Upper West Side
Put on your dancing shoes and boogie down at this afternoon family dance party on Pier I in Riverside Park South, which also features food vendors and a vintage market. FREE
Sunday, August 31
Great North River Tugboat Race & Competition – Midtown West
Our final August Go List pick for the weekend: Watch a dozen or so tug boats race from just below the 79th Street Boat Basin down to Pier 84, where there will be knot-tying and spinach-eating contests, live music and other family fun. The races and competitions take place in the Hudson River and can be viewed for free between 44th and 79th Streets, but for the best vantage point, splurge on tickets for the Circle Line spectator boat that follows the tugs. FREE from the shore, Circle Line tickets are $25 for adults, $12 for children
Brazilian Day – Midtown East
Celebrate the culture of Brazil with food stands, live performances and crafts in New York's own Little Brazil. FREE (food and items for purchase).
KidAround! with Hot Peas 'N Butter – South Street Seaport
Hit the South Street Seaport for its final kids' concert of the season: the multi-culti, genre-busting Hot Peas 'N Butter. Afterward, visit the nearby Imagination Playground, one of our favorite places to cool off in NYC.
Uncle Eye, Fun and Funky Songs of Summer – Upper West Side
Head to Peter J. Sharp Children's Glade for the last installment of the Central Park Family Performance Festival as goofy Uncle Eye rocks out with songs about water, recycling and nature. Afterward, head east to Central Park's Dana Discovery Center for the last concert in the Harlem Meer Performance Festival series: Sarah Mc Lawler and her all-female jazz band. FREE
Staten Island Beach Fest – Staten Island
Send summer out with a bang with evening fireworks at South Beach, the finale of the season-long fest.
Monday, September 1
Habana Outpost Back to School Bash – Fort Greene
Get ready to go back to school at the eco-eatery's annual celebration featuring games, live music, face painting, crafts and complimentary school supplies. FREE
Race Around the Farmyard – Prospect Park
Bring your competitive spirit and participate in potato sack and spoon races, try out stilts and enjoy other old-fashioned fun. $3 suggested admission
Don't forget: There's even more fun to be found in our Event Calendar. Before heading out on your adventures, be sure to download our FREE Mommy Poppins Kids on the Go app so you can find the best family destinations wherever you happen to be in NYC.
Tags: