45 Favorite Holiday Traditions for NYC Families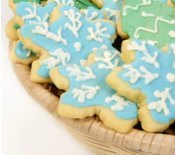 We asked our readers what their favorite holiday activities and traditions are and we got lots of responses. New York offers so many opportunities for holiday traditions and it's always fun to start new ones. We hope this list of favorite holiday activities and traditions from our readers inspires you to start some new ones with your family. Share your favorite holiday traditions in the comments below.
And for more great holiday activities and traditions, check out our Holiday Guide.
1. Baking and decorating cookies on Christmas Eve
2. Watching Santa travel across the globe on NORAD
3. Visiting the tree at Rockefeller Center
4. Seeing the Holiday Train Show at New York Botanical Garden
5. Visiting Santa at ABC Carpet & Home or Macy's Santaland
7. Making snow angels
8. Writing letters to Santa and making him cookies
9. Drinking hot cocoa or eggnog while we trim the tree
10. Christmas Eve mass and dinner with friends
11. Making Christmas cards with the kids
12. Visiting grandma and grandpa's
13. 24 days of Advent calendar surprises
14. Ice-skating at Bryant Park and Rockefeller Center
15. Going on a holiday cookie crawl
16. Talking to relatives on Skype
17. Making sweet potato pies
18. Going on a hot chocolate crawl
20. Watching children sing in the school Christmas concert
21. Baking a special holiday cake and decorating it with candy
22. Making chocolate Hanukkah lollipops with the kids
23. Lighting our menorah then celebrating by dancing and singing
24. Driving through the neighborhood viewing the houses decorated for Christmas with a mug of steaming cocoa
25. Ringing in the New Year in Times Square
26. Volunteering with my children to help those in need
27. Having a children's book swap instead of buying millions of toys
28. Taking in a special holiday season show
29. Ripping open the presents
30. Friends and family from all over visiting us for the holidays
31. Vacationing in the snow or the sun with the family
32. Taking time to enjoy the beautifully decorated holiday windows
33. Watching the tree lighting in Rockefeller Center
34. Mimosas on Christmas morning
35. The Radio City Christmas Spectacular
36. Building and decorating a gingerbread house
37. Visiting the American Museum of Natural History and the Metropolitan Museum of Art and checking out their beautiful Christmas trees
38. Shopping at the once a year holiday markets around town
39. Making homemade decorations and donating them at the end of the season
40. Hosting an annual Christmas party
41. Having fun in the snow, sledding and playing
42. Experiencing different religions and cultures with my children
43. Baking and eating Hanukkah cookies
44. Praying the Christmas Novena
45. Opening the first present on Christmas Eve
Find more seasonal fun in our Holiday Guide and find great gift ideas in our NYC Shopping Local Gift Guide.
Tags: