This Week: Join Mommy Poppins on a Fun-Filled NYC Cruise, Day Camps with Half Days, Photos of Coney Island's New Carousel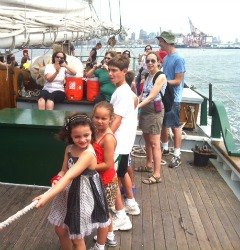 Water was our theme this week in NYC—specifically sailing on it. We posted about this weekend's FREE North River Historic Ship Festival in Tribeca, where you can tour and ride on vintage vessels. For landlubbers there's the new Shipwreck! exhibit at Discovery Times Square filled with interactive stations that give kids a peek at historic life on the high seas. And of course we're particularly excited about the very special family cruise we're hosting next Saturday, June 29. Join the Mommy Poppins gang on the Clipper City Tall Ship as we sail through New York Harbor and enjoy songs and stories by Bill Gordh, an eye-spy scavenger hunt led by educators from the DiMenna Children's History Museum and other nautical activities. Space is limited so book now. Bonus: If you buy your tickets by Monday, June 24, you'll be automatically entered to win great prizes like passes to the Liberty Science Center and a family four-pack to Wanda's Monster the Musical.
Outside the city, we were all about summer fun. Our brand-new Westchester site posted about a series of FREE summer block parties in Mamaroneck, while our Long Island site uncovered cool kid-friendly activities at grown-up destinations like the Belmont Racetrack and South Fork Wineries. Of course you can find plenty of other seasonal inspiration on all of our sites and in our NYC Summer Guide.
It's your last chance to enter this week's giveaway, which is particularly awesome: Four orchestra tickets to A Christmas Story the Musical at the Theater at Madison Square Garden. I saw it with my seven-year-old last year and it's great fun even if you've seen the movie a million times. And there's just a few more days to contribute to the Mommy Poppins Kids' Activities App. We're 60% funded and, if everyone who reads this contributes $2, we will make our goal. Donate more and you'll earn some really cool rewards like brand-new Mommy Poppins T-shirts and tote bags.
Here's what else we covered this week on the NYC site:
Go out dancing but skip the sitter. We've got the scoop on Mister Sunday, an all-ages outdoor afternoon dance party in Brooklyn.
This weekend's North River Historic Ship Festival in Tribeca features FREE boat tours and rides, if you arrive early enough.
Or take an activity-filled cruise with the Mommy Poppins gang on the Clipper City Tall Ship next Saturday, June 29—perfect for young pirates.
Our special needs writer, Michaela, rounded up some of her favorite NYC dance classes for children with special needs. You can find lots of other great programs in our Special Needs Guide.
Got a preschooler who isn't quite ready for full-time summer camp? Our friends at the American Camp Association of New York and New Jersey found six programs that offer half-day and partial weeks for young day campers and still have availability for this summer!
We took our first trip to Coney Island this season and were wowed by the just-restored B&B Carousell. One peek at our pics and you'll see why.
Looking for a really exceptional face painter? We profiled four of our favorite artists who do parties and special events in NYC.
We reviewed a pair of awesome new exhibits at Discovery Times Square: the sea-themed Shipwreck! Pirates & Treasure and The Art of the Brick featuring 100 incredible Lego sculptures by Nathan Sawaya.
Best bets for the weekend include more water-related fun like the Mermaid Parade in Coney Island, the all-dad band Starfish and lots of athletic activities at Adventures NYC in Central Park.
Tags: