This Week: Join Mommy Poppins on Our Special Family Cruise Series, NYC Restaurants with Backyards, Best Summer Shows for Kids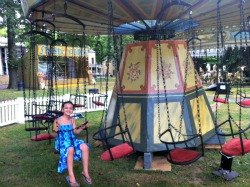 The big news this week (besides the fact that we no longer feel like we're melting) is the announcement of our new series of Mommy Poppins Family Cruises—and we have you to thank for it! Back in June, we hosted an outing in New York Harbor on Manhattan by Sail's Clipper City Tall Ship. Tickets sold out quickly and many readers were disappointed they got shut out. That inspired us to organize four additional fun-filled family cruises, each with a unique theme and enriching kids' activities. Check our post for more info and if a sail piques your interest, book your tickets so you don't miss out this time around.
Summer fun continues to be our primary focus on all of our sites. In NYC, we rounded up restaurants with backyards where kids can play. New Jersey's got a list of natural swimming holes and a post about this weekend's awesome-sounding hot-air balloon festival (both things you can't find in NYC). Our Boston site has a parent review of DreamWorks' new animated flick Turbo, and if you're off to the Hamptons, our Long Island site has lots of great weekend event picks as well as the best places to catch family theater in the area.

Since the big vacation month of August is coming up, be sure to check our Travel site for inspiration. We just posted about the fabulous Fairmont Southhampton family resort in Bermuda. If you can't get there for summer break, there's always the holidays.
Here's what else we covered on the NYC site this week:
We kicked off the week with a wonderful guest post about free kayaking with kids in NYC, written by local parent bloggers from Appalachian Mountain Club's Kids Outdoors New York City.
When you eat out, are your kids more interesting in playing than dining? Then try one of these NYC restaurants with backyards, the latest addition to our NYC Family-Friendly Restaurant Guide.
Not all seasonal fun takes place outside. We reviewed four fantastic summer shows for families.
Our biweekly links roundup includes info on Wi-Fi in select NYC parks, new Summer Streets attractions and the last game for a beloved bowling alley
Our month-long focus on Inwood continued with an in-depth look at two neighborhood green spaces: Inwood Hill Park and Isham Park
Our first Mommy Poppins Family Cruise on Manhattan by Sail's Clipper City takes place on Sunday, August 4. Don't delay, get your tickets today!
Best bets for this weekend include a no-cost Dan Zanes concert at Lincoln Center Out of Doors Family Day, the annual Rockaway Beach Sandcastle Contest and SpaceFest at the Intrepid.