You're Invited to Our Free Healthy Family Fun Event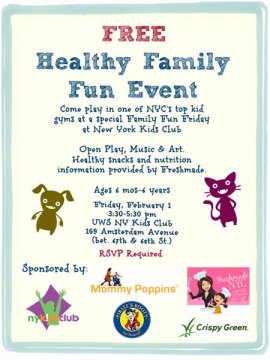 This event has reached capacity but don't worry, we'll be hosting additional events soon! Since 2007, we've been telling you about the best things to do and places to go with kids in NYC. Starting this year, we're doing one better: We're planning a series of live events for families at our favorite New York City spots, and our first one is coming up next Friday, February 1 at New York Kids Club.
Join us for a few hours of fun at one of the best places for kids to get their ya-yas out: New York Kids Club. This is a free event but reservations are required. Space is very limited and we expect the event to fill up quickly. But don't worry: We'll be organizing many more events over the next few months. Following us on Facebook is a great way to make sure you get early notification of an upcoming event.
Read on for additional details and RSVP now.
Mommy Poppins' Healthy Family Fun Event will take place on Friday, February 1 at the Upper West Side New York Kids Club, located at 169 Amsterdam Avenue between 67th and 68th Streets, from 3:30 to 5:30pm. This event is exclusively for children ages 6 months to 6 years. There will be open play time in the New York Kids Club gym, music time, an art project, and the folks from Freshmade will be on hand with delicious, healthy snacks and nutrition information for families. While the event is 100% free, space is very limited so an RSVP is required. Please make sure to include the number of children you will be bringing when you RSVP so we get an accurate headcount.
This is the first in a series of live events we're planning for 2013 and we're really excited to connect with our readers in person. We look forward to seeing you!