News: New York Aquarium to Reopen, Free Indoor Swimming, Annie Gets a Glee-ful New Star, New Laurie Berkner TV Show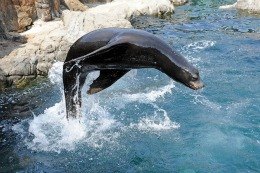 We're counting down the days until spring. Oh, it has nothing to do with the weather. We're just really excited about all of the cool things that are happening that season, like the reopening of the long-shuttered New York Aquarium, free indoor swimming lessons, a Glee star on Broadway in Annie and a pair of new Laurie Berkner projects. Hopefully all that happy stuff offsets the bad news, like higher MTA fares and the passing of a famed NYC children's storyteller.
One of our favorite Coney Island attractions, the New York Aquarium, has been closed since Hurricane Sandy due to extensive damage. But come late spring, the Aquarium will partially reopen, including the Main Hall exhibits, Glover's Reef, the Sea Cliffs' outdoor spaces and an entirely remodeled Aquatheater with a new sea lion show.
Unfortunately, Lady Liberty hasn't yet bounced back. There's still no timeline for the reopening of the Statue of Liberty or Ellis Island but it's not storm damage that's the issue, it's a whole security screening SNAFU.
Spring break is coming up soon and there's a great way for kids to get their indoor swim on for FREE. Registration just opened for the YMCA's annual Splash Week, which takes place Monday, March 25-Friday, March 29. Kids (and grown-ups) can hone their water skills at no cost, all you need to do is contact your local Y to sign up.
More FREE indoor water fun: Asphalt Green's annual swim meet, The Big Swim, gives children ages 6 to 12 the opportunity to participate in no-cost races on Saturday, April 27. Registration is currently open and participants will even get to meet Olympic and elite swimmers at the event.
Know what else you can register for this week? The NYC Parks Experience Summer Day Camp. Kids can enjoy crafts, sports, computers, field trips and more at 19 NYC recreation centers for $500 for the entire summer. To vie for a spot, enter the online lottery from Thursday, March 7 at 9am through Sunday, March 10 at midnight. You can read about other inexpensive summer programs in our Free and Cheap Camps post.
Two pieces of big news for a children's classic this week. Annie, currently being revived on Broadway, is getting a new Miss Hannigan this spring and she's sure to be extra nasty/funny. Jane Lynch of Glee fame takes over the villainous role starting May 16 for eight weeks. She already has a lot of experience being mean to kids. Meanwhile, Beasts of the Southern Wild star and Oscar nominee Quvenzhané Wallis has signed on to star as the optimistic orphan in a new movie adaptation of Annie, set for a 2014 release.
Another double dose of kiddie culture news: Super-popular children's musician Laurie Berkner will soon pop up on Sprout. Sing It, Laurie!, the animated musical preschool show Berkner co-created with Little Airplane Productions, is set to premiere on the TV network on Monday, March 25. Then in April, Making Books Sing will debut Berkner's brand-new musical adaptation of Eileen Spinelli's children's book Wanda's Monster. It's her first foray into children's theater and we suspect it will be a monster hit.
In sadder news, Diane Wolkstein, a longtime NYC Parks Department storyteller, recently passed away. The 70-year-old had been telling tales at the Hans Christian Andersen statue in Central Park since 1967 and her final performance there was last September. She entertained multiple generations and she will be missed.
By now we're sure you know that the MTA has raised its fares for single rides ($2.50 each), and weekly and monthly MetroCards. But the bit you may not yet realize? You'll be charged $1 every time you purchase a brand-new card. So don't forget to refill!