World Maker Faire NYC: Win Free Tickets to This Awesome Festival of Ingenuity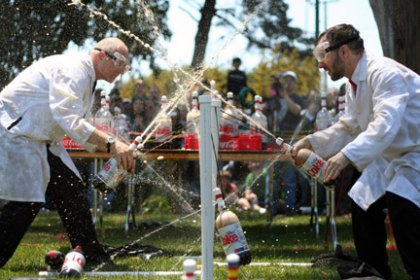 This giveaway is over. The World Maker Faire is making its New York debut this year, and we're lucky to be able to attend this festival of creativity and ingenuity without having to fly out to Cali. Started by MAKE magazine, the World Maker Faire is a celebration of imaginative, do-it-yourself, invention. Though kids will no doubt be in awe of the life-size mouse trap and Coke Zero/Mentos fountain, this way upgraded science fair sounds like it can definitely entertain us chaperones too. And some lucky Mommy Poppins readers will be going for free! Read on to learn more about this geek-tastic event, and enter to win four free tickets.
We've highlighted some of the kid-friendly exhibits, but there's much more than that, like the world's fastest rubik's cube-solving robot, designer Diana Eng's Techie Fashion Show, Cooking for Geeks demos with author Jeff Potter, and GirlZilla--a 14-foot-tall, moving, multi-media bot built by the Lower East Side Girls Club. With so many inventions and inventive ways to make science infinitely interesting, it could be the World's Fair of the Facebook age.
World Maker Faire Kid-Friendly Highlights:
Coke Zero & Mentos Fountains
Geysers of soda shoot over twenty feet into the air in this mint-powered version of the Bellagio Fountains, brought to you by the mad scientists of EepyBird. Their online videos actually received two Emmy nominations--check it out here. 
Life Size Mousetrap
The Life Size Mousetrap is a hand crafted, 16 piece, 50,000-lb. interactive kinetic sculpture set atop a 6,500-square-foot game board. This giant contraption comes complete with a Vaudevillian style show, original Musical score by the one woman band Esmerelda Strange, mice can-can dancers, clown workers, acrobatic hi jinks, and more. 
FishBikez
Fresh from the Mermaid Parade, make way for the colorful mesh wired fish bikes that will be swimming through World Maker Faire.
Brooklyn Aerodrome—Fly Recycled Trash  with Us
Make your own remote-controlled flying trash. Yup--you read that right. Brooklyn Aerodome is providing short kits, plans, buddy box sessions and advice for those interested in a cheap, tough and great flying delta wing.
Lawn Dominoes
This set of lawn dominoes was designed specifically for Maker Faire. Cut on a 48" x 96" PRS Alpha ShopBot, they are made of 1" recycled PVC board and available for sale in the Maker Market.
Windowfarms Project
Veggies CAN be cool. The Windowfarms Project is a web platform that helps city dwellers grow food in their apartments year-round. Over 13,000 participants are building these compact vertical hydroponic gardens in windows around the world, proposing and testing design modifications, and experimenting with different veggies and nutrients.
More highlights: The Interactive Mirror, BioBus, creating with Collaborative Robots, a TV Cello, visiting the 3D Maker Village...the wonders never cease. In addition to the 300+ makers on display, NYSCI's exhibits will also be open to all Maker Faire attendees.
World Maker Faire
Saturday, September 25 & Sunday, September 26
New York Hall of Science
Day Pass pricing info: 17 and under, $10, college students  $15, Adults $25, Seniors, $20, Sunday Family Day Pass (good for up to 5 guests) $50
For Two-Day pricing info and directions, visit nysci.org.
To win four tickets to the World Maker Faire comment on this post with your favorite fall outing. A winner will be chosen at random on Monday, September 20th and will be posted on our Facebook page. All entries must be submitted by midnight on Sunday September 19th. Anonymous entries will not be eligible to win. Winner will be contacted by the email address they leave within their comment log in and must respond within 36 hours or another winner will be selected. Tickets are valid for one day, either day of the festival.