What's Open on Thursday & Friday for NYC Kids: Activities and Specials While School Is Out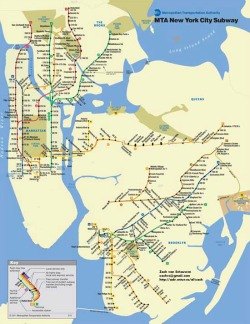 New York City is, slowly but surely, starting to recover. Buses hit the streets on Wednesday and subways started rolling again in parts of the city today (bonus: public transportation is FREE on Thursday and Friday. You can see a map of which subways are running on the MTA website.) And although public schools are closed through Friday, restaurants, culture spots and other places are beginning to reopen—save for businesses in neighborhoods that were hard hit by the storm like Coney Island, the Rockaways, much of Staten Island and downtown Manhattan, which is still without power. Even as life gets back to normal for much of NYC, it's important to remember our neighbors in need. Something we should all keep in mind, even as we start getting out and about again.
Since schools are out for the rest of the week, many kid-centric spots are offering special activities on Thursday and Friday. Here's where to take the family through the end of the week.
An update on the status of NYC's big culture spots:
Parks & Playgrounds: Most parks, playgrounds and recreation centers are set to reopen on Saturday, November 3 at 8am. Check the website for a list of green spaces that will remain closed due to the storm. Also, see the bottom of this post for info on volunteering to help clean up in a number of parks this weekend.
Museums: Most NYC museums have reopened, save for the ones located in areas without power. Tot spots the American Natural History Museum, the Children's Museum of Manhattan and the Brooklyn Children's Museum are open (the Children's Museum of the Arts remains closed due to no power). Most of the Museum Mile institutions on Fifth Avenue are open, including the Metropolitan Museum of Art, El Museo del Barrio and the Museum of the City of New York (the Guggenheim is closed on Thursday, which is its usual schedule, but open on Friday). A few museums are offering specials, and we've noted them below.
Libraries: Fifty-five New York Public Library branches have reopened in Manhattan and the Bronx. Here is a list of libraries that are open and a list of branches that are closed (mostly branches in downtown Manhattan or on Staten Island). Most Queens Library branches are also open, save for the ones in neighborhoods devastated by the storm like Rockaway. The Brooklyn Public Library's official site is down due to the hurricane, but all the info you need is on the BPL Facebook page, which has info about which branches are open or closed.
Zoos: The Prospect Park Zoo is the only animal spot that has reopened. The Queens Zoo and the Central Park Zoo will reopen on Friday, November 2, and the Bronx Zoo will reopen on Saturday, November 3. The Staten Island Zoo is closed until further notice. The really upsetting news is about the New York Aquarium, which will be closed indefinitely. There's even talk of relocating the animals to other aquariums due to the extensive damage.
Gardens: The New York Botanical Garden is opening parts of its grounds on Thursday. Since so many exhibits are off-limits, All-Garden tickets are 50% off through the weekend. The Brooklyn Botanic Garden is closed on Thursday but will reopen on Friday and offer FREE admission. The Queens Botanic Garden is open as of Thursday.
And here is a roundup of special no-school programming going on around town.
TADA! Youth Theater, which, despite being located in Chelsea actually has power (!), is offering a special all-day musical theater camp on Friday for children in first through fifth grades. Best of all, it's half price: just $50. Space is filling up fast so to register call 212-252-1619 ext. 4 ASAP.
Most drop-in craft spots are back in business, including both Little Shop of Crafts locations in Manhattan, Scribble Press on the Upper East Side, The Craft Studio on the Upper East Side, both Make Meaning locations in Manhattan, Baked in Brooklyn in Williamsburg and all three Brooklyn locations of The Painted Pot.
Robofun on the Upper West Side is running all-day LEGO® Robotics Programs on Thursday and Friday for $160 per child per day. Pre-registration required.
We hear The Brooklyn Strategist in Boerum Hill is open for card and board games—according to the spot's Facebook page it's been standing room only since Wednesday!
You can see a film. Mega movie theaters have reopened in unaffected areas, and Maysles Cinema in Harlem is showing international kids' films at 10:30am on Thursday and Friday.
Many play spaces are open and offering drop-in hours including Wiggles & Giggles Play House in Washington Heights, restaurant-play place The Moxie Spot, Kids Fun House in Ridgewoord, Kids Playhouse in Astoria, The Gym Park in Greenpoint and Klub4Kidz in Williamsburg.
The DiMenna Children's History Museum at the New York Historical Society on the Upper West Side is offering FREE admission for kids and special children's story hours at 11am, 2pm and 3pm on Thursday and Friday.
Astoria's Museum of the Moving Image has reopened and is offering no-cost admission on Friday with FREE screenings of the '80s classic Back to the Future at 2 and 6:30pm.
The New York Transit Museum in Brooklyn Heights has reopened and is offering FREE admission on Thursday.
The awesome Brooklyn Robot Foundry in Gowanus is hosting open play on Thursday and Friday for children ages 5 to 10. It's a cozy place so call before you go to make sure there's room: 347-762-6840.
The Gaga Center on the Upper East Side is offering drop-in games on Thursday. Friday programming is still being determined.
Upper East Side yoga studio Yogi Beans continues to offer drop-in kids' classes on Thursday and Friday.
Another popular Upper East Side spot, Jodi's Gym, is opening its doors to nonmembers and offering FREE classes, open play and crafts on Friday. Check the spot's Facebook page for the schedule and make sure you call 212-772-7633 to register.
The 92nd Street Y is hosting family activities, including swimming, from 1 to 4pm on Friday for FREE.
Independent bookstores in unaffected areas have reopened, including Book Culture on Broadway and Bank Street Bookstore, both in Morningside Heights.
Asphalt Screams, Asphalt Green's annual Halloween celebration on the Upper East Side which was postponed on October 31 due to the hurricane, has been rescheduled for this Friday, November 2 from 3 to 5pm.
And for those families with teens, the New York City Parks Department is asking people to help clean up a number of parks and playgrounds on Friday, November 2 and the rest of the weekend. All volunteers must be age 12 and up and preregistration is required. You can sign up to help in Van Cortlandt Park and Orchard Beach in the Bronx, Prospect Park and McCarren Park in Brooklyn, Brookville Park and Baisley Pond Park in Queens, and multiple parks in Manhattan. (Nothing in Staten Island. We guess the borough isn't quite there yet.)
Know of any other great family spots that are open on Thursday and Friday? Let us know in the comments.
Tags: