What's Open on Christmas Day in NYC 2014: 10 Things to Do with Kids After Opening Gifts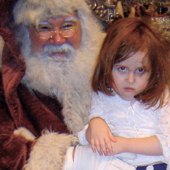 The presents have been ripped open, the insane plastic packaging dismantled and the batteries installed. Dinner won't be ready for hours and the kids are totally stir crazy. What else can you do on Christmas Day in New York City?
Jews have been asking that question for centuries and their answer is often Chinese food and a movie. But there are other options, whether or not you celebrate Christmas. Here are 10 fun things to do on December 25 in NYC. You can find even more seasonal activities in our Holiday Fun Guide.
Sign up for our FREE newsletters to get posts like this delivered to your inbox.
1. Catch a festive show. A handful of Broadway shows play on Christmas Day, including family faves Cinderella, Matilda and Wicked. The Radio City Christmas Spectacular and Big Apple Circus: Metamorphosis are also playing.
2. Play tourist. Times Square's Madame Tussauds, Ripley's Believe it or Not! Odditorium and Discovery Times Square (featuring Marvel's Avengers S.T.A.T.I.O.N. The Exhibition) are all open on Christmas Day. If you'd rather play games, arcade/restaurant Dave & Buster's is open, too. Other tourist spots with December 25 hours include the Empire State Building and Top of the Rock.
3. See a movie. Cinemas are open on Christmas Day so you can catch family releases like the revamped Annie, Night at the Museum: Secret of the Tomb, Penguins of Madagascar, Disney's Big Hero 6, Into the Woods, and the latest installments of The Hobbit and The Hunger Games. Just want to stay home? TBS is showing A Christmas Story all day.
4. Hang with the animals. Although the Bronx Zoo is closed for the holiday, the Prospect Park, Queens and Central Park Zoos are all open along with the New York Aquarium in Coney Island.
5. Hit the ice. The rinks at Bryant Park, Central Park's Wollman and Lasker, Riverbank State Park, Rockefeller Center, McCarren Park, Prospect Park, the South Street Seaport and Brookfield Place are all open for skating on Christmas Day (weather permitting). If you head to Bryant Park, you can also do some really last-minute holiday shopping at its fantastic outdoor holiday market or take a ride on the carousel. Too cold to glide outside? The indoor rinks at Chelsea Piers, Brooklyn's Aviator Sports, and Queens' City Ice Pavilion and World Ice Arena also have public skating hours on December 25.
6. Take a stroll. Walk up Fifth Avenue to see the stunning department store holiday windows. Assuming it's not too chilly (or rainy or snowy), Christmas is also a great day to take a quiet stroll through one of our city's lovely green spaces. Central, Prospect, Flushing Meadows Corona, Van Cortlandt, Brooklyn Bridge and all other NYC parks are open. Central Park is even hosting a FREE Heart of the Park tour at 2pm.
7. Party at a Jewish museum. Many Jewish cultural institutions are open today and hosting special family activities. Hit the Museum at Eldridge Street to groove to Klez for Kids, catch a family concert by Oran Etkin at the Jewish Museum and enjoy crafts at the Jewish Children's Museum's Art Week.
8. Explore the Museum of Mathematics. Although almost all NYC museums are closed on Christmas Day, the interactive MoMath is open on the holiday.
9. Pamper yourself. If all that shopping and reveling has you wiped out, take a dip in the rejuvenating waters of the family-friendly Spa Castle, which welcomes visitors on Christmas Day.
10. Attend a religious service. If you weren't able to go on Christmas Eve, churches are open on Christmas, too. The five spots we mentioned for midnight mass all welcome families on December 25 as well.
Find more seasonal fun in our Holiday Fun Guide.
Sign up for our FREE newsletters to get posts like this delivered to your inbox.
This post originally published in December, 2009.