Tribeca Family-Friendly Restaurants: Where to Eat with Kids in Tribeca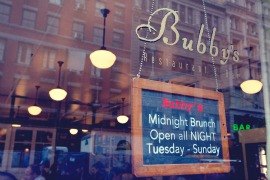 Our month-long focus on Tribeca finishes up with a roundup of our favorite family-friendly restaurants in the neighborhood. In general, places to eat in Tribeca either tend to be upscale or little holes-in-the-wall, with a handful of options in between. But since it is such a family-oriented area, many eateries welcome kids and even offer children's menus and special entertainment. Plus there's a wide range of cuisine to try, from good old American comfort food to French bistro dishes to authentic Cuban, Pakistani and Belgian eats, plus incredible bakeries.
Dean's Restaurant & Pizzeria
349 Greenwich Street at Harrison Street
There are few meals more kid-friendly than pizza. Happily, Dean's is a cut above your average pizza joint with its thin crust, brick-oven pies and a nice selection of pasta dishes and salads. The Tribeca location of this mini-chain also has ample outdoor seating, a real boon in warm weather.
Jerry's Cafe
Unfortunately this restaurant has closed.
Bubby's
120 Hudson Street at North Moore Street
A longtime neighborhood favorite, this onetime pie company is beloved for its desserts and its scrumptious comfort food, think meatloaf, fried chicken, biscuits, fried okra and buttermilk mashed potatoes. The children's menu includes burgers, spaghetti and hot dogs, and comes with a variety of sides. And the vibe is so boisterous, no one will notice if your kids forget to use their inside voices.
Cercle Rouge
241 West Broadway between Beach and Moore Streets
This French bistro serves standards like steak frites, coq au vin and bouillabaisse but also offers a basic children's menu. The spot is particularly popular with families on weekends due to its magic brunch. Every Saturday and Sunday from 11am to 1pm, kids can cheer on the Great Ragidy Supreme and snag complimentary post-meal balloons.
Landmarc
179 West Broadway between Leonard and Worth Streets
Yes, Landmarc is great for date night or celebrity spotting, but it works for a fancy family meal, too, with its down-to-earth children's menu, which includes pigs in a blanket, peanut butter and Nutella, and green eggs and ham (thanks to spinach and pesto).
Sophie's Cuban Cuisine
96 Chambers Street between Broadway and Church Street
Don't over-order: The massive plates of delicious (and greasy) Cuban food at this local mini-chain are so massive, you'll probably want to share. The atmosphere is no-frills but kids love sitting at the lunch counter, where they can peruse the dishes before ordering.
Petite Abeille
134 West Broadway between Thomas and Duane Streets
The Tribeca outpost of this local Belgian chain isn't as family-friendly as the East 20th Street location (no coloring pages and fewer Tin Tin tchotchkes). However, it boasts the same fabulous Belgian fries, plus crepes, burgers, waffles and rich hot chocolate.
Walker's
16 North Moore Street at Varick Street
This bar and restaurant is one of the few good old joints left in the neighborhood. Along with hearty dishes such as burgers and fries, there's also a children's menu and crayons so kids can color the paper covering the tables.
Sarabeth's
339 Greenwich Street at Jay Street
This popular chain is best known for its brunch, and the Tribeca location often has a line out the door. While there isn't a children's menu, kids should get a kick out of options like Baby, Mama and Papa Bear porridge (each with different toppings), plus pancakes, waffles, French toast and all kinds of egg concoctions.
Pakistan Tea House
176 Church Street between Duane and Reade Streets
Sick of chicken fingers and fries? Then try the exotic (to most kids, anyway) offerings at this small Pakistani restaurant, which serves up authentic and inexpensive eats.
Ruben's Empanadas
149 Church Street between Warren and Chambers Streets
A great spot for a quick, cheap, on-the-go meal. There are just a few tables but you can sit on tall stools at the window, or get your food to go and eat at Zuccotti Park, which is less than a block away.
Mangez Avec Moi Express
71 West Broadway between Murray and Warren Streets
Don't let the name confuse you, this is a Vietnamese spot that serves delicious traditional bánh mì sandwiches, filled with all sorts of meats and veggies. $6.50 buys you a full meal, and other ethnic snacks are available.
'wichcraft
397 Greenwich Street at Beach Street
Sandwiches are raised to an art form at this popular chain. The children's menu has your standard grilled cheese or PB&J, but more exciting combos include roasted pumpkin, hazelnut brown butter, sage and mozzarella; or goat cheese, avocado, celery, water pesto and watercress.
Zucker's Bagels & Smoked Fish
146 Chambers between West Broadway and Greenwich Street
Where to go to grab good hand-rolled bagels, smoked fish and other classic deli staples.
Whole Foods
270 Greenwich Street between Murray and Warren Streets
This branch has a huge prepared food section with everything from pizza to sushi, Indian dosas to falafel. The large dining area upstairs includes free Wi-Fi and a children's play area.
Ninja New York
25 Hudson Street at Duane Street
We reviewed this special occasion restaurant a few years back and there really is nothing else like it. Of course with lots of live ninja action and magic tricks, a meal here is more about the experience than the food. There is a kids' menu, but dinner for four can easily run you a few hundred dollars.
Snacks
Duane Park Patisserie
179 Duane Street between Greenwich and Hudson Streets
This sweet spot is a great place to drop in for a quick treat. We're partial to the signature magic cupcakes, chocolate with cream filling.
Takahachi Bakery
25 Murray Street between Broadway and Church Street
Sample Japanese pastries and snacks, like savory buns, or exotic Asian ice cream.
Read all of our posts about exploring Tribeca with kids.