Trapeze Classes for NYC Kids: Where to Study Aerial Circus Arts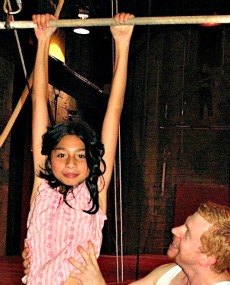 Some kids are content to sit and watch others fly gracefully above their heads. And then there are the ones who crave the adrenaline rush and, let's face it, the coolness of being able to say nonchalantly, "Yeah, I've totally been on a trapeze before."
If you've got one of those young thrill-seekers at home, it may be time to consider aerial arts classes. Flying trapeze isn't the only way to swoosh through the air. At these six circus spots, kids can learn how to defy gravity on silks, ropes, the lyra (aka aerial hoop) and more, all on safe equipment under the watchful eye of experienced instructors.
Aerial Arts NYC – Midtown East
CATS Gym, 235 East 49th Street between Second and Third Avenues
Ages 5 and up
Aerial Arts NYC opened in September 2012, but the instructors have plenty of experience. Many of them worked for the veteran Trapeze School New York, which lost its indoor space, hence the need for a new indoor trapeze school. The youth circus program lets kids try a variety of skills, including juggling, acrobatics and aerial skills on fabric and static trapeze. It has drop-in rates but there are discounts available if you buy multiple classes at once. Visit the website for a complete schedule and rates.
Circus Warehouse – Long Island City
53-21 Vernon Boulevard near 54th Avenue
Ages 7 and up
Like Aerial Arts NYC, this awesome studio in Queens has a kids' circus sampler that allows participants to try wire walking, juggling, balancing, tumbling, trampoline, clowning and aerial arts like silks and static trapeze. For children ages 11 to 15, there's the teen aerial program, which includes training on silks, lyra and trapeze. There is a drop-in rate for kids' classes but there are discounts available if you buy multiple classes at once. Visit the website for the complete schedule. Circus Warehouse has also hosted the American Youth Circus Organization's annual New York Regional Festival for circus artists under 21.
Trapeze School New York – Various Locations
Visit the website for locations.
Ages 6 and up
In spring, summer and fall, kids can study a variety of aerial arts, including the flying trapeze, lyra and silks, at its outdoor locations on the downtown Manhattan waterfront and in Coney Island. Depending on when and what you're studying, there are discounts available if you buy multiple classes. Parents must sign a waiver for children under 18.
Kid Fly at STREB the School – Williamsburg
S.L.A.M. (Streb Laboratory for Action Mechanics), 51 North First Street near Kent Avenue
Ages 5 and up
Well-known choreographer Elizabeth Streb's studio offers lots of fast-paced offbeat dance classes for kids. But if trapeze is what you're after, try Kid Fly, where participants are evaluated individually and learn at their own pace. If your little aerial artists get really good, they'll graduate to the España-STREB Trapeze Academy to work on routines and tricks. Participants are encouraged to commit to a semester of classes, but if space is available, drop-ins are allowed. Visit the website for full details on class options and pricing.
LAVA Studio – Prospect Heights
524 Bergen Street between Carlton and Sixth Avenues
Ages 5 and up
This award-winning dance troupe pushes the boundaries of the genre by incorporating acrobatics and even trapeze into its work. The kids' classes at the troupe's Brooklyn studio include training in turning, tumbling, trampoline and trapeze, but there is no dedicated trapeze class. Unlike most other aerial programs, drop-ins aren't allowed so families must make a semester-long commitment. Visit the website for a full list of classes.
Read about other cool programs for kids in our Classes Guide.
This post was originally published in November 2012.
Photo courtesy of Kid Fly at Streb