Times Square Family-Friendly Restaurants: Where to Eat with Kids in NYC's Theater District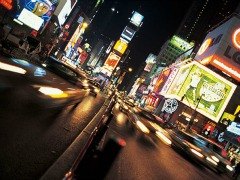 What's harder than navigating the crowds in Times Square? Finding a family-friendly restaurant in the area that doesn't belong in a mall. Applebee's, Chevy's, Olive Garden, Bubba Gump Shrimp Co... you're supposed to be in the center of New York City not some suburb.
But just as there are things to do with kids in Times Square beyond the usual tourist attractions, there are also a variety of off-the-beaten-track family-friendly eateries serving tasty cuisine that reflect our melting pot of our city. All ten of my picks are places I've eaten at with my seven-year-old in tow, so I can attest to their kid appeal.
Next time you're in the Theater District, whether seeing a Broadway show, entertaining guests or just passing through, skip the chains and see if one of these 10 kid-friendly Times Square restaurants is more to your family's taste.
Westway Diner
614 Ninth Avenue between 43rd and 44th Streets
After decades of looking like it was caught in an '80s time warp, this stalwart diner underwent a major makeover in summer 2014. But despite the facelift, it's more or less the same old-fashioned no-frills eatery with a lot on its menu: all-day breakfast, Greek favorites like souvlaki and moussaka, pasta and meat entrees, and the ubiquitous burgers, sandwiches, salads and shakes. Still no children's menu here, but the portions are big enough to share. Plus there's rarely a wait and the no-nonsense staff gets you in and out in a hurry. Its lack of pretension seems to have celebrity appeal: Reportedly, it's where Larry David and Jerry Seinfeld began brainstorming that "show about nothing and lots of theater folk frequent the spot. I've seen Bobby Cannavale and Zach Braff here in the past.
Junior's Restaurant
West 45th Street between Broadway and Eighth Avenue
Out of all the massive ethnic restaurants in Times Square—Brooklyn Diner, Carmine's, Ruby Foo's—Junior's is my favorite. An offshoot of the Brooklyn original, the Theater District outpost boasts the same old-time style with NYC memorabilia on the walls, plus potato pancakes, brisket, chopped liver and other Jewish delicacies that taste like they came from my bubbe's kitchen. Of course the local chain is best known for its cheesecake, which is to die for. Downside: It's perpetually overrun and reservations aren't accepted for small parties. But if you just need a snack, hit Junior's bakery right next door, which sells muffins, black and white cookies, rugelach and cake slices, and offers limited outdoor seating.
Dafni Greek Taverna
325 West 42 Street between Eighth and Ninth Avenues
A good restaurant right on 42nd Street? It's true. Granted, Greek cuisine may be a little exotic for some young palates, but adventurous tweens will be rewarded with mouth-watering staples like saganaki (addictive baked cheese), spanakopita (spinach pie), kalamarakia (fried squid) and a variety of cold spreads. I never order main dishes here; instead I get a bunch of appetizers to share. The place gets super-crowded pre-theater and the restaurant really packs 'em in (sometimes you feel like you're right on top of the next table). But reservations are accepted and it's often empty during non-peak hours. It's definitely not good for preschoolers and I've rarely seen children here. But my grade-schooler has done just fine at Dafni so yours should, too.
Schnipper's Quality Kitchen
620 Eighth Avenue at 41st Street
For the quickest, most kid-friendly meal in the entire area, this cafeteria-style restaurant gets my vote. We raved about the mini-chain's other Manhattan location in our post about places to eat near Madison Square Park besides Shake Shack. It's a similar situation in Times Square since another one of Danny Meyer's popular burger joints is just a few blocks away. But at Schnipper's, the wait is much shorter and the menu is much larger and includes tacos, Sloppy Joes, mac and cheese, fried fish and a wide array of salads in addition to burgers, fries and shakes. Just order at the register, find a spot at the communal tables and your food is brought to you within minutes.
Empanada Mama
763 Ninth Avenue between 51st and 52nd Streets
We already highlighted this sliver of a spot in our roundup of family-friendly restaurants near Rockefeller Center and it's also not too far from Times Square. Choose from an incredible variety of traditional empanadas stuffed with meats, veggies, cheese, rice and beans, plus unexpected multicultural combos like Mambo Italiano (roasted Italian sweet sausage with peppers and mozzarella), Reggaeton (Caribbean-style roast pork with seasoned yellow rice) or Polish (kielbasa and sauerkraut). There are even dessert options (chocolate and banana; figs, caramel and cheese; or my favorite, guava with mozzarella). It's kind of like dim sum: You order a bunch and share, and each one is less than $3. The one downside: There are about six tables and they're often filled. In nice weather, order to go and head to nearby Hell's Kitchen Park, which has plenty of benches.
Virgil's Real BBQ
152 West 44th Street between Broadway and Sixth Avenue
I am not a barbecue fan and yet I love the grub at Virgil's. You'll find all the standards: ribs, pulled pork, fried shrimp or chicken, plus sides like mac 'n' cheese, baked beans, buttermilk biscuits, and mashed potatoes and gravy. The combo platters are pricey but your best bet if you're sharing, and you're going to want to do that because the portions are so huge I'm surprised Mayor Bloomberg didn't go after them while he was in office. Yes it's loud. Yes it's fattening. Yes it's messy. Yes it's overrun with tourists. But it's still worth it. And kids get crayons and coloring pages.
John's Pizzeria
260 West 44th Street between Broadway and Eighth Avenue
Full disclosure: I personally do not love this cavernous thin-crust brick-oven pizza place, which is housed in the former Gospel Tabernacle Church. But the Times Square outpost of this popular local chain has many fans and I realize lots of kids consider pizza one of the major food groups. The simple Margherita is your best bet for picky eaters but you can also choose from a variety of toppings. Pasta dishes, salads and meat entrees are also available.
El Azteca
783 Ninth Avenue at 52nd Street
This is my daughter's favorite neighborhood restaurant, hands-down. She's always begging to come here to get yellow rice and beans (which she says are better than her abuela's...don't tell!), cheesy quesadillas, horchata (a kind of spiced milk), and fried bananas topped with honey and whipped cream. This is traditional Mexican food made by natives, no fancy fusion variations, so fill up on burritos, tacos, chimichangas and other staples. The owner, Maria, is a doll and almost always on-site. There's a bar in front but it's never rowdy, and the back dining room is decorated with Frida Kahlo portraits and sombreros. This is as old-school Mexican as it gets folks!
And for dessert...
Schmackary's
362 West 45th Street at Ninth Avenue
This dessert spot serves milk and cookies... and not much else. But oh, the cookies! The 45-plus varieties range from the mundane (chocolate chip, oatmeal, etc.) to the exotic like maple bacon, peanut butter banana crunch, candied yam and pumpkin spice. There are brownies and ice cream sandwiches, too.
Amy's Bread
672 Ninth Avenue between 46th and 47th Streets
There's a lot more than bread here. The cafe menu includes scones, muffins, biscuits, doughnuts, cupcakes, cookies and even pizza and quiche. There's one table here so take-out is really your only option but Hell's Kitchen Park is one avenue away.
Read about other family-friendly restaurants in NYC.
Sign up for our FREE newsletters to get posts like this delivered to your inbox.
This post was originally published in December 2012.