This Week: Summer Camp Guide 2013, Maple Sugaring Day Trips, Purim Carnivals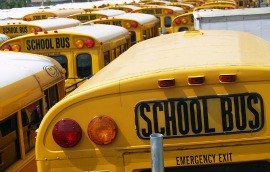 I never thought I'd be so happy to see school buses clogging up the streets! Those yellow vehicles were a welcome sight for the NYC families who suffered through the month-long strike. It was a wonderful way to return to school after midwinter break, which was short but filled with fun. Here at Mommy Poppins, we even slowed down a bit so we could spend some quality time with our children. We hope you did too!
But now it's back to business. And since it's February, one of the top things on most parents' to-do lists is figuring out summer camp. We're in the midst of updating and expanding our NYC Summer Camp Guide, and this week we posted about the best new programs set to debut this year. But don't just look at our Camp Guide: Our sister sites also have the scoop on exceptional camps in their areas, including commuter programs. So check out our Summer Camp Guides for Long Island, Connecticut and New Jersey.
Even though February break has come and gone, these final winter weekends are a great time for day trips. Maple sugaring season has arrived and we've got the scoop on the best places to taste the sweet stuff in upstate New York, New Jersey and Connecticut. Or consider a visit to the World of Wings in nearby Teaneck, New Jersey, where kids can get up close and personal with butterflies, insects and reptiles, and then hit an indoor bounce house, all in one building!
Here's what else we covered on the NYC site this week:
We kicked off the week with a roundup of our favorite maple sugaring day trips, including many spots less than two hours from NYC by car.
Looking for a brand-new summer camp experience for your child? We profiled 11 programs debuting this year for a variety of ages and interests.
Our biweekly news post included info on pre-K admissions, the planned Brooklyn Museum of Science & Art, and a hot air balloon set to land in Central Park.
Our month-long spotlight on Fort Greene Clinton Hill continued with a look at the best places for kids' classes and indoor play in the area.
It's official: Bunnicula, based on Deborah and James Howe's cult kids' book, is the campiest family musical you've ever seen, and we definitely mean that as a compliment.
A new post for our Party Guide: 10 great places to celebrate your kid's birthday in the Bronx.
Best best for the weekend include a ton of Purim carnivals, a free stage adaptation of Charlotte's Web, and concerts by The Pop Ups, Justin Roberts and Mil's Trills.
Tags: