This Week: Monthly NYC Go List, Focus on Tribeca, MLK Day Camps, Gyms with Childcare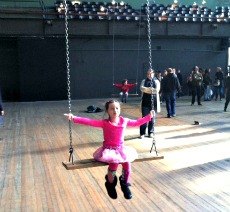 Last Sunday, my daughter and I waited on a long line to see the awesome swings installation at the Park Avenue Armory, which was closing that day. It was one of those unforgettable, offbeat experiences that we love sharing here on Mommy Poppins, and I was so happy that we didn't end up missing it. Now there's an easy way for your family to stay on top of cool, one-of-a-kind events like that exhibit: Mommy Poppins' brand-new NYC Go List, where we highlight the absolute best things to do with kids every month. January is usually slow in terms of family happenings and yet we found 15 events worth putting in your calendar. We can't wait to see what kinds of can't-miss experiences the warmer months bring!
While it looks like we won't be sledding in NYC anytime soon, nearby skiing and snowboarding spots are open and making their own snow. And if you're searching for a great seasonal getaway for the Martin Luther King Day holiday weekend, our Travel site has profiles of three family-friendly Massachusettes ski resorts. You can find lots of other day and weekend trip ideas in our NYC Travel Guide.
Here's what else we covered on the NYC site this week:
Our NYC Go List has the scoop on the top 15 things to do this January, including six picks happening this coming weekend.
Yearning to get in shape but wondering how you'll find time away from the kids to workout? Why not bring them along to one of these NYC gyms with childcare?
We added a new teen hot spot to our Indoor Activity Guide: Staten Island's 5050 Skatepark, NYC's only indoor skatepark.
Our neighborhood of the month is Tribeca and we kicked off our series of posts with a list of the top 30 things to do in the swanky downtown community.
Looking for theater ticket deals? Then read our biweekly links roundup, which has details on Kids Night on Broadway, Broadway Week and Off Broadway Week.
If you need to work on Martin Luther King Day, considering enrolling your kids at one of these awesome sounding mini camps.
Two of our favorite things—Tubby the Tuba and Patti Smith—come together in an upcoming Little Orchestra Society classical concert for kids.
Already thinking about summer camp? Start your research at these summer camp open houses.
Best bets for the weekend include the neo-vaudeville performance KamiKaze FireFlies, a live trivia show for families and a celebration of Twinkies. Plus it's time to recycle your tree at the Parks Department's MulchFest. Plus the Parks Department is holding its online lottery for free winter swimming lessons for all ages.
Tags: