This Week: Martin Luther King Day Celebrations and Volunteer Projects, Film Series for Kids, Family Skiing Near NYC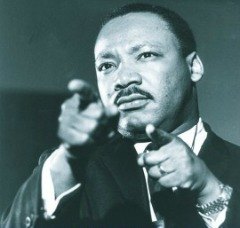 A school bus strike, a flu epidemic and no agreement over the teacher evaluation plan. Man are we ready for the three-day MLK weekend to arrive. How to celebrate and honor Dr. Martin Luther King's legacy was a hot topic across all of our sites this week, and we found lots of meaningful ways to mark the holiday (which also happens to be President Obama's inauguration day) in NYC, on Long Island, in New Jersey and Connecticut. There are even some volunteering opportunities for families.
While the snow we got in NYC earlier this week washed away in a matter of hours, our Winter Fun Guide has info on plenty of tri-state area ski and snow tubing resorts that make their own in case you're thinking of going away for the weekend. We're hoping we actually get a natural snowfall at some point this season so we can go cross-country skiing, too.
Here's what else we covered on the NYC site this week:
Got a budding inventor in your home? We found eight places where kids can build robots, design buildings, and tinker with high-tech and analog tools.
We continued our month-long focus on Tribeca with a roundup of our favorite kids' stores in the area selling clothes, shoes and awesome toys.
Our new Queens blogger, Kelly, shared her top ten family restaurants in the borough. She should know: She grew up in Queens and now she's raising her own children there.
Kids not ready to try traditional downhill skiing? Cross-country skiing is easier and less expensive.
One mom and her preschooler shared their food and fun-filled tour of Little Tokyo in the East Village.
Seeing a classic or international kids' flick is one of our favorite activities. Luckily there are plenty of family film festivals and movie series going on around town this season.
For those looking for a place to eat around the 9/11 Memorial, we rounded up the best family-friendly restaurants in the area.
The holiday weekend brings three days of enriching activities, including the New Vic's brand-new spectacle Erth's Dinosaur Zoo, the launch party for the new BAMfamily series and lots of ways to celebrate Martin Luther King Day. Need to work on Monday? It's your last chance to sign up your kids an MLK Day camp.
Tags: