This Week: Huge Holiday Giveaway, Amazing Holiday Light Displays, Local Gift Shopping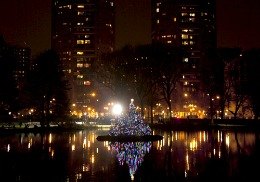 If you've visited any of the Mommy Poppins sites this week, you probably already know all about our Biggest Holiday Giveaway. And if it's news to you, well, there's still time to enter. We're giving away a different prize every single day through Thursday, December 13, nice big ones like $150 gift cards to some of our favorite stores and high-end toys. See the complete list on our giveaway site.
Speaking of giving, we suspect you're doing a lot of buying these days. Our Shopping Local Holiday Gift Guide is packed with NYC spots selling unique and offbeat items, and this week we added posts about our top seasonal pop-up shops and toy stores that opened over the past year.
Holiday fun is the focus on our regional sites, too. Spectacular light displays are up all over Long Island, New Jersey and Connecticut and make for great day (make that night) trips. (And if you need to stay in NYC, there's always Dyker Heights.) You can find more out-of-town seasonal fun, including cut-your-own Christmas tree farms and Santa train rides, in our New Jersey and Connecticut Holiday Guides.
Here's what else we covered on our NYC site this week:
Log off your computer and do some old-fashioned holiday shopping at these offbeat pop-up shops and eight brand-new toy stores in Manhattan and Brooklyn. Find more gift ideas and local stores in our NYC Gift Guide.
Ever heard of 3D printing? Well, the friendly staff at pop-up gallery 3DEA will show you how it's done and even let you print out your own creations.
We added a number of posts to our already overflowing Holiday Fun Guide including holiday break vacation camps and where to have breakfast with Santa.
There's a new ice rink in town: One of our bloggers brought her family to the brand-new Van Cortlandt Park Ice Skating Rink, the only rink in the entire Bronx.
Kids obsessed with the circus? Well you're in luck. There are five different circus shows playing in NYC over the holidays.
Teach your kids new skills, resilience and perseverance by starting a Challenge-a-Day Project.
Best bets for the weekend include Dan Zanes in concert, the New York City Fire Museum's annual Santa Rescue and lots of different Hanukkah festivals.
Do you subscribe to our free newsletters? If not then you missed our deals email with discounts to the New York Botanical Garden Holiday Train Show, The Velveteen Rabbit and holiday break camps.
Tags: