This Week: Early Holiday Fun for NYC Families, Our Hurricane Sandy Fundraiser, Countdown to Thanksgiving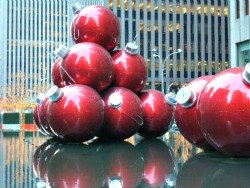 All of our sites are busy gearing up for the holiday season. In New York City, we've been working around the clock updating our Holiday Fun Guide with important info on big seasonal attractions like the New York Botanical Garden's Holiday Train Show, all of the different Nutcracker ballets dancing around town and next week's main event: Macy's Thanksgiving Day Parade.
Our regional sites have been very focused on Turkey Day this week, with posts about family-friendly restaurants serving Thanksgiving dinner in New Jersey and Fairfield County, Connecticut, while our Boston site has a mouth-watering list of Thanksgiving recipes from the 1600s that are so easy, kids can help make them. If you're thinking of travel, we've posted a list of Thanksgiving, Black Friday and Cyber Monday travel deals. 
While the holidays are a magical time when our communities come together and go all out with sparkling lights and holiday displays, this year it's a bittersweet experience since we're all still worrying about those whose lives were derailed by Hurricane Sandy. That's why we here at Mommy Poppins were inspired to organize a Holiday Portrait Fundraiser, equal parts holiday photo session and family party, with all proceeds going to Hurricane Sandy relief. Read on for details about this one-day-only event and everything else we covered on our NYC site this week.
Find out what's new at the New York Botanical Garden's 21st annual Holiday Train Show, which opens this Saturday.
More holiday fun: Nine versions of The Nutcracker ballet in NYC, including one production that's offering a few FREE performances.
Long Island City is one of NYC's coolest neighborhoods, and we did a photo tour of one of its coolest attractions: graffiti Mecca 5 Pointz Aerosol Art Center.
If someone in your family suffers from Celiac disease, you'll want to bookmark our roundup of kid-friendly gluten-free restaurants. Be sure to check the comments: Our readers have been chiming in with additional suggestions, too.
Our biweekly news roundup includes a list of popular kid spots closed indefinitely due to super-storm Sandy, news about the proposed MTA fare hike and a link to video from the recent Sesame Street hurricane episode.
Is your child a thrill-seeker? Then consider signing up for trapeze and aerial arts classes for kids.
Best bets for the weekend include Icky Fest! at the Brooklyn Children's Museum, the annual Children's Book Fair at the Brooklyn Museum and tons of seasonal fun like Macy's and Bloomies holiday department store windows, which are already up for the season.
Speaking of the holidays, register now for our Hurricane Sandy Holiday Fundraiser on Saturday, December 2, where you can snag professional holiday portraits, create beautiful holiday cards, buy discounted kids' gifts and more. All proceeds go to Hurricane Sandy relief.
Tags: