This Week: Best New NYC Spots for Kids, Three Kings Day, Tree Recycling, Winter Fun for Families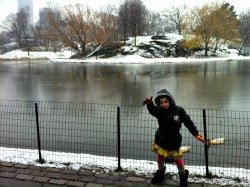 It's been another low-key week at Mommy Poppins (and hopefully at your home, too) as we slowly get back into the groove of work and school. Most of the holidays are behind us—save for Three Kings Day, which officially ends the season on Sunday—and we're all looking ahead to winter fun.
While you can certainly enjoy seasonal activities like ice-skating and (assuming it snows) sledding in NYC, you need to leave town for other winter favorites. But our regional sites have you covered with info on where to go snowshoeing and cross-country skiing in Connecticut, snow tubing in New Jersey and skiing throughout the tri-state area. And if you just can't bear the thought of being outdoors in the cold, our Indoor Activity Guide has lots of toasty destinations, including drop-in play spaces in Manhattan and indoor water parks near NYC.
Here's what else we covered in NYC this week:
We started the week (and ended the year) with a roundup of our favorite new NYC places for families that opened in 2012. There are 22 of them in all, including new ice-skating rinks, museums, class spots and more. How many have you been to?
MulchFest 2013 takes place next weekend, January 12-13, but you can leave your trees curbside to be recycled right away.
Three Kings Day (a.k.a. the twelfth day of Christmas) is coming up on Sunday and there are lots of ways for NYC families to celebrate.
Best bets for the first weekend of 2013 include bald eagle and seal watching, the launch of Film Forum's classic movie series for kids and an all-ages benefit for Sandy Hook Elementary School.
Finally, New York Family magazine published an awesome interview with Mommy Poppins founder Anna Fader this week with cool tidbits about her NYC upbringing and a great photo of her in the Children's Museum of the Arts' colorful Ball Pond. On a personal note, I can honestly say that working for Anna's site has changed my life (and allowed me to spend a lot more time with my family). We hope you enjoy reading the site as much as all of us love writing for it.