Christmas Eve with NYC Kids 2014: 12 Festive Ways for Families to Celebrate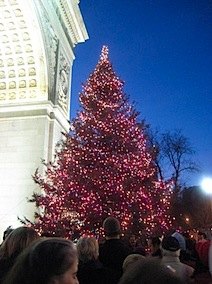 Christmas Eve will be here before you know it, falling on a Wednesday this year. While we realize some of you may need to pick up a few last-minute gifts, we hope you and your family are able to find time to get into the spirit of the season (beyond shopping).
Whether your family has set Christmas Eve traditions or you decide to wing it, there are lots of ways to celebrate in New York City. From holiday shows to Christmas pageants, amazing holiday displays to Christmas caroling, here are a dozen festive things to do on Christmas Eve in NYC with kids, both during the day and after dark. You can find even more seasonal activities in our Holiday Fun Guide.
1. Go ice-skating. Most New York City indoor and outdoor ice-skating rinks are open on Christmas Eve (though many close early). The city's only no-cost rink, Winter Village at Bryant Park, is open until 10pm. Bonus: Bonus: Finish your holiday shopping in Bryant Park's adjacent market and take a spin on the carousel.
2. Buy your Christmas tree. My family and I often wait until Christmas Eve to purchase our tree (as of today, we still don't have one. So we may do that again this year). You can often negotiate a better price, and decorating the tree is a wonderful way to spend time as a family. Want to cut your own? We have roundups of Christmas tree farms on Long Island, in New Jersey and Connecticut, but most close quite early on Christmas Eve and may not have anything left, so call ahead.
3. See a holiday train show. The beautiful annual exhibit at the New York Botanical Garden and New-York Historical Society's Holiday Express installation are both open until 3pm. Meanwhile, the more modest FREE display at the New York City Transit Museum in Grand Central Terminal is open until 6pm.
4. Visit with Santa. The big guy in red is still holding court at many spots around town, but he'll probably leave early since he has such a big night ahead. So go in the morning if you have last-minute requests. Can't deal with the lines? Try a FREE call or email with Santa.
5. Catch a holiday show. Some seasonal spectacles have performances today including the Radio City Christmas Spectacular, George Balanchine's The Nutcracker and Dr. Seuss' How The Grinch Stole Christmas! The Musical. Although many Broadway shows are dark today, family favorites The Lion King and Aladdin have matinees, and there are a few other shows to choose from, too.
6. See a family movie. Cinemas are open on Christmas Eve. My daughter has been clamoring to catch the revamped Annie ever since we saw it being filmed in our neighborhood, and Night at the Museum: Secret of the Tomb is also on our must-see list. Other family flicks in theaters include Penguins of Madagascar, Disney's Big Hero 6, and the latest installments of The Hobbit and The Hunger Games. The IFC Film Center is screening It's a Wonderful Life, which is also playing on NBC TV on Christmas Eve at 8pm. Have cable? Tune into TCM or AMC to watch classic Christmas flicks like White Christmas, Miracle on 34th Street, Christmas in Connecticut and Meet Me in St. Louis. As always, TBS airs A Christmas Story for 24 hours straight starting at 8pm.
7. Explore a festive museum exhibit. Many major museums are open today including the Museum of Modern Art, the Metropolitan Museum of Art and the Guggenheim. Discovery Times Square is still showing its Marvel's Avengers S.T.A.T.I.O.N. The Exhibition. If you want to get into the holiday spirit, make ornaments at the Children's Museum of Manhattan, craft garlands at the Brooklyn Children's Museum or gaze at the gorgeous Origami Holiday Tree at the American Museum of Natural History, where you can also learn all about Nature's Fury and Pterosaurs.
8. Attend a religious service or Christmas pageant. Even if you're not religious, many churches host family-friendly services early on Christmas Eve where all are welcome. That said, they do get crowded, so call ahead to see if you need to make reservations or if you can just show up. Ones that sound particularly good for children include the Cathedral Church of St. John the Divine's Christmas Eve Lessons and Carols at 4pm, Trinity Wall Street's Christmas Eve Family Eucharist at 3pm, Riverside Church's Christmas Eve Services Worship for Children & Families at 4pm, Church of St. Luke in the Fields' Christmas Pageant & Eucharist at 5pm, and the Church of the Heavenly Rest's pair of Christmas Pageants featuring more than 100 children reenacting the Nativity story at 3:30 and 5pm. Want something more traditional? Check out our post about where to find a kid-friendly midnight mass in NYC.
9. Marvel at department store windows, illuminated Christmas trees and holiday light displays. In Manhattan, you can gawk at massive twinkling Christmas trees and amazing department store windows. But if you head to the outer boroughs or nearby suburbs, you can see some truly spectacular holiday displays. My daughter and I already went on our annual pilgrimage to Dyker Heights in Brooklyn and we're hoping to do the Bronx Christmas House over the break. If you have a car, you can also see awesome holiday light displays in New Jersey, Westchester and on Long Island.
10. Go Christmas caroling. Every Christmas Eve, revelers gather under the Washington Square Arch next to the illuminated tree to sing traditional holiday songs at 5pm. The Rob Susman Brass Quartet accompanies the crooners, and songbooks are provided. My daughter and I go every year! There is also candlelight caroling in West Stuyvesant Square Park and Gramercy Park.
11. Help others in need. Holiday volunteering opportunities tend to book up months in advance, but our resident volunteering-with-kids expert, Natalie, wrote an entire post about ways you can help and as of this writing, God's Love We Deliver is looking for volunteers to deliver meals on Christmas Eve.
12. Track Santa with NORAD. See Kris Kringle during the day and then track his progress online at night as he travels around the world bringing presents to all good little boys and girls. Just make sure your kids go to bed before he hits NYC!
Find more seasonal activities in our Holiday Fun Guide.
This post originally published in December, 2009