Free & Fun Things to Do this Weekend for NYC Kids: Early Easter Egg Hunts, St. Patrick's Day Celebrations, Muppets March 9-10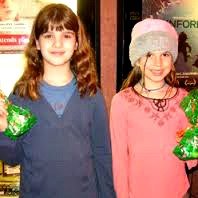 Even though Easter, Passover and St. Patrick's Day have not officially arrived, you can celebrate all three this weekend. Put on your best green outfits and head to the Throgg's Neck St. Patrick's Day Parade, the Children's Museum of the Arts for an Irish Dance Party or the Kids Film Fleah at the Irish Arts Center. Meanwhile you can enjoy the first Easter egg hunt of the season at Brooklyn Plantology or hit the Streit's matzo factory for Passover Palooza.
The Mommy Poppins team is also hosting a fun spring-themed event: portrait sessions with live baby chicks. Come out and get an adorable photo of your kids and enjoy other activities.
These are just a few of the great things going on this weekend. All of our best bets are below. You can find additional options in our Event Calendar and our Winter Fun Guide.
All Weekend
Building Our Imagination – Crown Heights
The Brooklyn Children's Museum hosts two days of hands-on construction activities for kids. Hit the Block Party to build with a variety of different types of blocks. Little ones can create Rube Goldberg-style contraptions while older kids can learn about sustainable housing design. Free with paid admission: $9
 
Saturday, March 9
Live Baby Chicks Portrait Sessions – Upper West Side
Join the Mommy Poppins team for a spring-themed photo shoot at Big Apple Portraits. Kids will pose with adorable live baby chicks and ScrapKins will be on hand leading cool craft projects. There will also be snacks, a sample sale and more. Preregistration is required. $50
Brooklyn's Great Easter Egg Hunt – Canarsie
Get out your baskets for the first Easter egg hunt of the season inside Brooklyn Plantology's balmy greenhouse. There will also be live rabbits, photo ops with the Easter Bunny, face painting, and arts and crafts. FREE
Craic Fest: Kids Film Fleadh – Midtown West
In honor of St. Patrick's Day, celebrate all things Irish at the Craic Fest's annual family day featuring award-winning short films, Irish step-dancing and storytelling, and complimentary Irish treats and goody bags. $10 for adults, $5 for children
Irish Dance Party – Hudson Square
More St. Patty's fun: The Children's Museum of the Arts hosts an interactive performance by the Niall O'Leary School of Irish Dance. Plus, visitors can make pots of gold at the clay bar, tell Irish folk tales in the sound booth and work on other holiday-related projects throughout the day. Free with admission: $11
NYC Championships FIRST Mega-Celebration – Midtown West
This year, this annual FIRST (For Inspiration and Recognition of Science and Technology) competition expands to include three awesome contests: FIRST Robotics Competition, FIRST Tech Challenge and FIRST LEGO League. Come out and cheer on hundreds of high school and middle school teams as they show off their high-tech creations at the Jacob Javitz Convention Center. Also on Thursday and Friday. FREE
Itsy Bitsy Big Top: Build a Mini Circus – Murray Hill
In this workshop inspired by the Morgan Library & Museum's current exhibit, Degas, Miss La La, and the Cirque Fernando, children can bring their own circus to life. After a brief tour of the gallery, families will craft a miniature circus out of a variety of materials like wire, fabric, paper and more. $6 for adults, $2 for children.
Shine and the Moonbeams – Harlem
Groove to the soulful tunes of this R&B family band at the Schomburg Center for Research in Black Culture. While this interactive concert is aimed at children ages 3 to 6, older kids and grown-ups should enjoy the music, too. FREE but RSVP required.
VH1 Save the Music Family Fun Day – Upper West Side
At this musical extravaganza cosponsored by VH1 and Parenting Magazine, families can catch performances by the Little Orchestra Society and talented students, try out different instruments, participate in a drum circle, pick up healthy snacks and enjoy face painting, glitter tattoos and more. Free admission but there are fees for certain activities. Proceeds support the restoration of music education programs in public schools.
Sinister Pop Family Day – Upper East Side
Rescheduled from its original February date due to last month's blizzard, the Whitney Museum of Art will finally get a chance to throw its family party in honor of Sinister Pop, featuring work by Pop Art greats. Inspired by Andy Warhol's notion that everyone will enjoy "15-minutes of fame," children ages 5 to 12 can get their time in the spotlight by making art, singing karaoke, posing for the paparazzi and participating in interactive performances. $18 for adults, free for children under 19
The Muppet Movie and The Muppets Take Manhattan – Upper West Side
It's Muppet madness at Symphony Space! Catch the first and third Muppet flicks in a family double feature. In the original, find out how Kermit went from his swamp to Hollywood and met his furry pals along the way. In the latter, the gang graduates college and heads to NYC to conquer Broadway. (Continuity wasn't their strong suit). $10 for adults, $8 for children for both movies
Sci-Tech Workshop: Bot Building – Midtown East
Children ages 8 and up can use motors, screws and recycled materials to build mechanical robots at Sony Wonder Technology Lab. Reservations suggested. $10
Hands on History: Pastimes Fun & Games – Jamaica
The King Manor Museum hosts a free afternoon of old-fashioned fun in its parlor. Kids can make rag dolls, learn to cross stitch, play parlor games and other retro amusements. FREE
Star Wars Construct and Draw! – Soho
Head to the Scholastic Store for a LEGO planet building challenge, make pinky-sized Ewoks or thumb troopers, and get discounts on the LEGO Star Wars Planets series. FREE
In Focus: Materials and Techniques – Midtown West
The Museum of Modern Art screens a variety of shorts featuring different cinematic styles including Distant Islands, The Happy Duckling, L'Eau Life and The Sandpit. Afterward, stay and enjoy the museum at no extra cost. FREE but tickets are distributed on a first-come, first-serve basis.
Kids Club Thirteen Presents: Sid the Science Kid Movie Premiere – Upper West Side
Are you a member of Kids Club Thirteen? It certainly has its privileges, including free admission to 13 family events throughout the year, like today's offering at the American Museum of Natural History, where kids can catch the debut of PBS Kids' Sid the Science Kid: The Movie, meet the star and enjoy crafts and other activities. Read our post about Kids Club Thirteen for details on member benefits and how to join. Free for Kids Club Thirteen members.
Sunday, March 10
Throggs Neck St. Patrick's Day Parade – the Bronx
This 15th annual celebration is preceded by a mass at St. Benedict's Church followed by a complimentary breakfast. Finally the parade kicks off around the Bronx neighborhood. FREE
Passover Palooza – Lower East Side
Celebrate an early Passover at the historic Streit's matzo factory, with a concert by the funky Mama Doni Band and tours of the kitchen. FREE
Peter Yarrow Benefit Concert – Bedford Stuyvesant
Folk legend Yarrow will be joined by his daughter, Bethany, and cellist Rufus Cappadocia, better known as rootsy duo Bethany & Rufus. My son and I have seen Yarrow in concert several times and children really respond to his mellow demeanor and gentle voice. Expect to hear Puff, the Magic Dragon and other classic tunes during this concert, which benefits the Brooklyn Waldorf School. $20 for adults, $10 for children
David Gonzalez: Sleeping Beauty – Flushing Town Hall
Master storyteller David Gonzalez brings his multimedia, rhyming rendition of the famous fairy tale to Flushing Town Hall. Arrive early for the preshow performance workshop. $12 for adults, $8 for children, $6 for preshow workshop
MetLife Second Sundays for Families: Seasons of Tiffany & Face the Music – Flushing
Tour the Queens Museum of Art's Tiffany glass collection one last time before it's moved to make way for renovations. Other activities on tap include an art workshop led by Jose Luis Jacome Guerrero from the Dogma Collective in Ecuador, and a performance by Face the Music, NYC's premier teen post-classical band. While at the museum, be sure to check out the Panorama of the City of New York. FREE
Outside NYC
Head to Hofstra University in Hempstead, Long Island for its annual Irish Festival featuring Gaelic music, food, dance, children's activities and craft vendors.
Celebrate Albert Einstein's birthday in Princeton, New Jersey (his home for more than 20 years) with Pi recitations, a pie-eating contest, an Einstein look-a-like competition and a Dinky Train ride with Albert himself.
Wildman Steve Brill will lead a foraging tour of Danbury, Connecticut's Tarrywile Park. Families can hunt for wild mustard greens, hairy bittercress and other edible free-range plants. My son and I explored Prospect Park with Brill and highly recommend his tours.
Maple sugaring season continues throughout the Northeast. This weekend's sweet festivities include SugarFest 2013 at Westchester's Westmoreland Sanctuary Nature Center and Wildlife Preserve, and the annual Maple Festival in Hebron, Connecticut.
Don't forget: There are lots of other options in our Event Calendar.
Tags: