Best Things to Do with NYC Kids: April Go List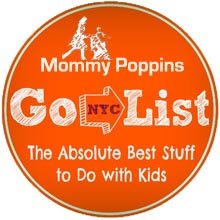 Spring has finally arrived and so has our new NYC Go List, our carefully curated roundup of the absolute best things to do with kids throughout the month. Given the season, our April Go List includes lots of annual outdoor favorites. These are the kinds of must-do events that Mommy Poppins families put in their calendars every year, like the Brooklyn Botanic Garden's Sakura Matsuri Cherry Blossom Festival, Tribeca Film Festival's huge Family Street Fair, the Queens County Farm Museum's Children's Carnival, Staten Island's St. George Day celebration and the old-school Street Games fest in East Harlem. Plus there are a number of other cool-sounding family shows, exhibits and other experiences worth fitting into your family's schedule. We've kept an eye on the prices, too: Five of our 13 picks are 100% FREE.
As always, if an event piques your interest, be sure to click through to our listing for all the details, including address and time. And please remember, in NYC really cool things to do with kids often sell out in advance or fill up really quickly, especially when they're free. So buy your tickets ASAP or arrive early whenever possible.
Now get your calendars ready! Here are the top 13 things to do with kids in New York City this April.
Bello Mania – Midtown West
Friday, April 4-Sunday, April 20
Due to popular demand, the famous acrobatic clown with the gravity-defying 'do brings his hilarious antics back to the New Victory Theater for the second year in a row. Equal parts comedic spectacle and family memoir, it's the perfect showcase for former Ringling Bros./Big Apple Circus star Nock, who was born to a circus family. The show features many of his best known stunts, including a jaw-dropping climb up a swaying pole to the theater's ceiling, plus recreations of some of his ancestors' greatest hits and appearances by his daughter, who's continuing in the family show business. If your kids love the circus, it's a must-see. Note: There will also be a special autism-friendly performance on April 17. $14-$38
Whitney Biennial Family Party – Upper East Side
Saturday, April 5
It's truly the end of an era on the Upper East Side: the final Whitney Biennial before the museum moves downtown to the Meatpacking District. The annual display of cutting-edge contemporary American art debuted last month and most of the work is family-friendly. Explore pieces by more than 100 artists in a variety of mediums—kids especially love the cool large scale-installations. While you can see the exhibition throughout the month, the best time for children to go is the Family Party featuring interactive tours, hands-on gallery activities and an art workshop. And since the festivities begin at 10am a full hour before the museum opens to the general public, you can avoid the crowds, too. No reservations required, just drop in. Can't make the party? The Whitney regularly offers enriching art programs for families. Free with admission: $20 for adults, free for children under age 19
Children's Carnival – Glen Oaks
Saturday, April 5-Sunday, April 6 and Saturday April 12-Sunday, April 13
My family loves the Queens County Farm Museum, a real historic working farm with crops in the fields and all sorts of animals that kids can feed. While the agricultural spot hosts lots of great events throughout the year, the two-weekend long Children's Carnival is my family's favorite. It's a huge, old-time affair with an authentic midway complete with kiddie rides, games and family entertainment. The best part? All rides are included with admission (though there are additional fees for some other activities). $11
Pterosaurs: Flight in the Age of Dinosaurs – Upper West Side
Saturday, April 5-Sunday, January 4
My dino-obsessed nine-year-old is counting down the days until this exhibit soars into the American Museum of Natural History. Technically, pterosaurs weren't dinosaurs or even birds or bats. They were their flying reptilian cousins, and in their heyday there were more than 150 different species of pterosaurs, ranging from tiny sparrow-like flyers to enormous animals with 25-foot wingspans that could rival the size of a jet! In this interactive installation, kids can inspect rare fossils, see aerodynamics in action in a wind tunnel, and "soar" like the pterosaurs in a full-body virtual reality station with motion sensors that let you fly the creatures over a prehistoric landscape complete with a volcano. Free with General Admission Plus One: $27 for adults, $16 for children ages 2-12
Mr. Chickee's Funny Money – Chelsea
Saturday, April 12-Sunday, May 4
Young fans of Christopher Paul Curtis' popular book about kid sleuth Steve and his pals trying to solve the mystery of a quadrillion dollar bill gets the musical treatment at the wonderful Atlantic for Kids. We're particularly excited about the songs, which are co-written by Motown great Lamont Dozier (who penned hits like "I Can't Help Myself (Sugar Pie Honey Bunch)" and "Stop! In the Name of Love" back in the day) and his son, Paris. The numbers reportedly run the gamut from disco to jazz to hip-hop and are played by a live band onstage, a true rarity in NYC kids' theater. $20 for adults, $10 for children
The Lego Movie and Master Builder Lego Animation Workshops – Astoria
Saturday, April 12-Tuesday, April 22
Everything is awesome at the Museum of the Moving Image, which is offering frequent matinees of the hilarious Lego Movie throughout spring break, along with twice daily workshops where kids can make stop-motion animation shorts using Lego bricks. Screenings are free with admission: $12 for adults, $6 for children ages 3-12; workshops also have a $5 materials fee.
Easter Bonnet Parade – Midtown East
Sunday, April 20
Calling this annual gathering a parade isn't really accurate. It's more of a promenade as Fifth Avenue between Rockefeller Center and 57th Street is closed to traffic and opened to incredible headgear. There are no floats or procession. Folks just meander about posing for pictures. While many opt for traditional flower-filled bonnets and their Sunday best, you'll see some really outrageous outfits and hats here, everything from decked-out drag queens with foot-tall wigs to homemade recreations of famous NYC landmarks precariously perched on the artists' heads. Since pictures speak louder than words, check out our Easter Parade 2012 slide show. FREE
St. George Day 2014 – Staten Island
Saturday, April 26
Celebrate Earth Day and the arts on Staten Island at this annual fest, which takes place near the ferry terminal. There's a ton of fun on tap, including local artists selling their wares and leading workshops, live music and dance performances, storytelling and poetry, an Earth Day Zone full of eco info, and an entire area devoted to kids with arts and crafts and a fanciful puppet show that recounts the St. George dragon-slaying legend with a less gruesome ending. The highlight of the day is the 35-foot puppet dragon parade. FREE
Tribeca Film Festival Family Street Fair and ESPN Sports Day – Tribeca
Saturday, April 26
This is no ordinary street fair. The highlight of the Tribeca Film Festival's family programming is really two fests in one. The Family Street Fair features contests, bouncy houses, giveaways, performances by Broadway musicals, kids' bands, vendors, food and a slew of other attractions. Along the route, you'll also find one block set aside for ESPN Sports Day, with games, demos, and appearances by pro athletes and sports teams. This year the organizers are adding what I am sure will be my son's favorite attraction, a G4C Arcade featuring popular video games, live-action games run by the folks behind the annual Come Out & Play Festival, and other strategic fun. FREE
Street Games – East Harlem
Saturday, April 26
Time to get old-school! This annual fest in Thomas Jefferson Park is dedicated to the kinds of analog amusements we grew up with back in the '60s and '70s. Leave your iPads and iPhones at home and encourage the kids to try out classics like pogo sticks, hula hoops, yo-yos, hippity hops and Double Dutch. There will also be an old-fashioned soap box derby race, skateboard lessons, a Radio Disney deejay, performances by the Dance Theatre of Harlem and clinics with major league soccer's Red Bulls. My son and I went last year and had a blast! FREE
A Butterfly for Brooklyn – Park Slope
Saturday, April 26
Get ready for some eye-popping visuals. Judy Chicago, the influential artist known for her large-scale installations, plans to celebrate her 75th birthday by producing a pyrotechnic performance piece in Prospect Park. Presented by the Brooklyn Museum and the Prospect Park Alliance, the 20-minute outdoor fireworks and flares display will evoke some of the artist's early feminist imagery in a riot of color that floats and spins in the night sky. FREE
Sakura Matsuri 2014/Cherry Blossom Festival – Crown Heights
Saturday, April 26-Sunday, April 27
Celebrate spring and Japanese culture at the Brooklyn Botanic Garden's wildly popular annual fest, which is set in and around its beautiful blooming Cherry Esplanade. The lineup includes Taiko drumming performances, Samurai swords, flower arranging workshops, martial art displays, Japanese pop bands, tea ceremonies and cooking demos. Kid-specific activities include manga drawing, origami, crafts, magic and drumming workshops. Plus lots of revelers come dressed in their best anime-inspired outfits and there's even a cosplay fashion show. Although the fest usually doesn't sell out, the lines often snake around the block so arrive early. $25 for adults, free for children under 12
Morgan Library & Museum Spring Family Fair – Murray Hill
Sunday, April 27
The theme of this annual fete is inspired by the museum's current The Little Prince: A New York Story exhibit. Families can take kid-friendly tours of the display, catch an animated adaptation of the tale, collaborate on a large-scale mural of planets and try on fun costumes. There will also be an interactive performance by the Ben Jam troupe, who will bring characters from Antoine de Saint-Exupéry's beloved children's novella like the prince, the fox, and the rose to life. $8 for adults, $2 for children 
Honorable Mentions
NYC always has so many amazing things going on, it's difficult to choose. So here are a few more cool events worth considering for your April calendar. Be sure to sign up for our FREE newsletters so you can get our weekend picks delivered to your inbox every Thursday morning.
Go on a fun-filled Easter egg hunt—there are dozens scheduled throughout the five boroughs on April weekends leading up to the holiday on April 20.
It's spring cleaning time! Exchange your gently used children's books for new-to-you titles at Torly Kid's annual book swap, which runs throughout the month. FREE
Cheer on talented tech-minded middle and high school students at the 14th annual FIRST Mega-Celebration of Science and Technology at the Jacob Javits Center Friday, April 4-Sunday, April 6. FREE
Head to Avery Fisher Hall to watch the Little Orchestra Society's mounting of Engelbert Humperdinck's kids' opera Hansel and Gretel on Saturday, April 5.
Soak up Scottish culture during the Tartan Day Parade featuring thousands of bagpipers marching up Sixth Avenue on Saturday, April 5. FREE
Get into a pillow fighting mood at NYC's Annual Pillow Fight Day in Washington Square Park on Saturday, April 5.
Check out cool indie comics, zines and cartoons at the annual MoCCA Arts Fest featuring a brand-new kids' activity zone on Saturday, April 5 and Sunday, April 6.
Go on a prehistoric adventure at the Bronx Zoo's Dinosaur Safari, which returns for its second season on Saturday, April 12.
Hit the Bronx's bucolic Wave Hill for its arts-filled Hello Spring Weekend on Saturday, April 12 and Sunday, April 13. FREE
Head to Coney Island for Luna Park's opening day on Sunday, April 13.
Explore Ethiopian culture with NYC-based music program Speaking in Rhythms with ethnic eats, and traditional dance and music workshops at the Bronx Museum of the Arts on Wednesday, April 16. FREE
Catch four brand-new family shows at the third annual New York Children's Theater Festival on the Upper West Side Friday, April 25-Sunday, May 18.
See some of the world's best animated shorts for kids at BAM's Rose Cinema on Sunday, April 27.
Go back in time at the three-day 19th-Century Extravaganza at the Old Stone House featuring period crafts, lawn bowling and a dress-up picnic from Friday-April 25-Sunday, April 27.