Best Things to Do with NYC Kids: April GoList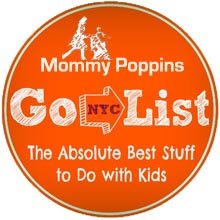 We are in the process of updating this post. Please check back on Monday, March 30. Spring has finally arrived and so has our new NYC Go List, our carefully curated roundup of the absolute best things to do with kids throughout the month. Given the season, our April Go List includes lots of annual outdoor favorites. These are the kinds of must-do events that Mommy Poppins families put in their calendars every year, like the Brooklyn Botanic Garden's Sakura Matsuri Cherry Blossom Festival, Tribeca Film Festival's huge Family Street Fair, the Queens County Farm Museum's Children's Carnival, Staten Island's St. George Day celebration and the old-school Street Games fest in East Harlem. Plus there are a number of other cool-sounding family shows, exhibits and other experiences worth fitting into your family's schedule. We've kept an eye on the prices, too: Five of our 13 picks are 100% FREE.
As always, if an event piques your interest, be sure to click through to our listing for all the details, including address and time. And please remember, in NYC really cool things to do with kids often sell out in advance or fill up really quickly, especially when they're free. So buy your tickets ASAP or arrive early whenever possible.
Now get your calendars ready! Here are the top 13 things to do with kids in New York City this April.
Catch Me – Midtown West
Through Sunday, April 19
Every spring break, the New Victory Theater presents an eye-popping circus spectacle. And why not? It's an art form that crosses all cultural and language barriers, and seems to mirror the season, as surprises pop up all around us. Flip FabriQue, the troupe behind Catch Me, hails from Canada and engages in a slew of amazing feats including awesome aerial acts and a trampowall where the performers seem to defy gravity. Note: There will also be a special autism-friendly performance of the production on Friday, April 10. $15-$38
Life at the Limits – Upper West Side
Opens Friday, April 4
January 3, 2016 TKTKTKTK Free with General Admission Plus One: $27 for adults, $16 for children ages 2-12
Easter Bonnet Parade – Midtown East
Sunday, April 5
Calling this annual gathering a parade isn't really accurate. It's more of a promenade as Fifth Avenue between Rockefeller Center and 57th Street is closed to traffic and opened to incredible headgear. There are no floats or procession. Folks just meander about posing for pictures. While many opt for traditional flower-filled bonnets and their Sunday best, you'll see some really outrageous outfits and hats here, everything from decked-out drag queens with foot-tall wigs to homemade recreations of famous NYC landmarks precariously perched on the artists' heads. Since pictures speak louder than words, check out our Easter Parade 2012 slide show for a taste of what's in store. FREE
Children's Carnival – Glen Oaks
Saturday, April 11-Sunday, April 12 and Saturday April 18-Sunday, April 19
Families love the Queens County Farm Museum, a real historic working farm with crops in the fields and all sorts of animals that kids can feed. While the agricultural spot hosts lots of great events throughout the year, the two-weekend long Children's Carnival is definitely a favorite. It's a huge, old-time affair with an authentic midway complete with kiddie rides, games and family entertainment. The best part? All carnival rides are included with admission (though there are additional fees for some other activities). $12
Cinderella and the Prince Who Slays the Magic Dragon – Upper West Side
Saturday, April 18
TKTKTKTKT $18-$90
Bindlestiff Family Cirkus Cabaret – Park Slope
Saturday, April 18-Sunday, April 19br /> More circus fun! This time, catch a feat-filled revue by NYC's own Bindlestiff Family Cirkus. Their style is pure old-school vaudeville, comedic and edgy but still kid-friendly, and you may have seen their schtick in the past at SummerStage or Lincoln Center Out of Doors Family Day. Catch one of their kid-friendly matinees at the Connelly Theater featuring juggling, the diabolo, unicycling, Ringmistress Philomena's wicked humor and whip-cracking, and Kinko the Clown's silly silent antics. Come in a circus-style costume or makeup and you can haggle for a discounted ticket (really!) But you're probably better off taking advantage of the family rate of $12 per ticket for four or more seats. In advance: $15 per person, $12 per person for four or more tickets; at the door: $20 per person; free for children under age 3
St. George Day – Staten Island
Saturday, April 25
Celebrate Earth Day and the arts on Staten Island at this annual fest, which takes place near the ferry terminal. There's a ton of fun on tap, including local artists selling their wares and leading workshops, live music and dance performances, storytelling and poetry, an Earth Day Zone full of eco info, and an entire area devoted to kids with arts and crafts and a fanciful puppet show that recounts the St. George dragon-slaying legend with a less gruesome ending. The highlight of the day is the 35-foot puppet dragon parade. FREE
Tribeca Film Festival Family Street Fair and ESPN Sports Day – Tribeca
Saturday, April 25
This is no ordinary street fair. The highlight of the Tribeca Film Festival's family programming is really two fests in one. The Family Street Fair features contests, bouncy houses, giveaways, performances by Broadway musicals, kids' bands, vendors, food and a slew of other attractions. Along the route, you'll also find one block set aside for ESPN Sports Day, with games, demos, and appearances by pro athletes and sports teams. This year the organizers are adding what I am sure will be my son's favorite attraction, a G4C Arcade featuring popular video games, live-action games run by the folks behind the annual Come Out & Play Festival, and other strategic fun. FREE
Street Games – East Harlem
Saturday, April 25
Time to get old-school! This annual fest in Thomas Jefferson Park is dedicated to the kinds of analog amusements we grew up with back in the '60s and '70s. Leave your iPads and iPhones at home and encourage the kids to try out classics like pogo sticks, hula hoops, yo-yos, hippity hops, stickball, hopscotch, handball, skully and Double Dutch. There will also be an old-fashioned soap box derby race, skateboard lessons, a Radio Disney deejay, performances by the Dance Theatre of Harlem and clinics with major league soccer's Red Bulls. My daughter and I go every year! FREE
Sakura Matsuri/Cherry Blossom Festival – Crown Heights
Saturday, April 25-Sunday, April 26
Celebrate spring and Japanese culture at the Brooklyn Botanic Garden's wildly popular annual fest, which is set in and around its beautiful blooming Cherry Esplanade. The lineup includes Taiko drumming performances, Samurai swords, flower arranging workshops, martial art displays, Japanese pop bands, tea ceremonies and cooking demos. Kid-specific activities include manga drawing, origami, crafts, magic and drumming workshops. Plus lots of revelers come dressed in their best anime-inspired outfits and there's even a cosplay fashion show. Although the fest usually doesn't sell out, the lines often snake around the block so arrive early. $25 for adults, free for children under 12
The Trials of Alice in Wonderland – Chelsea
Saturday, April 25-Sunday, May 17
TKTKTK $20-$25 for adults, $10-$15 for children
Honorable Mentions
NYC always has so many amazing things going on, it's difficult to choose. So here are ten more cool events worth considering for your April calendar. Be sure to sign up for our FREE newsletters so you can get our weekend picks delivered to your inbox every Thursday morning.
Go on a train-themed scavenger hunt with every preschooler's favorite monkey at a special Curious George Commuter Train Party at the New York Transit Museum on Thursday, April 2.
Go on a fun-filled Easter egg hunt—many are scheduled that first weekend of April.
Get into a pillow fighting mood at NYC's Annual Pillow Fight Day in Washington Square Park on Saturday, April 4.
Introduce your kids to an iconic graffiti artist at the Brooklyn Museum'sJean-Michel Basquiat First Saturday celebration on Saturday, April 4. FREE
Soak up Scottish culture during the Tartan Day Parade featuring thousands of bagpipers marching up Sixth Avenue on Saturday, April 11. FREE
Check out cool indie comics, zines and cartoons at the annual MoCCA Arts Fest at Chelsea's Center 548 on Saturday, April 11 and Sunday, April 12.
Catch four brand-new family shows at the fourth annual New York Children's Theater Festival on the Upper West Side Friday, April 24-Sunday, May 17.
Go back in time at the three-day 19th-Century Extravaganza at the Old Stone House featuring period crafts, lawn bowling and a dress-up picnic from Saturday, April 25-Sunday, April 26.