The Most Spectacular Holiday Light Displays in & Around NYC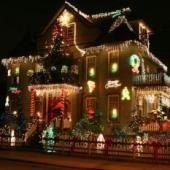 Going to visit over-the-top holiday and Christmas light displays in New York City is a popular seasonal activity. It seems like every year the installations get more and more elaborate. There are even tour buses that will take you to some of the neighborhoods that really get decked out for the season.
We've rounded up some of the best holiday displays in (or near) NYC. Yes, some of these attractions are far-flung but they're definitely worth the trip. So start a new holiday tradition this year by checking out these spectacular sights. Find more seasonal fun, including a slide show of our favorite NYC holiday houses, in our Holiday Guide.
Note: All of the houses we've listed light up once the sun goes down. If you want to avoid the crowds and traffic jams, go early in the evening on a weekday. These places get really busy on weekends.
The Bronx
Garabedian Family's Christmas House – Pelham Gardens
The Garabedian family's home on Pelham Parkway North is known to many as the Christmas House. Just take one look and you'll see why. Mixed in with a traditional Nativity scene and lots of corpulent angels are nearly 200 animated figures, all glammed up in old-school Hollywood-style gowns. Did I mention there's also holiday music blaring from multiple speakers? And massive chandeliers? There's even a horse-drawn carriage from which a Cinderella-like mannequin is elegantly exiting.
The Garabedian family is in the fabric-trimming biz and they fashion all of the figures' outfits themselves. They've been setting up this huge display since 1974 as a gift to God for some unnamed religious miracle. They wouldn't even reveal the secret to The New York Times!
As an added bonus, a few other homes in the area are decorated for the season too, although none anywhere near as elaborately. If you decide to visit the Christmas House, bring a little cash with you. Most visitors end up tossing donations over the fence, which the Garabedians reportedly give to nearby Immaculate Conception Church.
How to get there: If you don't have a car, find a friend with one and bum a ride. Located at 1605 Pelham Parkway North at Westervelt Avenue, the Christmas House isn't easily accessible by public transportation.
Queens
Santa's Corner – Whitestone

Queens residents love them some holiday lights. But if there's one place that truly shines in the borough, it's the intersection of 166th Street and 23rd Avenue. Here, alongside more run-of-the-mill displays, you'll find Kevin Lynch's house, which is completely wrapped in thousands of twinkling lights, plus lawn figures and a glass display case filled with moving toys. In the realm of Christmas light displays, I call this corner tastefully flamboyant. Like the Bronx's Christmas House, this home also accepts donations for a local children's charity.
How to get there: The corner of 166th St and 23rd Avenue is also not easy to get to via the MTA. Find a ride if possible. In fact, it's best to hit Santa's Corner and the Christmas House on the same evening. You can travel quickly between the two spots via the Whitestone Bridge.
Christmas in Jamaica Estates – Jamaica Estates
The first time I saw Anthony Gurino's annual Christmas display, I literally squealed with joy. His mansion and property take up an entire block and he makes sure to decorate it all. (Peek through his windows, even the interior of his home is festive.) Like Santa's Corner, the wires are covered so you can walk through his front yard and even sit on the benches for incredible photo ops. I love that Gurino acknowledges Hanukkah, too, with a few illuminated menorahs. You'll want to spend some time exploring here, there's just so much to see. Check out the video below but really, nothing but an in-person visit can do the display justice.
How to get there: Located at 80th Drive and Chevy Chase Street, this house isn't accessible by subway, though the QM1, QM5 and QM6 buses all have stops nearby. If you're going by car, it's only a 20-minute drive from Santa's Corner via Utopia Parkway.
Brooklyn
Holiday Light Spectacular – South Slope
The very ambitious and creative homeowners make everything by hand in their backyard—no pre-fab strings of lights at all! Unlike other displays, this one is a short light show with a unique theme and storyline every season. The 2014 edition is titled A Tiki Christmas and it's showing every 20 minutes nightly between 5 and 10pm from Sunday, December 14 through Saturday, January 3, 2015. We can't wait to check it out ourselves!
How to get there: The house is located at 310A 22nd Street between Sixth and Seventh Avenues. The closest subway station is the 25th Street R stop. If you drive, you may need to park a few blocks away although when we went a few years back post-Christmas there was plenty of space.
Dyker Heights Christmas Lights – Dyker Heights
Dyker Heights is super-famous for its Christmas light displays. There's a PBS documentary called Dyker Lights, a three-and-a-half-hour Christmas Lights & Cannoli Tour, countless videos on YouTube and once, even Conan O'Brien visited (sadly that hilarious clip is not currently available online). Check out our Dyker Lights slide show.
How to get there: The displays run throughout the neighborhood but the hot spot is 11th to 13th Avenues between 83rd and 86th Streets. Be prepared for serious gridlock. We're not joking! You can take the subway, too. The D to 79th Street is the closest stop but it's still quite a walk away. If you're driving, visit Dyker Heights and South Slope's Holiday Light Spectacular on the same night by hopping on the Gowanus Expressway.
Got a car and looking for fun seasonal outings? Find out about the most decked-out holiday houses on Long Island, in Westchester and New Jersey.
Find more seasonal fun in our Holiday Activity Guide.
Originally published on December 1, 2009